Brody Jenner also weighed in on the controversy, while sources claimed Jordyn was "blackout drunk" during hookup with Tristan.
Blowout from the wild cheating scandal continued Sunday night, as Khloe posted more cryptic quotes to her Instagram Stories, including one message about a poisonous reptile, following reports her baby daddy Tristan Thompson hooked up with Jordyn Woods.
"People reveal themselves through their actions," she shared in a message, followed by another that read, "No matter how much a snake sheds skin. It's still a snake." Hmm...it definitely sounds like she's alluding to someone in particular, but who's to say?
The "Keeping up with the Kardashians" star also posted a few more quotes to her Stories, including one that spoke about being "worthy" of love. This stream of messages follows Khloe's particularly interesting post from Saturday, where she shared a quote that read, "We have to accept that some people are really f--ked up and it's not our job to heal them."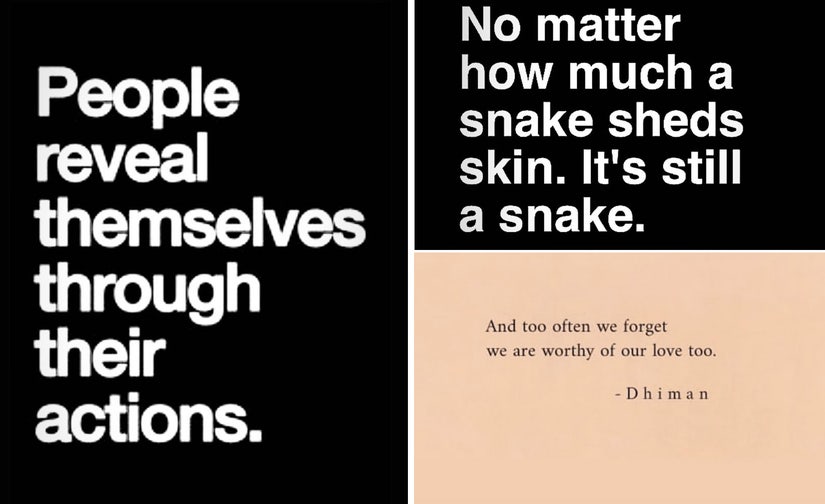 Instagram
Her stepbrother Brody Jenner also weighed in the scandal. While attending Elton John's Oscars party Sunday night, "The Hills" alum told US Weekly he feels "bad" for Khloe.
"Khloe is a great person," Jenner said. "Nobody deserves that. I will say, though, he did it once, so she probably should have left him then. To have that happen again... yeah, of course I feel bad for her."
Meanwhile, there have been other meaningful developments in this ongoing saga. An insider told US Weekly that Jordyn "denied" hooking up with Tristan when Khloe first confronted her about it. However, the model is said to be blaming the whole indiscretion on alcohol, a source told TMZ. The insider told the publication that Jordyn was wasted before she even attended the house party where it reportedly all went down with the NBA player.
The source added that Jordyn "started crying when she was told what she did," as she was apparently so "blackout drunk" that she doesn't even "remember how she got to the party or anything that happened there." Jordyn is also said to be "begging" Kylie and Khloe for forgiveness.
Another update from the weekend included some more clap back from Khloe. Following the cheating scandal, "Bachelor" creator Mike Fleiss tweeted that he'd been in contact with momager Kris Jenner about Khloe possibly becoming a "Bachelorette." The "Revenge Body" host shut down the speculation and even threatened legal action. "I'm not f--king clickbait right now," Khloe tweeted. "Stop or you will be hearing from my lawyers. How insensitive!!"
Before she reacted, Khloe's older sister Kim came to her defense, writing that the story was "fake f--king news big time!!!!" The KKW founder also posted a screenshot of what looks like a group text between Kris and Khloe where they denied Khloe's involvement in the ABC series. Fleiss later added that he was trying to help "people find true love" and "nothing more." See some of the Twitter conversation highlights below.
TooFab will continue to update you as this wild saga continues.