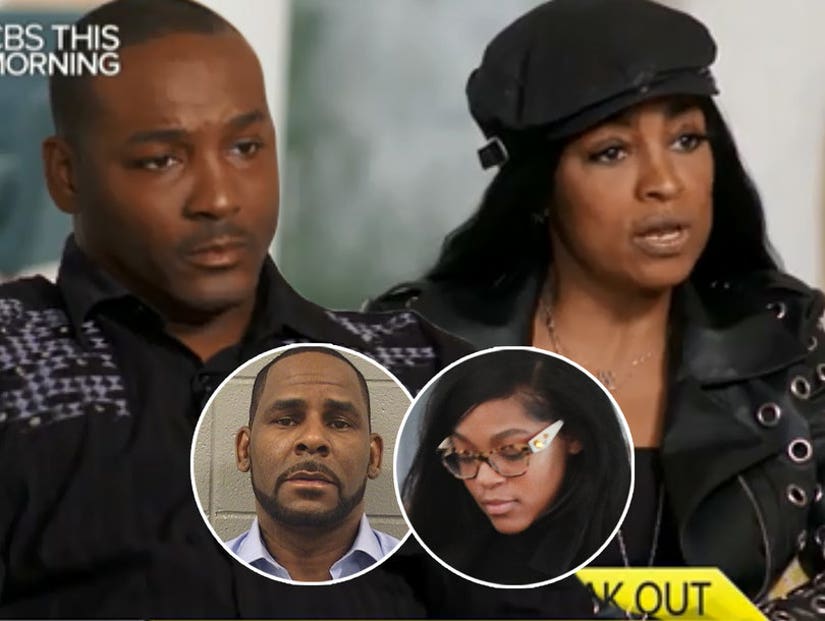 CBS
The concerned parents believe Azriel is in genuine danger of taking her own life — because they say she has attempted before.
Azriel Clary's parents believe their daughter will kill herself if she is parted from R. Kelly.
Alice and Angelo Clary told Gayle King on Wednesday they fear their 21-year-old has made a suicide pact.
Giving their first interview on CBS since the explosive Lifetime documentary "Surviving R. Kelly", the couple said Azriel is in genuine danger of taking her own life — because they claim she has attempted before.
When asked how they thought the saga will end, Alice revealed: "I've heard, like, a suicide pact. You know, I know my daughter..."
"The difference is our daughter had experience with trying to do it," Angelo said. "See, everybody else can talk it. But it's nothing like – to see a father coming in the house and seeing your daughter submerged in water. And you have to pick her up and try to get her to the hospital."
"See, I've been through that. So while everybody else may take this lightly... it's real life for us."
The couple said they took full responsibility for the situation, admitting they felt duped by Kelly into believing the relationship was purely professional.
"We never denied responsibility," Angelo said. "I feel like I failed my daughter because I should have saw different signs. I should have saw the change in my baby girl."
Their lawyer Michael Avenatti explained to King how he believes Kelly managed to allegedly trick parents, by surrounding himself with yes men who pretended to be attached to the music label to create the illusion of safety, but who in reality were enablers loyal to Kelly alone.
Indeed the Clarys claimed that when they initially gave permission for Azriel to tour with Kelly, she was supposed to be chaperoned by a Sony employee named Valerie Payton... who they claim to have "found out later on that she works for R. Kelly."
While they didn't trust Kelly because of previous allegations, they did initially trust their child, adding that they had seen many other young women working with him.
"I didn't trust him. What I trusted was I raised my child right," her dad said. "I trust my daughter was – will be honest with us. And this was strictly her music. R. Kelly had a platform as big as music can ever give somebody. I didn't see the label stop supporting him."
They said that Azriel was just 17 when she first met Kelly, who they claim promised to make her a music star — although four years on this has yet to materialize.
According to the parents, just three days after meeting Kelly, Azriel went to a hotel to "audition" for the R&B star without informing her parents.
After furiously searching for her at the hotel, she fired back: "'This was an audition. Why wouldn't you trust me? Y'all would think I would put myself in a predicament and not call you all if something wasn't right?'" her father recalled, adding she accused her parents of messing up her chances. "'This is my opportunity. This is my big break.'"
When Kelly suggested she go on tour with him, Angelo and Alice claimed their daughter told them: "If you don't allow me to go, I will try to take my own life again or I will run away."
They knew Azriel was vulnerable, claiming she already made an attempt on her own life as a younger teen, following a bad break-up.
"I don't wanna call her bluff on it because I know she just attempted this previously," her mom said. "But I'm thinking in my head, 'She only got three more months, she's gonna be 18, so she can do what she wants. And she really carry out this? And then now I'm living with regret for the rest of my life?"
She continued: "From people on the inside, some of the other victims that we talked to, they all said that the girls have to prove their loyalty to him by any means necessary." The concerned mother went not to claim "trashing their parents" was one way.
"This is what you guys fail to realize, it was not just R. Kelly that was doing this," she claimed. "It was not only just him and his handlers and his cohorts... it was also our daughter, because you have to understand, she was lying and duping us and pulling the wool over our eyes from the beginning."
On Tuesday, Chicago police responded to an anonymous tip off a suicide pact was about to be carried out at R. Kelly's apartment in Trump Tower; but it proved to be a false alarm, according to multiple media outlets.
Azriel, in her interview with King, accused her parents of trying to extort money from Kelly, alleging her father had encouraged her to make sex videos for future blackmail leverage.
In Kelly's interview, he claimed Angelo "sold" his daughter to him. The parents deny either charge.
Kelly currently faces ten counts of aggravated criminal sexual abuse; he was released on bail. He was then re-arrested, this time for failing to pay the $161,000 he allegedly owes in child support. He made bail once again, and is expected in court on Wednesday.
In 2002 Kelly was indicted on 13 counts of child pornography, but was eventually acquitted of all charges six years later. Kelly has vehemently denied all past and current allegations against him regarding sexual abuse and misconduct.