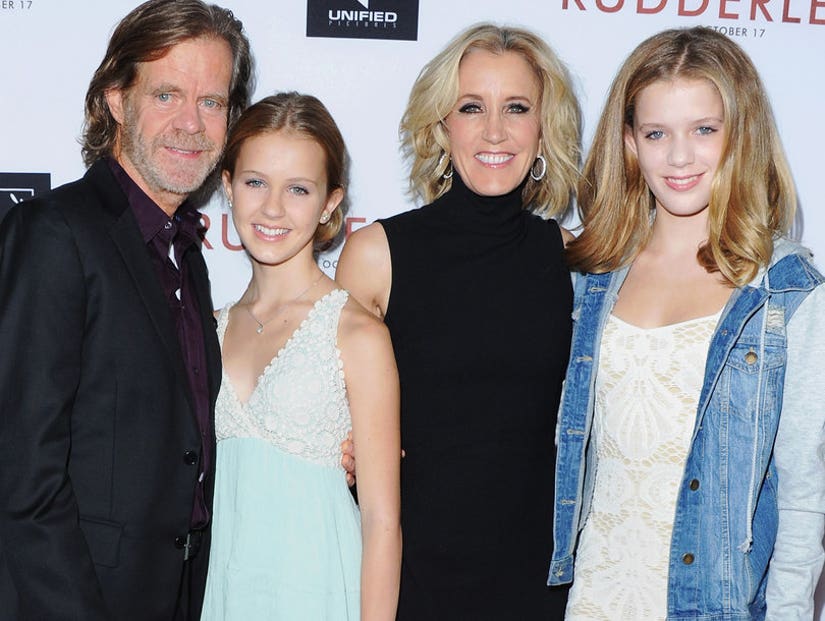 Getty
In a statement on Monday, Huffman apologized to her daughter for bringing her shame, insisting the teen knew nothing of the plot.
Felicity Huffman spared her daughters any further embarrassment by pleading guilty on Monday.
The actress was one of 14 parents to enter guilty pleas, accepting the charges of conspiracy to commit mail fraud and honest services mail fraud, as part of the college admissions scam.
While avoiding a trial can help incur a lesser sentence, by doing so Huffman also spared the blushes of her daughters Sofia and Georgia, who would very likely have been called to testify.
The scandal's other high-profile participant Lori Loughlin has yet to enter a plea; she must now decide whether or not she wants to fight the charges, which would also likely mean her daughters Olivia Jade and Isabella Rose would be dragged to the witness stand.
Olivia Jade, a 19-year-old YouTube personality, has already received the lion's share of scrutiny surrounding the case because of her apparent frivolous attitude towards schooling.
In a statement on Monday, Huffman apologized to her daughter for bringing her shame, insisting the teen knew nothing of the plot.
"I am in full acceptance of my guilt, and with deep regret and shame over what I have done, I accept full responsibility for my actions and will accept the consequences that stem from those actions," she said.
"I am ashamed of the pain I have caused my daughter, my family, my friends, my colleagues and the educational community. I want to apologize to them and, especially, I want to apologize to the students who work hard every day to get into college, and to their parents who make tremendous sacrifices to support their children and do so honestly."
She added: "My daughter knew absolutely nothing about my actions, and in my misguided and profoundly wrong way, I have betrayed her. This transgression toward her and the public I will carry for the rest of my life. My desire to help my daughter is no excuse to break the law or engage in dishonesty."
"Desperate Housewives" star Huffman was accused of paying $15,000 to have a proctor accomplice correct her daughter Sofia Grace's SAT scores before submitting them. She and husband William H. Macy, who escaped any prosecution, are said to have considered using the same "side door" for Georgia, but opted against it.
"Fuller House" star Loughlin meanwhile, along with her fashion designer husband Mossimo Giannulli, are accused of paying $500,000 to have their daughters Olivia Jade and Isabella Rose admitted to USC as members of the crew team, even though neither of them competitively rowed before.
Should Lori also enter a guilty plea, prosecutors will suggest a sentencing range, and the judge will have the final say.
Both women face a maximum of 20 years in prison; while it is unlikely they will serve anything near that, prosecutors are reportedly pushing for at least some prison time, plea deal or not.