"What is happening with Botox and you?" Andy asks his guest.
Andy Cohen was less than coy when he decided to press Lala Kent about her Botox regimen on "Watch What Happens Live" Monday night.
Lala and "Vanderpump Rules" co-star Ariana Madix were sitting pretty at the Bravo Clubhouse, answering all sorts of show-related questions, when Andy blurted out, "Um, Lala, are you under 28?"
"I am 28 on the money," she replied with a smile.
"And what is happening with Botox and you?" he asked.
"I'm loving it," she replied with eyes wide.
"You are loving it," Andy repeated. "You are. But I feel like at 28, you don't need it?"
"Well, when I'm 50, people are gonna be glad I got it," Lala answered confidently.
"Are they?" Andy asked skeptically.
"I mean, it's preventative!" she replied.
"Is it? For the future?" Andy said, his voice growing higher and higher pitched.
Lala maintained that if she's not able to scowl or lift her forehead, she'll "never have the wrinkles."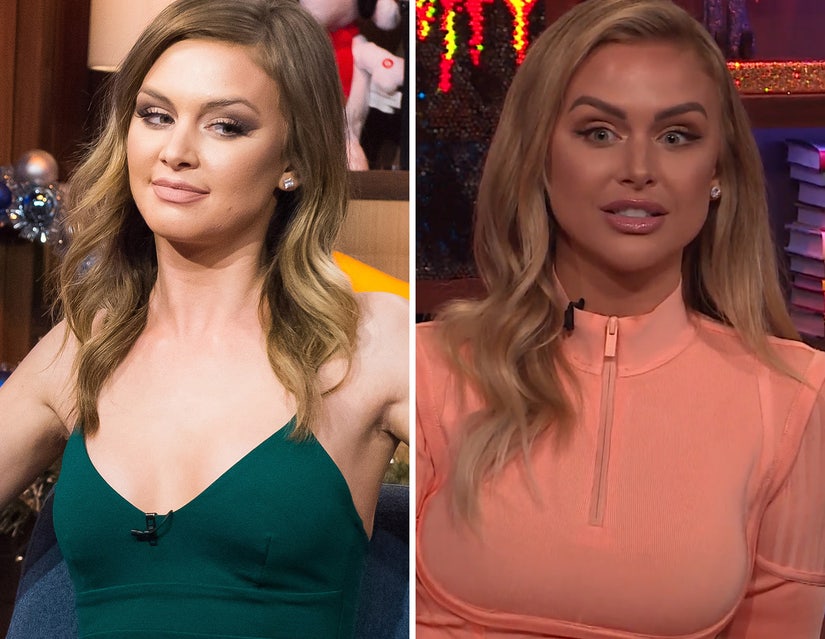 "WWHL" December 2015 (Getty) / "WWHL" April 2019 (Bravo)
Do You Feel Bad for James?
A caller asked the ladies if they felt bad that James Kennedy was constantly excluded from group activities given that they were each outsiders at one point in time.
"No, I don't feel badly one bit," Lala replied.
"I feel badly to an extent," Ariana said. "And then I see him being his own worst enemy, and then it's hard for me to feel bad after that."
Did Lala's Mexico Meltdown Drive Her to Sobriety?
"When you got back from Mexico, was that when you really realized that everything has to change?" Andy asked Lala.
"Sadly, no," she replied. "I had a lot of other benders that I went on, and I didn't get sober until October 22nd -- the best day of my whole life."
How Would Ariana Feel if Sandoval Hooked Up with Schwartz?
"Tom has never expressed an interest in hooking up with anybody, so I haven't had to cross that bridge," Ariana replied.
But Andy pressed the issue and gave Ariana quite the specific scenario: "What if he was like, '[Tom] Schwartz and I sucked each other off?'"
Ariana laughed and said, "I'd be like, 'Where's the video?!'"
Does Lala Regret Going Off on Billie?
"The only thing I regret is saying the 'boring' comment," Lala replied. "Other than that, I stand by the way I acted and reacted, baby."
"Vanderpump Rules" airs Mondays at 9 p.m. on Bravo.