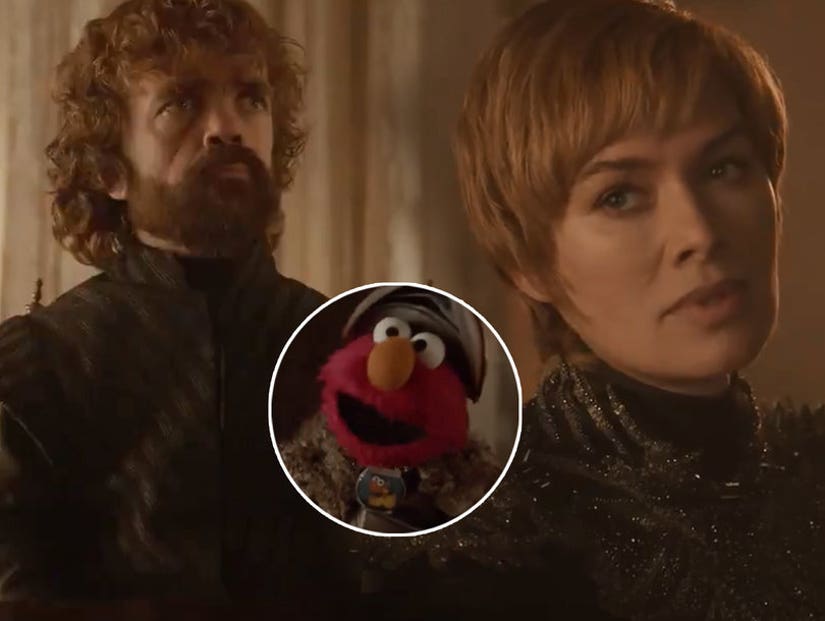 HBO
"See? This is why you don't have any friends."
Forget the Red Wedding — Westeros just had a red friending.
A shocking new "Game of Thrones" clip has revealed Cersei and Tyrion Lannister calling a truce, thanks to some level-headed arbitration from Elmo Monster.
The siblings and mortal enemies appeared together in a scene as part of "Sesame Street's" new "Respect brings us together" campaign.
The cute clip opens with the jarring image of Peter Dinklage's Tyrion and Lena Headey's Cersei sitting at across from each other in a dining hall in King's Landing.
"You can't ignore me forever... I only want what's best for Westeros," Tyrion offers, amid tense music. "And I only want for you to not get what you want," she fires back.
"See? This is why you don't have any friends," Tyrion retorts; but before she can reply, they are interrupted by an armor-wearing Elmo of Sesame Street.
"Elmo thinks that you two need to respect each other," he admonishes, explaining he has been involved in his own wars with Abby Cadabby and Cookie Monster.
"If we stop fighting and work together... we can be stronger. I'm willing to learn and listen if you are," Tyrion accepts.
"...... I can try," Cersei finally concedes, as Elmo succeeds where even Jon Snow and Daenerys Targaryen with two dragons and a sample wight could not.
"A toast to our new red friend," Tyrion offers.
"Oh yummy! Elmo loves toast!" comes the reply.
Also as part of its respect campaign, HBO shared a clip of Cookie Monster getting involved in one of Dolores (Evan Rachel Wood) and Bernard's (Jeffrey Wright) Westworld debriefings, in which they both agree to share — and subsequently eviscerate — a cookie.