"The Hills" are alive with the sound of continued family drama.
We really hope "The Hills" reboot will be as dramatic as the real lives of its returning castmembers have been.
"Well, you are married to the devil..." Stephanie captioned a screenshot of her brother's quote, which she shared on her Instagram Story Wednesday night.
Spencer is famously married to Heidi, and the two famously host a podcast called "Make Speidi Famous Again." During their April 15 episode, Spencer ripped into his younger sister.
"I'm just really trying to focus on [the] positive. It's so hard when so many people message you and keep bringing [it up]," he said of their rivalry. "It's like, 'I know, I know. I have been living with this evil around me for a long time.' I already know. Like, this is news to everyone else. I'm not getting in an argument with people that are just making up lies. If it's completely not truthful, it's insanity."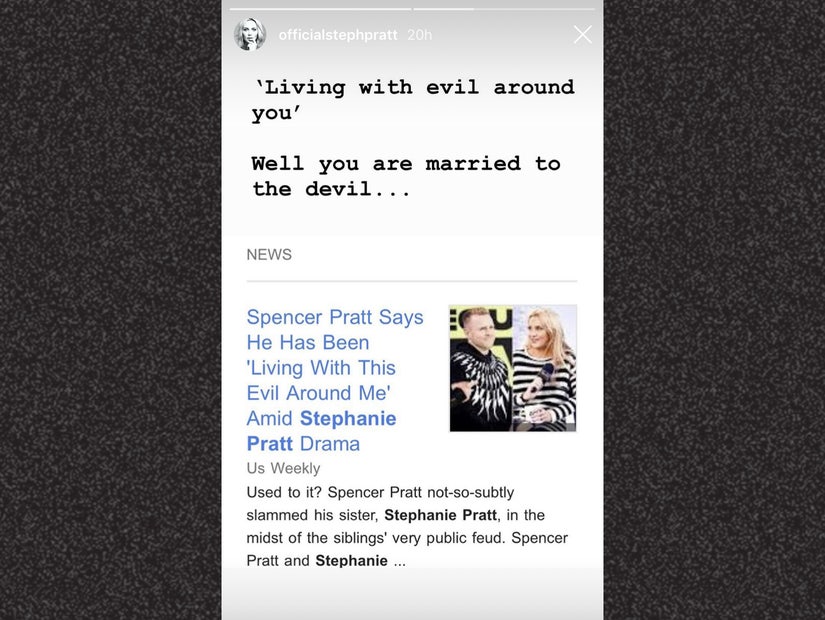 Instagram
Spencer said he's focused on "beaming white light at possessed entities that are attacking us in all realms and dimensions."
Of the drama, Heidi added, "We've worked so hard to be right where we are. I don't want anything or anyone to be able to taint that or take away even a thought of it. So I am definitely done with the negativity."
Turning her attention directly to Stephanie, Heidi said, "You do whatever you need to do in your little character," as Spencer added, "Your story -- lies!"
Stephanie previously dragged Speidi during an April 8 episode of her podcast, "Pratt Cast," telling Wells Adams and her listeners, "We are not on good terms. We are not on speaking terms. I do not consider them my family."
"I'm also not going to pretend that Spencer and Heidi are good people, like I was doing for most of the series for my parents," she continued. "For the shit they have done to me recently, I'm done. This is why I moved to London. I'm done. I cannot live near them. They are the most toxic people I've ever met. They are Bonnie and Clyde 'til they die, so if they say the sky is black, all of us are morons for saying it's blue."
She added, "If you ever have a son, Wells, I pray that he does not meet a Heidi Montag. What Heidi Montag does -- she has played my family for money. When my mom said, 'What do you want from Costco? Toilet paper, paper towels?' She said a treadmill."
Stephanie went on to say that the couple's true colors will show when "The Hills: New Beginnings" premieres in June. Replying to Stephanie's remarks on her own podcast, Heidi said the situation had been "very challenging and heartbreaking." She also implied that Stephanie's made "some very below-the-belt, nasty comments that weren't even true."
Spencer defended his wife of over a decade, adding, "If you think you're gonna walk on my sweet angel, Heidi, you have something coming your way."
"I hear Stephanie Pratt is sort of stirring the pot," Kristin noted, adding that she still keeps in touch with Heidi, Audrina Patridge and sometimes Brody Jenner.
"The Hills: New Beginnings" premieres Monday, June 24 on MTV.