The supermodel explains why it took so long for her to finally do an editorial spread with her sons.
In Vogue Australia's August issue, the supermodel, 55, and her sons -- Flynn, 21, and Cy, 16 -- posed for their first editorial spread as a family.
Macpherson gushed to the publication about her life as a mom, while her boys did the same about her.
When asked why she finally decided to say yes to their first shoot as a family, Macpherson said, "The boys are coming of age, and WelleCo is turning five, and I'm 55, so it's sort of this seminal moment in our lives. Vogue is an iconic brand, and we knew we'd be treated with respect. We've been asked for years."
They always had said no, until now. "We kept the children out of the public eye," she added. "It was a decision that their dad and I made. We didn't think it necessary for them to be recognizable in public. Of course, you can't stop paparazzi."
The model was then asked if she still feels like "a regular Aussie beach chick at heart."
"Well, I'm hardly a girl, am I?" Macpherson said in reply. "I'm the mother of two young men. But I am definitely someone who feels comfortable in nature, and being with my children and friends is what's important to me now; simplicity, back to basics."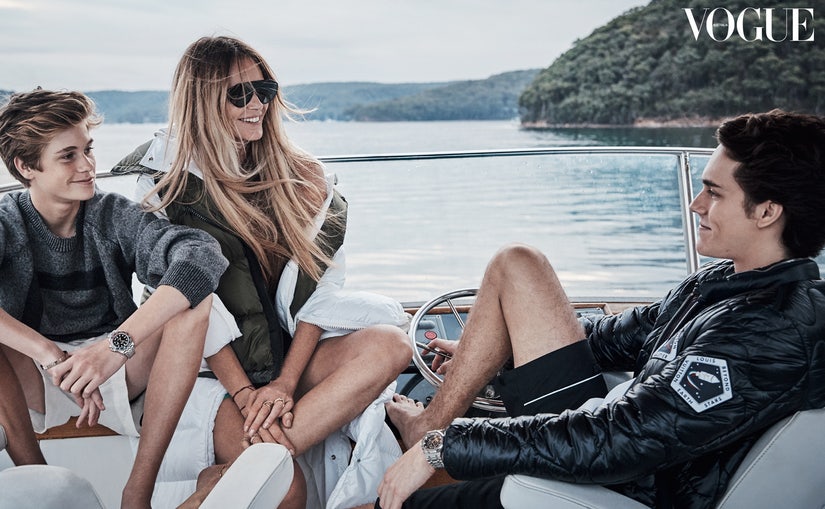 Nicole Bentley/Vogue AUS
Flynn and Cy, who Macpherson shares with her ex-boyfriend Arpad Busson, praised their mother and her successful, diverse career.
"She is the best mother in the world, and I know everyone always says about their mum, but it really is true," Flynn said. "My mother has always been so incredibly devoted to me and my brother. It has shone through everything from the way she chooses her jobs to the way she cooks dinner. I always knew we were her number-one priority, and I think that it's a very ... I don't want to say it's a unique situation, but just from the conversations I've had with friends, I know that she's special, in the way she prioritizes us. Mum was always there picking me up from school. And even now, the stuff she does, even if it's literally just: 'You look tired. Drink more water.'"
"Drink more green juice," Cy chimed in and Flynn continued, "As much as, you know, that's annoying. It does show the level of devotion, right? But seriously, even when things haven't been easy, she put us first. I look up to her. My mother is a perfectionist, I don't think that's a secret. It's one of her greatest qualities, everything she does has to be up to scratch."
Although Macpherson's relationship with Busson ended in 2005, the former couple remains close. According to the publication, neither Macpherson or her sons mentioned her recent divorce from Florida property developer Jeffrey Soffer, whom she married in 2015. Also not mentioned? Who Macpherson is dating now, however, she told Vogue she's "happy."
"Appreciation for where you've been and how far you've come is important," she said. "That's something I've come to learn in later life, the importance of taking time to remind yourself of what you have achieved."
The August issue of Vogue Australia hits newsstands Monday, July 22.