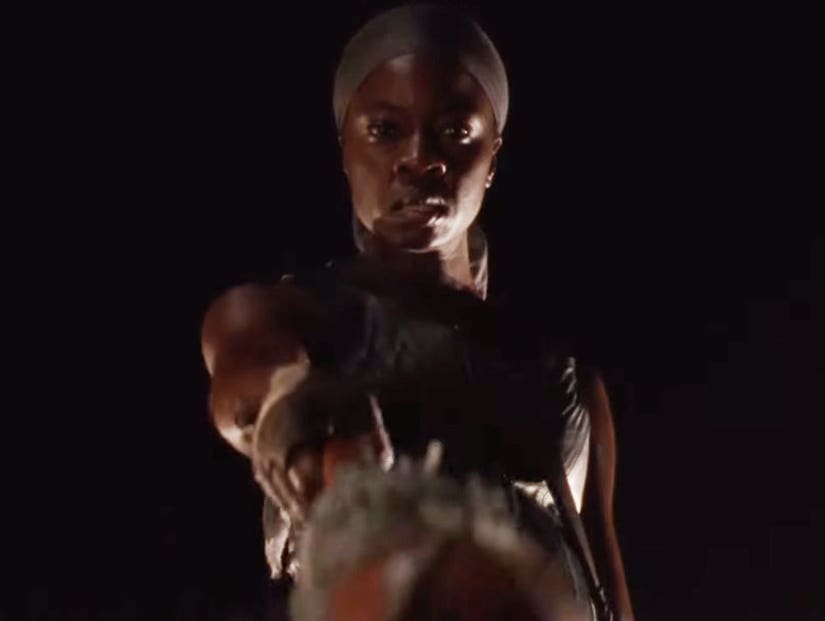 AMC
Here's everything we learned about the new season from the show's Comic-Con panel.
The very much alive stars of "The Walking Dead" shuffled into Hall H at Comic-Con on Friday afternoon with a big treat for fans: the first trailer for Season 10. Thankfully, AMC then dropped the footage online for everyone who didn't make the trek down to San Diego for the weekend.
Picking up a few months after the events of Season 9 -- which ended with a wintry blizzard and a radio correspondence from places unknown -- it looks like it's back to business as usual for our survivors, as they continue to butt heads with Alpha and the rest of the Whisperers.
Joining the show this season are "American Beauty" star Thora Birch as Gamma -- one of Beta's followers -- and Kevin Carroll as a man "desperately trying to get back to his home and family."
Among the noteworthy shots: Negan of his jail cell and possibly fighting alongside the other survivors, Eugene running to his radio, graffiti reading "Silence the Whisperers," Aaron sporting a dangerous new accessory, a huge sequence on a beach with the entire cast and Michonne both kissing Ezekiel and getting her hands on Lucille.
Speaking during the Comic-Con presentation, Norman Reedus said there will be "a whole lot of people losing their shit" in Season 10, thanks to newfound "paranoia" among the survivors.
Jeffrey Dean Morgan said to expect Negan to "stretch his legs" a bit more, as he's finally allowed out of his cell. "We'll see what happens if he gets a weapon in his hands," he added, promising "he won't hurt Judith."
And speaking of Judith, little Cailey Flemming was asked which other weapons she'd love to get her hands on. "I think it would be cool to have Daryl's crossbow ... or Lucille," she said to cheers, "They're both awesome."
Speaking about having some more time with Jeffrey Dean Morgan going forward, Reedus noted, "I work with all the girls all the time, sometimes if someone's gossiping, they don't tell me what they're talking about." Dean doesn't do that.
Ryan Hurst, aka Beta, said to expect to see the Whisperers "coming in full force" when the show returns, while Season 9 additions Eleanor Matsua and Nadia Hilker said their characters will be more incorporated in the group.
Hilker also revealed that while filming her first season on the show, she pronounced Danai's wrong incorrectly to her face the entire time -- until Gurira finally (and very nicely) corrected her when they had wrapped.
After he surprisingly ended the comics this month, series creator Robert Kirmkan promised the show is "about the world" at large and not just Rick and Carl Grimes. He promised to anyone thinking the show might "somehow spontaneously end" in Season 10 that "that is not going to happen."
Greg Nicotero also teased that "the opening 3 minutes" of the season premiere "is unlike anything we've ever done" -- and might leave you wondering what show you're watching.
"A little time has passed. They've been living with some of the Whisperers' rules, and we'll see that some things have changed and some people have done some unexpected things in the time that has passed to deal with the trauma at the end of last season," show runner Angela Kang recently told Entertainment Weekly.
She also teased a "Cold War feel" to tensions between the two factions, as conflict keeps building.
Of Alpha, Beta and her followers, Kang said to expect more backstories to come and "more insight into some more characters within that group." She added, "They've got their own problems, too, within their group, so there will be some interesting back-and-forth between our two groups as they deal with this conflict at the border."
"The Walking Dead" Season 10 premieres on AMC in October 6.