Harris died Wednesday at age 30 following a three-car collision in New Mexico.
Country singer Kylie Rae Harris has died at the age of 30 following a three-car collision in northern New Mexico, and what she posted on Instagram and Twitter right before is downright chilling.
According to the Associated Press, another driver, a 16-year-old girl, was also killed, while the third driver escaped injury. The deadly crash took place Wednesday night on State Road 522 in Taos County.
Harris is survived by her 6-year-old daughter.
The singer's last tweet mentioned that she was low on gas at one point during her journey. "Fuel range is 46 miles and I'm 36 from the nearest gas station. Dear baby Jesus please don't let me get stranded in NM," she wrote. Her Instagram Story echoed a similar sentiment: "Current Sitch: Iffy." A boomerang video showed she had "low fuel range," with the red needle almost past empty.
Soon after, Harris posted to her Instagram Story a selfie-style boomerang video of her giving the camera a thumbs-up. The caption, "We good now," was accompanied by a gas tank emoji.
Fuel range is 46 miles and I'm 36 from the nearest gas station

Dear baby Jesus please don't let me get stranded in NM

@KylieRH
The next series of videos the late singer posted explained why she was making the trek in the first place. She tearfully recalled sitting in the backseat as a child as her father, who's now deceased, drove her down that same road.
"Alright, I look a mess. It's 'cause I've been crying! It's okay though. It's a good cry," she said in the selfie-style video. "I just got to Taos, New Mexico, and I'm playing this festival here called the Big Barn Dance. I love this festival."
"But for those of you who don't know," she continued, "I spent the last 20 years of my life coming to Taos with my dad and my sister. My grandparents lived here, my uncle still lives here. But basically, literally everybody that was here has passed away, except for my uncle, and including my dad."
Harris choked up and apologized to her followers, explaining she had been on the road "for almost 12 hours."
"You would think that's exhausting and boring, but like, the last couple of hours driving through the mountains and just remembering my place in the back seat as a little kid when my dad was making these treks here," she said through tears. "I'm so f--king pissed."
"And I started getting really sad. I started getting real sad. And then all of a sudden, these random cows show up in the middle of the road. And I know that might sound really crazy, but like, there was this time that we always talked about with my dad and my sister," she went on. "I was in the backseat asleep. I was like 10 or 12, and we hit something really hard! And I popped up my head and was like, 'What was that?' And my dad said, 'Cow guard.' But really, he had hit a cow! I know that's very depressing, but just the fact that I started when I was on my trek to the mountains, I just started crying and I was sad, and all of a sudden, these cows just appeared out of nowhere."
"You know," she concluded, "we grieve in different ways."
"We are heartbroken to confirm that Kylie Rae Harris passed away in a car accident last night," the late singer's publicist said in a statement to Billboard. "We have no further details to share, and ask for privacy for her family at this time. Everyone that knew Kylie knew how much she loved her family and, beyond that, how much she loved music. The best tribute to her unmatched enthusiasm for both is to spread as much love as you can today, and listen to music that fully inspires you."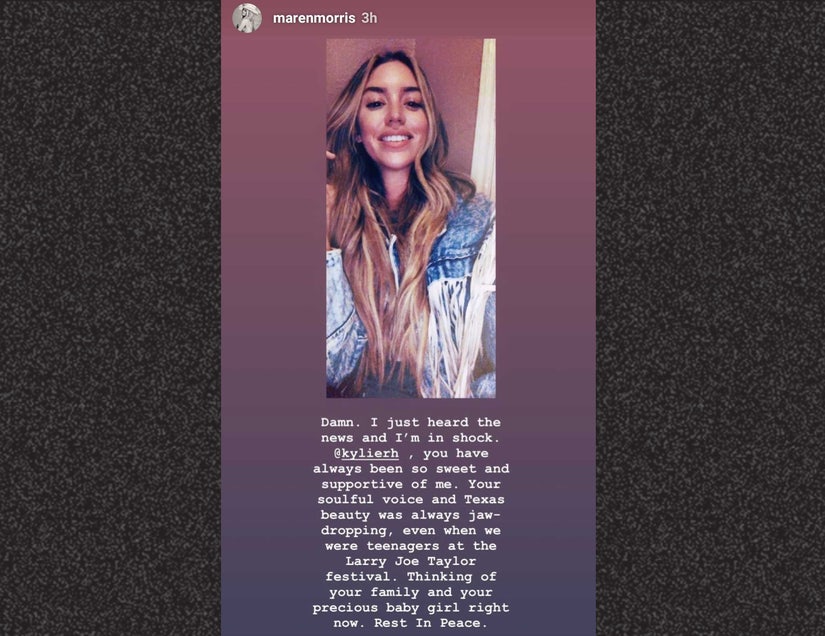 Instagram
Country star Maren Morris paid tribute to the late singer, posting a photo of her on her Instagram Story and writing, "Damn. I just heard the news and I'm in shock. @kylierh, you have always been so sweet and supportive of me. Your soulful voice and Texas beauty was always jaw-dropping, even when we were teenagers at the Larry Joe Taylor festival. Thinking of your family and your precious baby girl right now. Rest In Peace."