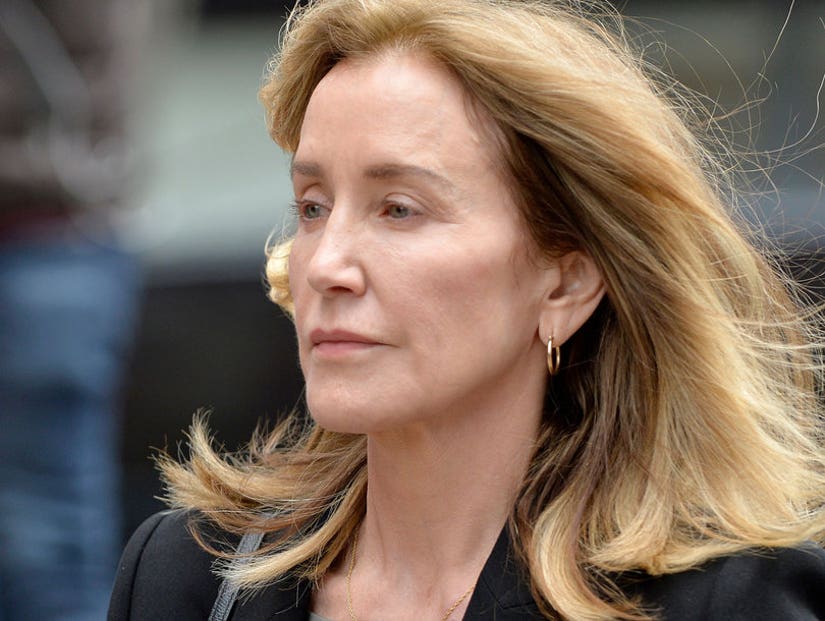 Getty
The actress was also ordered to pay $30,000 in fines.
Felicity Huffman has been ordered by a judge in Boston on Friday to serve 14 days in prison for her part in the college admissions scandal.
The "Desperate Housewives" actress is the first parent out of over 30 to be sentenced after they were indicted for paying mastermind William "Rick" Singer to provide various backdoor options for their children to get into elite universities.
In addition to two weeks prison time, Huffman was sentenced to 250 hours of community service and $30,000 in fines -- a full $10,000 more than prosecutors requested. However, the prosecution had demanded a minimum four week sentence.
"I am deeply sorry to the students, schools, and universities, that are impacted by my actions," Huffman said in court before U.S. District Judge Indira Talwani on Friday.
"I take full responsibility for my actions and as a first step for making amends for my crime. I will accept whatever punishment you deem appropriate."
Huffman was supported by her husband William H. Macy in court.
Judge Talwani said the scandal, which has been dubbed Operation Varsity Blues, only highlighted an already existing imbalance in the U.S., where the children of the wealthy have advantages not available to the average American.
"This is a system which does not have a pure meritocracy," Talwani stated, "and a person in position of wealth and position you are is in a much easier position in this meritocracy of college admissions."
"In a system of that sort, in that context, that you took the step of obtaining one more advantage to put your child over theirs," the judge explained before noting she did not take pleasure in sentencing Huffman to prison.
"I don't think anyone wants to be going to prison, I do think this is the right sentence here. You move forward and you can rebuild your life after this. You pay your dues."
Huffman apologized to her daughter, Sophia, during her statement in court. The actress admitted in May to paying Singer $15,000 to correct her daughter's SAT scores, one of his "side door" options for sneaking offspring of affluent parents into colleges.
Interestingly, Huffman ran a "parenting" blog before the scandal broke according to Forbes.
Court documents describe the now-defunct site as selling merchandise "inscribed with sayings like 'Good Enough Mom' and 'Mom Knows Best'". Prosecutors argued Huffman "profited from fundamental duplicity" by running the blog.
Huffman must report to prison on October 25th.
50 people have been charged in the Varsity Blues scam that rocked the nation earlier this year.