"I told Sean I was done," says the show newcomer, as a shocked Shannon Beador blurts out, "You did?!"
But on Bravo's "After Show," the mother of seven managed to surprise show producers and elicit an audible gasp from Shannon Beador when she revealed they almost got divorced after she cheated on him several years ago.
Braunwyn and Shannon were seated next to each other while discussing their immediate reactions to hearing that Gina Kirschenheiter had slept with her estranged husband, Matt, who she claimed had had an affair during their marriage. Both ladies said their first thought was positive because they agreed that fighting to keep a family together is of the utmost importance. That's when Braunwyn dropped the bomb.
"We fought for our family," she explained, "because Sean and I almost got divorced. So when [Gina] was going through this, I'm like, 'Hey, we've been through infidelity, we have gone down this road, and Sean and I came back stronger, so I support you.'"
An off-camera producer then asked, "Did you have the same experience, where your husband cheated on you and came back?"
"No, I cheated on Sean," Braunwyn replied, as Shannon's mouth fell to the floor. "We separated. I took the kids..."
"You did?!" a wide-eyed Shannon blurted out.
"Yeah," Braunwyn responded, before adding that "he was with someone else, too."
"Oh, okay, so you thought the marriage was over," Beador noted, which Windham-Burke confirmed. "Yeah, yeah, yeah. We were separated. We were in two different homes. And so I went to Hawaii, I took the kids, I enrolled them in school. I told Sean I was done. I just didn't want to be a single mom anymore. He traveled 25 days of the month."
"Were you dating a man?" the producer asked, likely given that Braunwyn's admitted she and Sean have only ever invited another woman into their bedroom.
"Yeah," she said, adding that the relationship was "very PG."
"It was like holding hands on a surfboard kind of thing," she explained. "It was someone that listened to me. We surfed together, we would go for walks. I wasn't ready for anything more, but it was nice to just have someone listen."
As for how she and Sean were able to reconcile, Braunwyn said, "After a few months, he flew out to Hawaii, and he got down on one knee and re-proposed to me," noting that Sean also announced he had quit his job.
"He was the president of a very successful company, and he sold his shares and walked away," she said. "And he became a stay-at-home-dad for like eight years. He said, 'I would rather choose you guys than my work.'"
Though touched by Sean's words and actions, Braunwyn said she didn't necessarily go running back into his arms.
"That's when I decided to give it another chance, but no, it was not 'like that.' It was years of work," she explained. "But we put in the work, and we came out better for it. We acknowledged where we were, how we got there and what we wanted. I mean, for us -- just us, no one else -- it was the best thing that ever happened."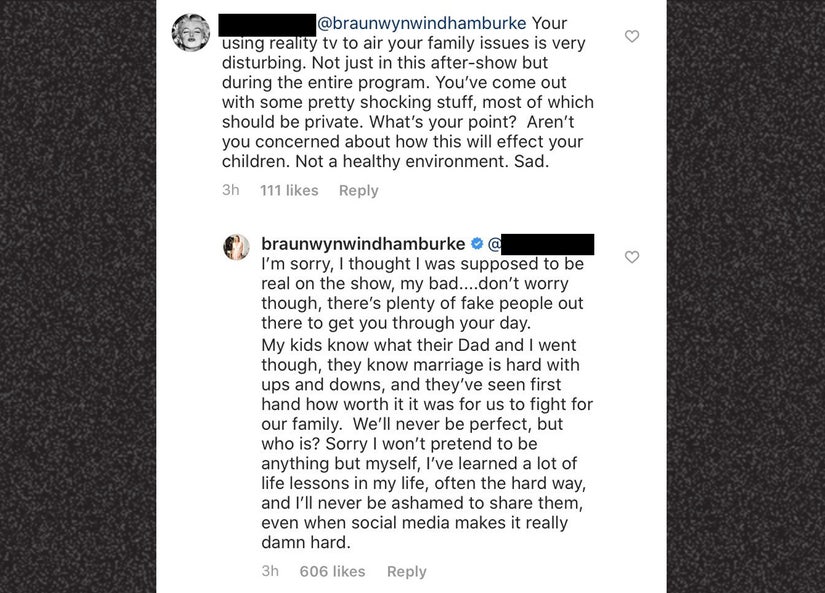 Instagram
Bravo shared a portion of the video interview on Instagram, eliciting all sorts of responses to Braunwyn's revelation. One particular remark caught the newcomer's eye, and she clapped back.
In the since-deleted exchange, the critic said it was "very disturbing" of Windham-Burke to use reality TV to "air out your family issues," claiming Braunwyn had "come out with some pretty shocking stuff."
"What's your point? Aren't you concerned about how this will [affect] your children?" the person wondered.
Braunwyn responded by noting she was just being "real" on what she thought was a reality show.
"My kids know what their Dad and I went through, they know marriage is hard with ups and downs, and they've seen first hand how worth it it was for us to fight for our family," she wrote. "We'll never be perfect, but who is?"
She added, "Sorry I won't pretend to be anything but myself, I've learned a lot of life lessons in my life, often the hard way, and I'll never be ashamed to share them, even when social media makes it really damn hard."
"The Real Housewives of Orange County" airs Tuesdays at 9 p.m. on Bravo.