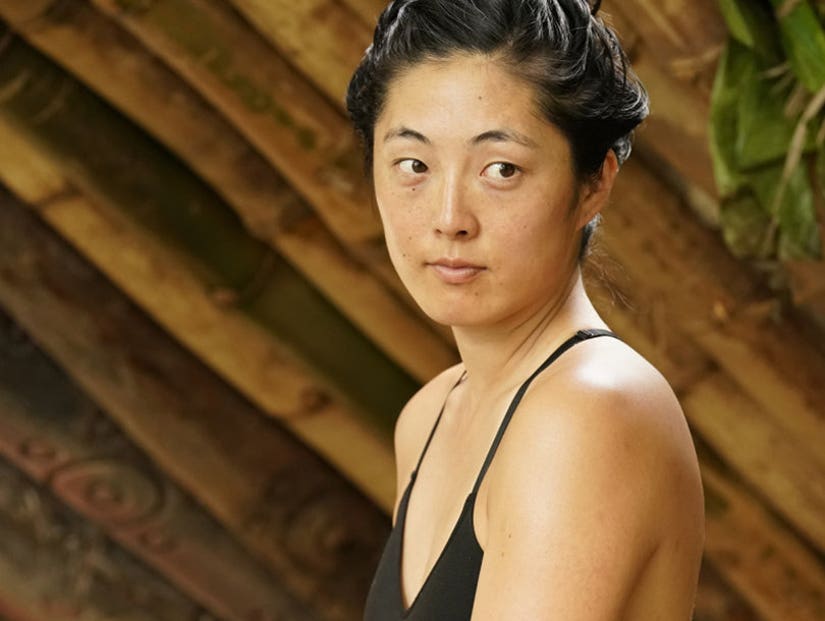 CBS
A week after the episode aired, the woman at the center of the situation speaks out.
Kellee Kim believes CBS could have handled the inappropriate touching controversy on "Survivor" better, but thinks it's still a teachable moment for everyone involved going forward.
In a new interview with Entertainment Weekly -- done via e-mail and posted a week after she was eliminated from the show -- Kim opened up about what surprised her as she watched the two-hour episode for the first time last Wednesday.
ICYMI: Kim expressed unease with fellow tribe-mate Dan Spilo's physical contact and violation of her personal space, which prompted production to step in, address the situation to the entire cast, then individually. Spilo was also given an official warning during his 1:1.
The situation got messier as fellow castaways Missy Byrd and Elizabeth Beisel took advantage of the allegations and exaggerated their reactions to their own interactions with Pilo, as a game move. Kim ended up getting kicked out at tribal in the first hour and the fallout continued through the second half of the episode.
Kim said she watched the episode the same time the rest of the world did, telling EW that CBS "did not allow me to view the episode early" and did not give her "any choice on if and how the story would be told." She added that she didn't know the entire cast met with production individually and wasn't informed that Dan would get a personal warning.
"If production was going to give Dan an official warning, they should have just pulled him from the game or at least informed me so that I was aware of how it might impact the game," she said, before drawing a comparison to the "real world" workplace.
"You complain about your coworker making you feel uncomfortable and touching you too much. This person gets a warning, and as a result, refuses to work with you, blocks anything you try to put forward, and it hurts your career," she said. "So while I don't think this was the right course of action, this issue coming to light is allowing production to have these conversations, input protocol, raise awareness, and change for the better."
She added she hopes "we are all learning" after seeing how everything played out, including Biesel and Byrd.
"I draw the ethical line at using something like this as a tool," she said of them using her allegations for their personal gain. "The reason is: I needed to be believed, and production needed to step in. If people lie or use it to their advantage, it discredits the truthful stories and does irreparable damage to the issue."
As for where she stands with Dan now, she added that she's keeping that "between me and Dan," because it has "no bearing on the facts, which the public saw air."
"Having a good or bad relationship with someone after something like this seems to warp public perception of what happened," she explained.
While Spilo has yet to speak out on what transpired -- save for apologizing on the show to anyone he may have made uncomfortable throughout the season to this point -- both Beisel and Byrd issued lengthy statements. Kim re-tweeted Beisel's apology, writing, "Apologies like this take a lot of courage. Extremely grateful for the support from my cast and I believe we can all move forward together."