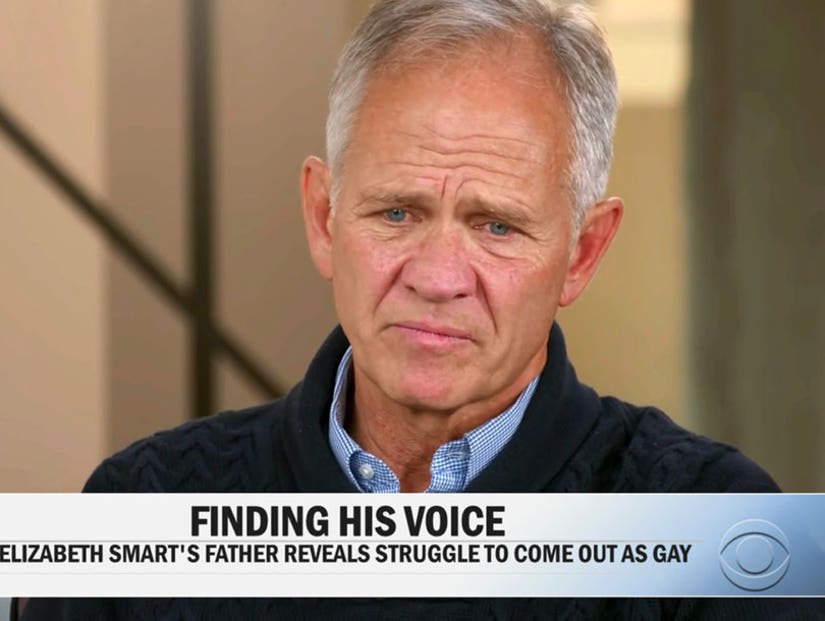 CBS
"This is absolutely not a choice. And I wish my wife knew that. I wish that more than anything."
His daughter Elizabeth Smart went through nine months of hell when she was kidnapped in 2002. Now, in a new interview, Ed Smart is opening up about struggling with his own private war with his sexuality before coming out as gay earlier this year.
Speaking to Gayle King on Monday's CBS This Morning, the 64-year-old broke down in tears as he lamented there was "no cure" for homosexuality.
"During the course of my life, you know, I've certainly found men to be attractive," he said. "I was taught that that was not acceptable. That that was something that you were a deviant. You were a bad person if you thought those things. That was what I was brought up to believe.
"I never wanted to identify as being gay. I never wanted that to be part of me," he said, weeping. "Why would God give this to me? Why would I have to endure this in life?"
Ed, who was married to wife Lois for 34 years and had six kids with her before they spit, felt like his sexuality was a betrayal, and turned to his church leaders in desperate search of a "fix".
"I went to therapists. I went to my church leaders. I mean, I literally called my bishop up one morning, and I said, 'You know, I feel like I've stabbed Lois in the heart,'" he said.
"And I went to my other church leader, and I said to him, 'So am I gay? Am I gay?' And he said to me, 'I don't think so.' He said, 'You know, there's this spectrum... and it's fluid within this spectrum.'"
"I was praying that I was not. I didn't want to believe that I was. But how do you cure being gay? There is no cure," he continued. "And for all of those out there that are struggling in the same spot, there is no cure."
He added, sobbing: "This is absolutely not a choice. And I wish my wife knew that. I wish that more than anything." He has since left the Church of Jesus Christ of Latter-day Saints and wife Lois filed for divorce in July.
It's been 17 years since Ed's then-14-year-old daughter was kidnapped at knifepoint from her bedroom in Salt Lake City.
She was held captive by Brian David Mitchell and his wife, Wanda Barzee, and was raped daily. She was rescued by police nine months later from a public street in Utah, 18 miles from her home, following a tip off from two witnesses who had recognized the abductors from an episode of "America's Most Wanted".
Barzee was sentenced 15 years in prison, while Mitchell was given two life sentences.
Elizabeth, now 32, is a child safety and missing persons activist and commentator.