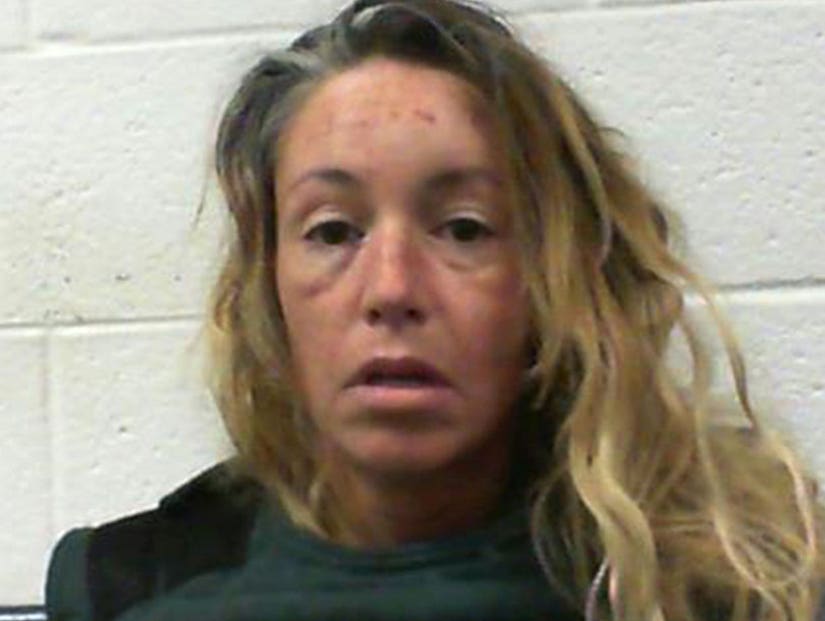 West Virginia Regional Jail
She has "special kinda crazy" tattooed across her chest.
A Virginia woman has been jailed for life for the murder of her boyfriend's disabled son.
Roena Cheryl Mills, 43, killed 29-year-old Bo White on Easter Sunday of 2018, before decapitating him and attempting to chop up the rest of his body. The court heard the Mills had been having sex with Bo as well as his father Jimmy White, whom she had first met while working at a strip club in 1995.
Prosecuting Attorney George Sitler told the court that Bo was "sickly, introverted boy" who still played with Star Wars figures, the Bluefield Daily Telegraph reported. He lived alone, but had money thanks to a disability check.
According to his cellphone found on his headless body at his home, Mills texted him on his last night alive, arranging to meet up: "I'm trying to get my things. Give me a few minutes," she sent him late on March 31.
While the reason for their meeting was not determined, Sitler said one theory was that she was trading pills for sexual favors. "His father had introduced him to a manipulative woman. She knew Bo had a pocket full of pills and a pocket full of cash," Sitler said, describing Bo as "an awkward, sickly shut-in who didn't have a real life."
When Jimmy discovered his son's headless corpse, Sitler told the court his first reaction was to take drugs. "He didn't want to face it,"" he said. "He wanted to get high. That's what junkies do. That's how they deal with life or don't deal with it."
That night, Mills texted people from midnight to 4:30am trying to recruit help as she sought to get rid of the body. One witness, military veteran Jo Fleming testified that Mills asked to borrow gasoline and a chainsaw from him, and wanted him to come with her, but he refused.
This left her with just "cheap kitchen knives" Sitler explained, comparing the task of severing Bo's head to cutting up chicken: "all that flesh and bone is hard to cut with a good knife."
Mills — who has "special kinda crazy" tattooed across her chest — was found on the morning of April 1 emerging from a wooded area, agitated and disheveled, telling deputies they had to let her finish what she was doing and "you have to let me go back and get my heads."
Defense attorney Sid Bell claimed it could not be proven beyond reasonable doubt Mills was responsible for the killing, arguing that Bo's father was a more likely culprit. "Our theory is that Jimmy White was jealous of her relationship with Bo... and Jimmy White is a terrible person," he said.
He pointed out that there was no evidence of any problems between Mills and the victim, and that the blows and stab wounds that killed him required "a lot of strength"
"As an old prosecutor, we call that a crime of passion," he said. "Someone with a lot of strength and a lot of rage had to kill this man."
Nevertheless, the West Virginia jury took less than two hours to find Mills guilty of first-degree murder on Thursday. She was sentenced to life in prison "without mercy" — meaning she has no chance of parole.