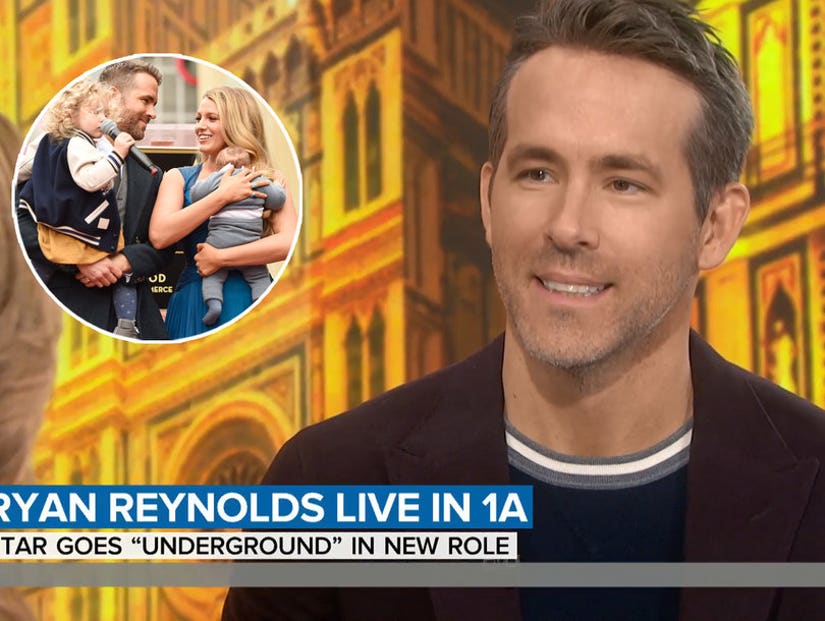 Today/Getty
The actor joked her moniker has "all silent letters".
Ryan Reynolds still hasn't named his third child ... to us, anyway.
The actor spoke about his newest daughter for the first time on Thursday's TODAY, where he expertly side-stepped questions on what he and wife Blake Lively called her.
"We haven't yet," he deadpanned. "We're going to be original; All of the letters in her name are silent."
He added, smiling: "I want to give her something to push against in life."
It's always hard to get a straight answer out of the "Deadpool" jokester, who went on to claim he hadn't even met Lively in real life yet.
"We actually only exist as a couple online, it's manufactured by the studio system, and it's worked out pretty well for us, really," he went on, claiming he was actually married to a woman named Louise in Denmark, with whom he shares four amazing kids.
In reality, the 43-year-old is now outnumbered four-to-one by ladies at home, including five-year-old old James and three-year-old Inez.
"It's all women, and I would have it no other way," he said, joking he was doing his part to wipe men off the face of the Earth. "I love it. It's been incredible."
Baby number three, he admitted, has made it even harder to go to work. "For me - and this is obviously infinitely relatable because so many people have children - leaving the house is getting harder and harder," he lamented.
"It gets a lot harder when they ask, 'Where are you going? When are you coming home? Why are you leaving me?' So yeah, it's a lot."
Ryan also spoke about another new lady in his life: Monica Ruiz. Or as she is known to you and me, the Peloton Girl.
Ruiz recently starred in a very poorly received ad for the flashy exercise bike in which she is overjoyed to receive one as a Christmas gift, or as one of the many headlines slating the ad described it, "told she could lose a few lbs for the holidays".
Reynolds jumped on her viral fame by then casting her in a hilarious follow up ad for his Aviation Gin, in which she has dumped her tone-deaf hubby.
"She's exactly as advertised, literally," Reynolds gushed of Ruiz, who was also in studio. "She's amazing."
"First off: I'm not that benevolent, I was doing an Aviation gin ad. Let's get that clear," he admitted. "But secondarily, I felt like there's some authorship on her part for this, and it gives her that ability to call a response. Any time you can have that - especially in the advertising world - everybody wins."
Reynolds said he identified with what she was going through, knowing that she inevitably absorbed some of the negative feedback against the ad.
"I can relate to that as an actor, doing something creative that doesn't work," he said. "And suddenly you feel like the only person on Earth, and it's very alienating."
Indeed, Reynolds himself received a ton of flack for his first two entries into the world of comic-book superheroes: firstly for the much-derided version of Deadpool that appeared in 2009's "X-men Origins: Wolverine", and then the not-very-well-received "Green Lantern" two years later, before he smashed it out of the park with his own vision of Deadpool in 2016.