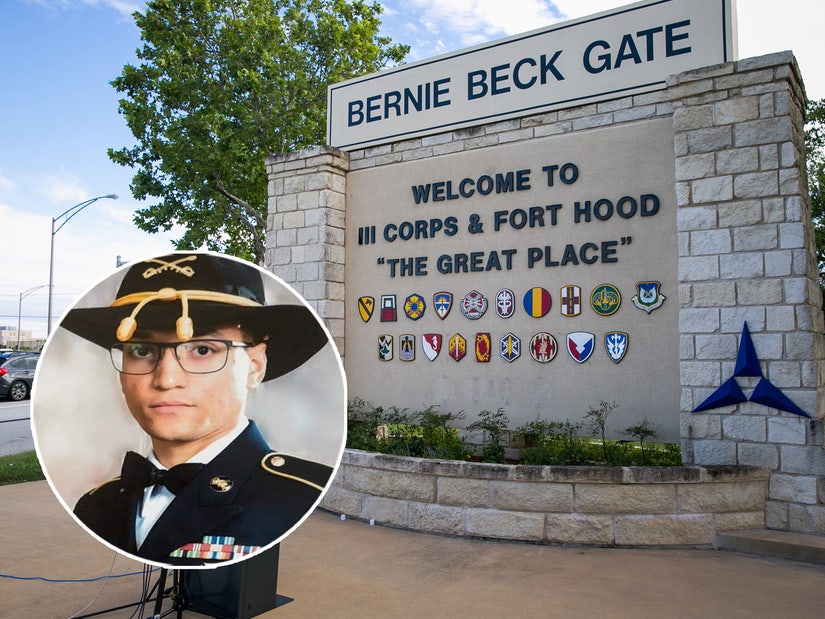 Getty/Twitter
It would be the seventh death connected to the base in the past three months.
The body of Sgt. Elder Fernandes is believed to have been found.
Police discovered the deceased in Temple, about 30 miles from the Fort Hood base; Identification found with the body indicated it was the missing soldier.
Officers said they received a medical call on Tuesday shortly after 5:30 PM, saying a man had been seen near the railway tracks, ABC reported.
When they arrived, they found the man dead. Foul play is not suspected, and an autopsy has been ordered.
Family lawyer Natalie Khawam said army police told them on Tuesday night about the grim discovery. She said the body was found hanging from a tree.
Khawam — who is also representing the family of murdered soldier Vanessa Guillen — said Fernandes' backpack was with him, with his drivers license inside.
Fernandes would be the seventh Fort Hood soldier either killed or found dead since May.
Sgt. Fernandes told superiors he was being sexually abused before he disappeared.
An army spokesperson confirmed to CNN that there is an "open investigation of abusive sexual contact" connected to the missing 23-year-old — and that he was the victim.
"The unit sexual assault response coordinator has been working closely with Sgt. Fernandes, ensuring he was aware of all his reporting, care, and victim advocacy options," Lt. Col. Chris Brautigam told the broadcaster.
"The unit also facilitated his transfer from a unit who has recently deployed to a different unit within the brigade to ensure he received the proper care and ensure there were no opportunities for reprisals."
Vanessa Guillen — one of the many other soldiers connected to the cursed Texas base who have died or disappeared this past year — also complained about sexual harassment before she was hammered to death.
Another soldier is missing from Fort Hood.
Sgt. Elder Fernandes, 23, has not been heard from since Monday, when his staff sergeant dropped him to his Killeen home just four miles from the Texas base.
The chemical, biological, radiological and nuclear specialist with the 1st Cavalry Division Sustainment Brigade is from Brockton, Massachusetts.
He was last seen wearing black Army PT shorts and T-shirt and red athletic shoes.
According to MA Representative Liz Miranda, Fernandes' car was found with all his belongings intact.
She also said he had recently signed a new lease, but never picked up the keys to his apartment.
"His mother just flew to Texas to try to find her son," she said. "We are very concerned about his well being."
SGT Elder Fernandes is a
74D, CBRN Specialist, who was last seen at approximately 18 0745 AUG 20 at CRDAMC. From Brockton,MA.
Should there be any sightings contact the POC listed below. Mobile: 254-317-8071 or his aunt in MA 1 (508) 513-8340 Let's bring him home safely. pic.twitter.com/yZL7wFyabP

— Representative Liz Miranda (@RepLizMiranda) August 20, 2020 @RepLizMiranda
Searches of the base have turned up nothing so far.
"Our primary concern is for his health and well-being," military police said, per KWTX.
"We have completed a search of the entire division area, to include motor pools, parking lots, and headquarters buildings and the unit is in contact with the soldier's family, the U.S. Army Criminal Investigation Division and civilian law enforcement agencies to help find him as we continue our search. Finding him and ensuring his safety is a top priority for the division."
There have been 11 deaths linked to the base this year alone.
original story 8/17/2020 1:17 pm
The body of a yet another soldier has been discovered at Fort Hood.
Sgt. Bradley Moore died in a training accident on Thursday at the base, which has seen six bodies found in the space of just three months.
The 36-year-old was killed while undertaking a land navigation course, Army Times reported.
The cause of death has not been disclosed; while his death is not being treated as suspicious, the circumstances are still being investigated.
Since 2007, almost two dozen soldiers have been killed on or near the base, either in accidents or murders — five of which occurred since May of this year.
Shortly after midnight on July 17, the body of Pvt. Mejhor Morta was found floating in a lake near the base. Autopsy showed he drowned, although family members said he would never go swimming or even hiking there alone in the middle of the night.
On June 30, human remains — eventually identified as Spc. Vanessa Guillen — were found buried near the base. According to investigators, she was bludgeoned to death with a hammer inside the armory, dismembered, and burned. She had been missing since April 22.
The following day in the early hours of July 1, a fellow soldier suspected of killing her, Aaron David Robinson, died after shooting himself in the head as investigators approached.
On June 19, the skeletal remains of Pfc. Gregory Morales was found in a field near the base. He had been missing since August 2019. His death is still under investigation.
On May 18, the body of Pfc. Brandon Rosecrans was found shot dead, three miles from where his burning Jeep was discovered. Army investigators say he was killed in a dispute over the sale price of a gun.
And that's only this year; Fort Hood's worst atrocity occurred in November of 2009, when Nidal Malik Hasan, an Army Major and psychiatrist, went on a shooting spree on the base, killing 13 and wounding 32 before he was shot and stopped. He was sentenced to death in 2013.
Two years earlier, in June of 2007, the body of Sgt. Lawrence George Sprader Jr. was found days after he went missing during a navigation exercise. He had called for help on his cellphone, but it still took a 3,000+ strong search party four days to find him.
In July 2011 Pfc. Naser Jason Abdo was arrested, later admitting to a plot to murder his fellow soldiers on base. He was sentenced to life in prison the following year.
In April 2014, Spc. Ivan Lopez opened fire on the base, killing three and wounding 16, before fatally turning the gun on himself.
The base doesn't just boast a history of murder and accidental deaths either; in March of 2015 Sergeant Gregory McQueen — a sexual assault prevention officer — was discharged after it emerged he tried to pimp out young female soldiers in a prostitution ring.