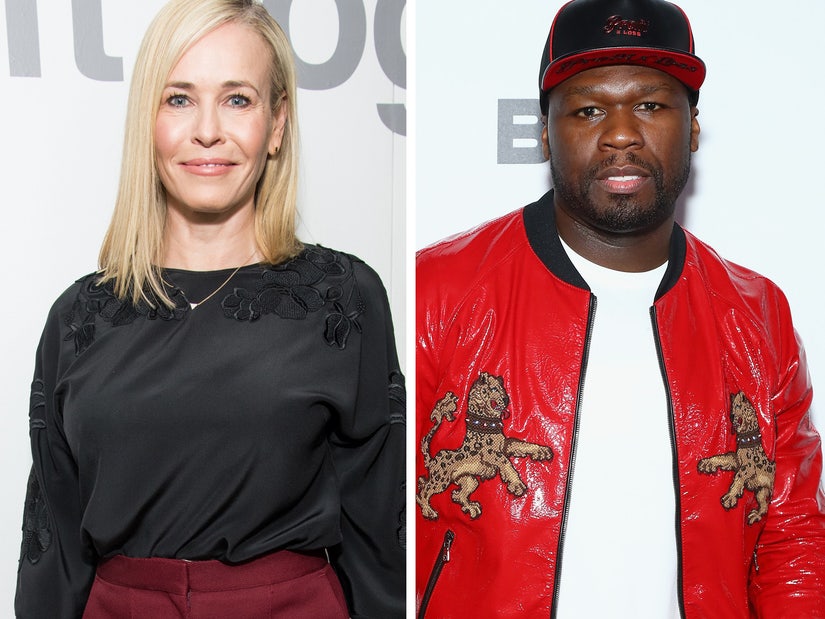 Getty
"That's you, f--ker! Remember?"
update at 6:30AM PT on October 26, 2020
The feud continued over the weekend, after Chelsea Handler used her appearance on "The Tonight Show Starring Jimmy Kimmel" Friday night to continue to rail on her ex and his support of Donald Trump.
"He doesn't want to pay 62% of taxes -- which by the way isn't a plan of Joe Biden, that's a lie -- because he doesn't want to go from 50 Cent to 20 Cent," she told Fallon, in a clip 50 Cent later shared on Twitter. "I had to remind him that he was a Black person, so he can't vote for Donald Trump and that he shouldn't be influencing an entire swath of people who may listen to him because he's worried about his own personal pocketbook."
"I haven't heard back from him yet, but I am willing to seal the deal in more ways than one if he changes his mind and publicly denounces Donald Trump," she added. "I might be willing to go for another spin if you know what I'm talking about."
Saturday evening, 50 posted that clip and added, "a what, another spin F--k Donald Trump, I never liked him. for all I know he had me set up and had my friend Angel Fernandez killed but that's history. LOL." The last line there is a quote from "Scarface."
Sunday morning, Handler responded, asking him flat out whether this was a change in tune. "Honey- does this tweet me we can count on a vote for you for @JoeBiden?" she asked. "I'm happy to discuss this with you privately. My phone number is still the same. Your's isn't. I've tried calling you."
He has yet to reply publicly.
UPDATE 7:45am pt on October 23, 2020
Handler kept the jabs coming on Instagram later in the day on Thursday, making a point to let her ex know that any favorable things she said about him on her new HBO Max special don't necessarily still stand.
Sharing a screenshot of her earlier tweet mentioning the BLM movement (in original post below)," she added, "Hey f--ker, anything I said about you in my stand-up special was when you were still my favorite ex-boyfriend. Offer still stands if you come to your senses! #ChelseaHandlerEvolution"
The Twitter back and forth between the two, who once dated back in 2010 and have been on good terms since, began on Monday after 50 Cent shared a screenshot of a Fox News report on Joe Biden's proposed tax plan.
According to reports, taxpayers in New York City, New Jersey and California who earn more than $400,000 could see their combined state and local rates rise above 60%. While 50 didn't get into any of that context in his tweet, he made it clear he'd be putting his money first when it came to the election.
"WHAT THE F--K! (VOTE ForTRUMP) IM OUT, F--K NEW YORK The KNICKS never win anyway," he tweeted. "I don't care Trump doesn't like black people 62% are you out of ya f--king mind."
The rapper quickly started trending over his support and it wasn't long until Handler jumped into his replies -- tweeting, "You used to be my favorite ex-boyfriend."
50 didn't love that, joking that the election was "effecting [sic] my love life now." He added, "@chelseahandler I love ya Gator, don't let Trump and Joe Biden come between us girl."
Handler, however, wasn't in much of a joking mood herself.
"Hey f--ker!" she replied. "I will pay your taxes in exchange for you coming to your senses. Happily! Black lives matter. That's you, f--ker! Remember?"
Of course, 50 himself already said he didn't care "Trump doesn't like black people" ... so that may not be the leverage Handler was hoping for. 50 has yet to reply to her latest tweet.