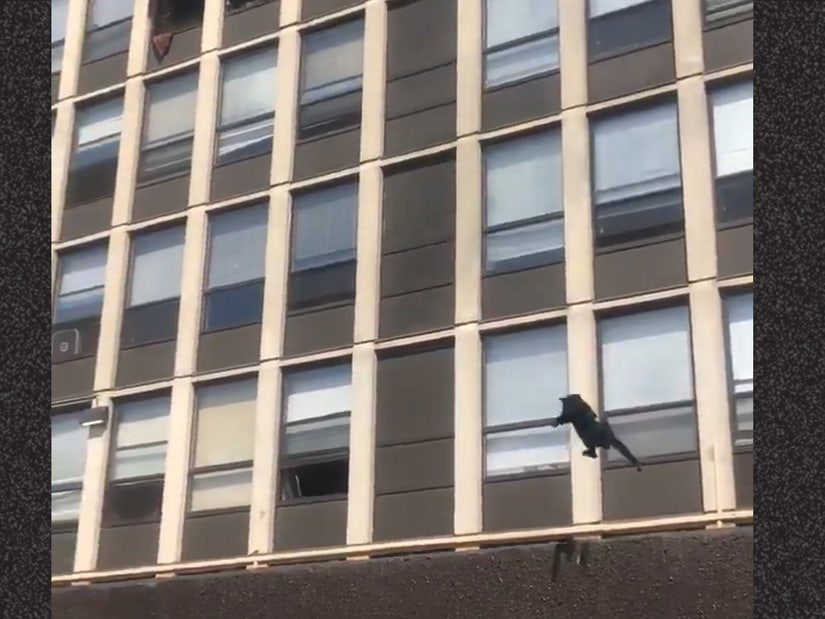 Twitter
He didn't even use one of his 9 lives.
Even a death-defying cat will bounce if it falls from a great height.
The proof is in an incredible video captured by Chicago Fire on Thursday, who witnessed a cat leaping out of a burning five-story building — and walking away like it was nothing.
Firefighters were filming the exterior of the apartment tower, smoke billowing from the windows and debris crumbling to the ground, when they suddenly realized to their horror there was a victim stuck up there.
The black cat could be seen slowly clambering out one of the smashed windows, clinging for a moment to the exterior wall.
But before anybody could think about doing anything, the feline took matters into her own paws — and jumped:
Witnesses screamed as the cat plummeted the five stories to earth... before she deftly landed on the grass verge, and with the lightest of bounces, walked away like a boss.
The amazing footage, posted on Twitter by the fire department, has been viewed more than 500k times.
Stunned commentators pointed out that the cat had not only survived the vertical drop, but had also calculated with pinpoint accuracy her landing on the narrow grass verge, over the tall wall, thus avoiding about 30 feet of concrete directly below the building.
And according to Chicago Fire spokesman Larry Langford, she might have also been considering an encore.
"It went under my car and hid until she felt better after a couple of minutes and came out and tried to scale the wall to get back in," he told NBC.
He said the cat was not injured at all, and they are now trying to track down her owner.
There were no other injuries reported in the fire, which was confined to a single apartment. The cause has not yet been disclosed, nor has the amount of damage.