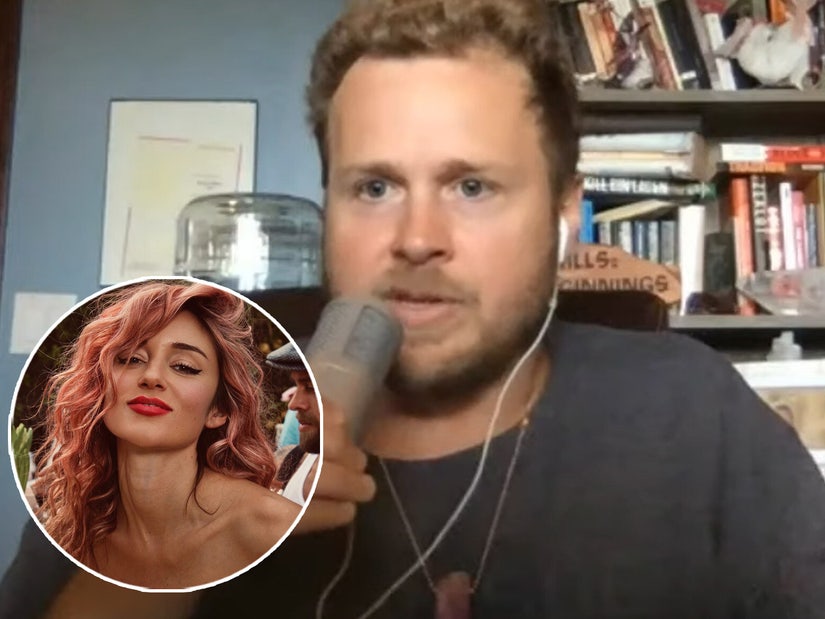 YouTube/Instagram
Spencer previously said he'd be surprised if MTV aired the rest of the season, with Heidi saying their costars should try to "pretend to be interesting."
update at 10:45 am PT on July 27, 2021
Caroline D'Amore came out swinging against Spencer Pratt and wife Heidi Montag's criticism of the current cast of "The Hills: New Beginnings," after the pair trashed their costars all over social media and in recent interviews.
Speaking with Chanel In The City with Chanel Omari, D'Amore -- who joined the show in its second revival season at MTV -- said it's been "really hurtful and shocking and weird" to see the Pratts publicly slam her and the rest of the group as the show airs.
"I know that they're gonna hear me talking about it, and they're gonna be like, 'You're just talking about us, and blah, blah, blah.' But at the end of the day, I'm just commenting on the things that people are asking me questions about and like, it's hurtful," said D'Amore.
"It's hurtful to all the producers, you're literally going around saying, the show is terrible. And by the way, the ratings are really good. They're really high. And they're growing every single week. And you know, Heidi and Spencer are going around saying it's the worst show and we need our own spin off and we need to be on a show just by ourselves and everybody sucks. And it's just so mean," she continued.
While the Pratts have said they don't blame the producers, but the cast for not giving them -- in their minds -- compelling footage or storylines, D'Amore said their comments are still disrespectful to the entire crew.
"You know how many people put their lives at risk to film during a pandemic? Forget us who are all getting like nice paychecks and this and that. How about the entire production team? How about the producers that worked their butts off for you ungrateful ass-----," she continued. "Ever think about them? And you're tearing them apart, you're tearing their businesses apart, their livelihoods apart. It's ungrateful. It's disgusting."
She went on to criticize the duo for their storyline this season, as the two have been talking about their financial issues while "spending $7,000 a month on food and buying $60 burritos." Added Caroline, "They think that's funny during a pandemic, when people are starving and they they have no jobs and nothing and then they go out and tear the show apart. It's disgusting. And I honestly, like, I'm embarrassed to be associated with that s---."
She added that some of her costars have talked about the Pratts as a group, while others have tried to stay out of it. "There are alliances," she said, adding that there are also some people who simply "don't want to deal with the wrath that you get from Heidi and Spencer if you go against them."
"I know it scares some people to speak their truth about them," she added, "because they will come for them."
During an interview on the "Hollywood Raw podcast with Dax Holt and Adam Glyn" podcast, the reality star revealed he wouldn't be surprised if the producers of the MTV show pulled the plug on the rest of the second season, after the hosts suggested it was "so bad."
"Because the cast," Spencer said, pointing fingers at his co-stars -- which include Audrina Patridge, Brody Jenner, Kaitlynn Carter and Jason Wahler -- for any poor reception. "The cast came back from COVID with these versions of themselves they wanted to Instagram post. They thought the cameras were there to promote. The cameras are there to follow their real lives, so it's not supposed to -- this isn't a filter, this isn't how you want to look, what you want out there. These aren't skits you're performing, we're not acting."
He went on to say that the lack of authenticity left producers with "nothing" to make for a compelling program. He added, "They went with nothing, because there's nothing there, and it just looks like that. So, yeah, it's all the cast. I don't blame the producers."
As for trying to convince his cast mates to show more of their true selves on camera, Spencer said he tried, but would only be blamed as the "bad guy" if he told them what they were filming would never be aired.
"100%, that's why everyone turned on me so crazy, because I was calling them all out," he explained. "Like I'm not even playing pretend with you idiots, stop this. I know what you're really thinking, I know how you two really feel about each other, I know what really happened with you two. But if I bring it up, 'Oh, Spencer, he's always trying to make drama, he's the bad guy.' It's like, I don't care enough about your storyline and helping you anymore."
"Yeah, if it was my show -- then I would've literally been like, 'Hey Audrina, how do you feel about Kaitlynn? Say what you really said about Ashley.' 'Oh, Justin. You and Brody? You two hate each other, could we talk about that?' I would've done all that. But I'm not getting paid more to do that. You guys don't want to make a good show? Fine. I'll wait for this one out, bye."
Spencer then reiterated his claim that he knew more about everyone's personal lives than they were showing on TV, which, again, he claimed would have made for better TV.
"I know what's really happening, and you guys aren't filming. I know what's really going on in your guys' marriage, and what just happened, and allegations, and who Brandon's friend said, did what. I know all this. But do I care about bringing all this up? No. Because you all are going to be like, 'Spencer's a liar, that never happened.'"
One of his former costars who holds no blame over the reboot would be Lauren Conrad, as she declined to be part of it. Spencer did, however, reveal the last time he and his wife Heidi Montag were in contact with Lauren, which was around the time the pair claimed to be selling stories to the tabloids.
"There was a weird minute where Heidi and LC were texting when she thought our fake divorce was real, and was all excited, and was texting with Heidi and we were like, 'No, we just sold that as a story, genius,'" he claimed. "So that was funny. It was like 2010, I don't know, I was literally sitting right there."
"The Hills: New Beginnings" airs Wednesdays on MTV.