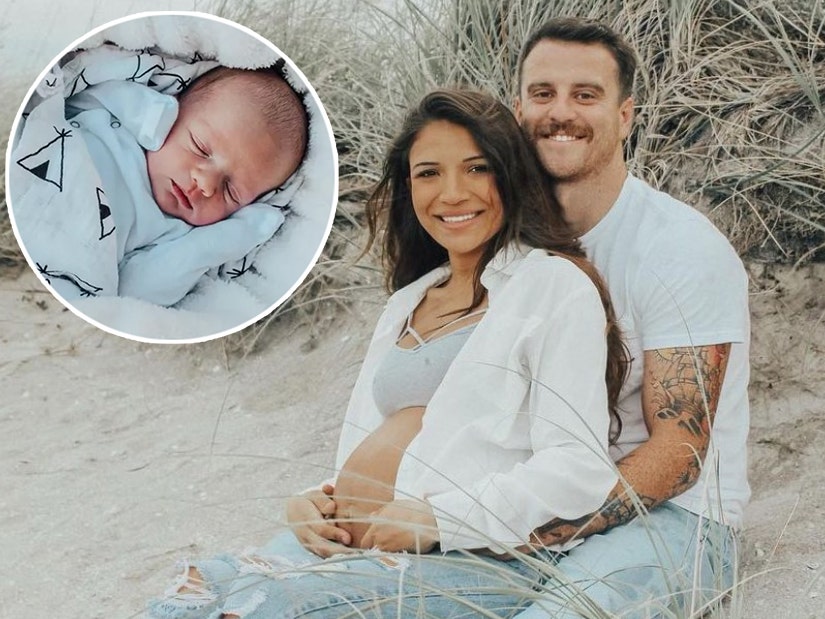 GoFundMe
update 1/18/2022 11:30 AM pst
Jayce is now at the center of a tug-of-love battle between his paternal uncle and maternal grandmother.
In the wake of his parents' suicide, the 8-week-old was placed in the emergency care of his uncle Zack Osteen — Clayton Osteen's brother — who intends on formally adopting his nephew.
But according to Daily Mail, the baby's grandmother — Victoria Pacheco's mother — has launched a legal battle to gain custody.
Jayce currently lives with his uncle Zack, who is also a sheriff's deputy, and who is also father to an 11-year-old daughter and 2-year-old son — Jayce's cousins.
St. Lucie County Sheriff Ken Mascara said Zack has the full support of the sheriff's department in becoming the full legal guardian
"After Victoria's passing Clayton's brother immediately took custody of Jayce," Sheriff Mascara said at a press briefing. "An emergency court order hearing took place that week and recognized Clayton's brother as Jayce's guardian for at least a year."
"Clayton's brother is married, has two children of his own, so Jayce is in a loving home with two cousins. And we foresee nothing but the best for Jayce in that environment."
But according to the outlet, the baby's maternal grandmother Tammy Meyer now fears being shut out of her grandson's life.
Meyer's childhood friend Kelly Newell said the 49-year-old had given up her job as a hair stylist and moved closer to the couple's home in order to be a full-time nanny for the baby, before the tragedy struck.
"Tammy is concerned about the whole situation and wants some answers," Newell told the outlet, adding she could not go into specific details for legal reasons.
"She has hired a lawyer to help her get guardianship of her grandson. Ultimately she wants full custody. She is in the same county. She won't leave that county without the baby. She has retained a lawyer to try to put the baby where it should be. And that is to live with her permanently."
She added: "Tammy hasn't been allowed to see Jayce alone because the Osteens aren't allowing it. There are a lot of sides to this story."
Newell's husband Brian also added: "We went down there for the funeral and it was pretty overwhelming how Tammy was treated."
The Osteen family lawyer Elizabeth Berkowitz said they were not commenting on the custody drama.
"The family are still grieving. This is a very emotional process for everybody. At this time we are going to say no comment," she said.
"Just like mom and dad and the family need privacy, so does Jayce. And we need to give Jayce that privacy right now."
Meanwhile, Newell has set up a GoFundMe to aid Tammy in her legal fight.
"Most people are familiar with the unfortunate event that happened shortly before New Year's Eve and ended when Victoria took her life on on January 4th," she wrote. "I am trying to help Tammy who recently moved closer to her daughter and future son-in-law."
"After Victoria finished her maternity leave, Tammy, a devoted grandmother, was going to become a full-time nanny working in the home with her grandson Jayce. Now because of this tragedy not only has Tammy lost her daughter, she has also lost her upcoming job."
"At this time I am trying to help her raise money for multiple reasons, unfortunately she will now have to retain counsel to help gain guardianship of her grandson, and she will also need help with all of the unexpected expenses that come along when you lose a family member."
It has thus far received $930 of its $5,000 goal.
original story 1/6/2022 8:17 AM pst
A one-month old baby has been left orphaned in Florida after his parents — both sheriff's deputies — took their own lives within days of each other.
St. Lucie County Deputy Clayton Osteen died by suicide on January 2; his girlfriend Deputy Victoria Pacheco, who had just given birth to their son on November 22, then took her life "in the wake of Deputy Osteen's death," Sheriff Ken Mascara confirmed Wednesday.
"On New Year's Eve, shortly before midnight, our agency responded to a call where we learned that Deputy Osteen, who was off duty at the time, attempted to take his own life," the Sheriff said in a statement. "On Sunday, January 2, Deputy Osteen's family made the very difficult decision to remove him from life support."
"This morning we learned that Deputy Pacheco, who shared a one-month-old son with Deputy Osteen, took her own life in the wake of Deputy Osteen's death."
"Words cannot express the tremendous loss we all feel after losing these two members of our Sheriff's Office family."
Sheriff Mascara described the pair as young, ambitious and a great compliment to his team. "To the general public, and sometimes even myself, it's easy to view law enforcement as superhuman... but let's not forget that they're human just like us."
He added that while it was "impossible for us to fully comprehend the private circumstances leading up to this devastating loss", he hoped it would be a catalyst for change in easing the stigma around discussing mental health.
According to a GoFundMe set up to help their baby, 24-year-old Osteen, and Pacheco, 23, were "joy-filled, first-time parents excited about their growing family, enamored with their baby Jayce, and so in love with each other."
"Tragically, for reasons completely unknown and totally out of character, Clayton took his own life December 31st, 2021. Reeling from the shock of loss, Victoria took her own life two days later."
Clayton, it said, was Deputy of the Year 2020 and a SWAT team member, who also served in the United States Marine Corp.
According to WPTV, both officers had been commended for each saving two overdose drug victim's lives on separate occasions in the past two years.
"Law enforcement deal with not only the day-to-day stress we all face but also the stress of those whom they serve in our community, which can sometimes be very challenging," Sheriff Mascara said.
An obituary for Osteen describes him as "one hell of a funny guy, someone you could always count on in the time of need, and loved being an uncle."
"He absolutely adored his significant other and mother of his child. But of all his accomplishments, he was most proud of being a dad."
Osteen's brother, who is also a St. Lucie Deputy, will now care for his nephew Jayce.
If you or someone you know is struggling with depression or has had thoughts of harming themselves or taking their own life, get help. The National Suicide Prevention Lifeline (1-800-273-8255) provides 24/7, free, confidential support for people in distress.