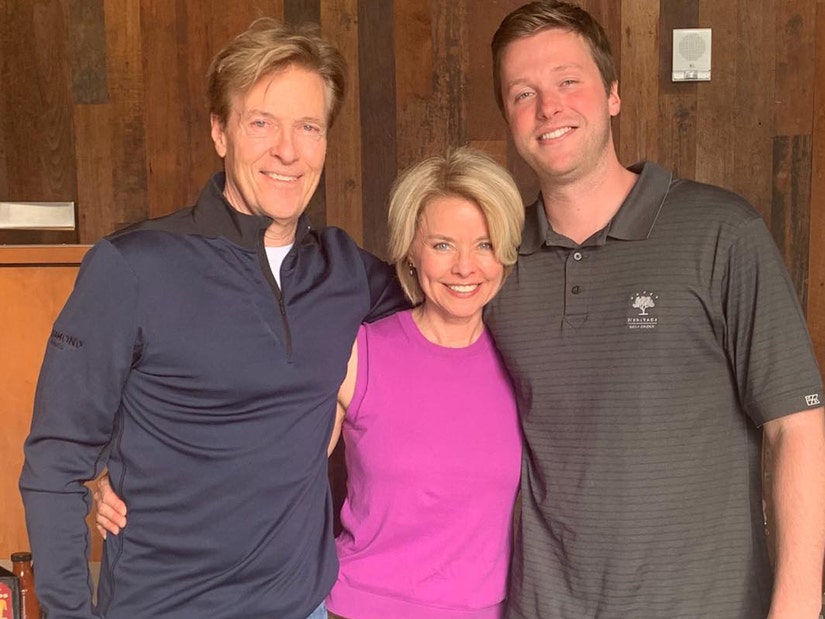 Instagram
Harrison's parents have started a scholarship fund in honor of their "bright, exuberant" son.
Following the death of their son Harrison, "General Hospital" stars Jack and Kristina Wagner have created a scholarship fund in his name -- and revealed the 27-year-old old, who was found dead in a Los Angeles parking lot earlier this month, "lost his battle with addiction."
"The Harrison Wagner Scholarship Fund was created by Jack Wagner and Kristina Wagner in honor of their son Harrison Wagner," read a statement on the New Life Recovery House website. "Harrison was a bright, exuberant young man whose smile lit up any room he was in. He has left behind many men and family members who loved him deeply."
"We are heartbroken that he ultimately lost his battle with addiction and we hope that Harrison's memory will live on through this scholarship and will help other young men get help for their addiction that would not otherwise be able to afford it," she statement read. "All funds donated to the Harrison Wagner Scholarship Fund will be used to directly help young men pay their rent or a portion of their rent who could not otherwise afford their care at New Life House."
A number of stars from the GH community also shared their condolences to the Wagners, including show alum Michelle Stafford, who also tweeted out a link to the Scholarship Fund.
"I am posting for my beautiful friend Kristina. I know you all love her so much. Here is a way you can help, if you would like to. She put this together a couple days ago in honor of (her son) Harrison," she wrote.
Show EP Frank Valentini tweeted, "On behalf of myself and the entire #GH family, our hearts go out to Kristina Wagner, Jack, and their family during this devastating time. We ask that you respect their privacy and keep them in your thoughts."
Added Nancy Lee Grahn: "I join all of you in wrapping our arms around one of the sweetest souls I've ever met @KristinaWagnr. She is a most exceptional woman and mother. May she find some modicum of peace in this most anguishing time."
Charles Shaughnessy wrote, "In my short time on #GH I have seen the caring, generous spirit of Kristina Malandro ( Wagner). It is unbearable that she and her husband, Jack, should now be going through every parent's worst nightmare. They have my wife's and my deepest condolences and love."
According to a Los Angeles County Medical Examiner-Coroner report, per Us Weekly, Harrison was discovered in a Los Angeles parking lot on Monday. He was pronounced dead around 5 a.m. in North Hollywood, California.
The cause and manner of Harrison's death are still unknown as the filing noted that the case has been "deferred pending additional investigation."
A spokesperson for the Los Angeles Police Department told E! News that police do not suspect foul play was involved at this time.
Jack, 62, and Kristina, 59, haven't posted or commented on their son's death. The former couple tied the knot in 1993 and divorced in 2006. In addition to Harrison, Jack and Kristina are also parents to son Peter, 31. Jack has a 34-year-old daughter named Kerry from a previous relationship.
Harrison last posted on his Instagram profile on May 22. Alongside a photo of himself sitting on a bench, below, he wrote, "Focus. YOU are left with YOU and your thoughts. 🤔." Following the news of his death, fans have flooded the comments section, expressing their sympathies and sorrow.
Waiting for your permission to load the Instagram Media.
According to Us Weekly, Harrison struggled with addiction in the past. In July 2016, Harrison, who was 21 at the time, went missing for five days following a relapse with drugs and alcohol, per Us Weekly.
At the time, Jack revealed the news on Twitter, writing, "I'm going to ask those who want to share their fears, addictions & struggles to do so w me via Twitter. We can face them 2gether, I'll start."
"I fear for my youngest sons safety," he continued in another tweet. "Harrison has struggled w drugs & alcohol just as I did when I was younger. He's relapsed & is MIA 5 days."
One day later, the "Melrose Place" star said he had been in contact with Harrison.
"Harrisons been in touch, he's 21 & in charge of his life, ty for the lv & prayers, please continue to share your struggles, it helps us all," Jack wrote.