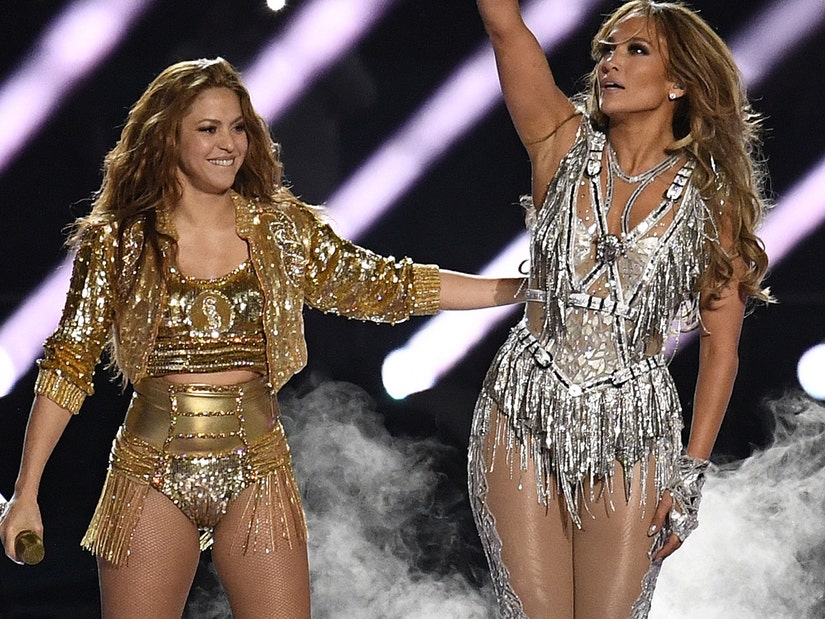 Getty
"I'm trying to give you something with substance. Not just us out there shaking our f---ing asses and f---ing belly dancing."
Jennifer Lopez opens up about her experience co-headling the 2020 Super Bowl halftime show with Shakira in her new Netflix documentary, "Halftime," and it's safe to say there were a number of headaches for both stars as they shared the stage.
In the documentary, out today on the streamer, Lopez expressed her frustration over having to co-headline -- making it clear it was nothing against Shakira, but the fact neither of them were allowed to do it solo.
During an interview in the doc, the singer's manager Benny Medina echoed Lopez's thoughts of having two headliners instead of one solo performer, calling it an "insult."
"Typically, you have one headliner at a Super Bowl. That headliner constructs a show, and, should they choose to have other guests, that's their choice," Medina said. "It was an insult to say you needed two Latinas to do the job that one artist historically has done."
As Lopez and Shakira worked through the timing of the performance, Lopez admitted she was frustrated with their shorter set.
"I know that the Super Bowl people want us to be weaved throughout the show. I haven't had a confirmation about how many minutes I'm going to have," Shakira said to Lopez.
"Let me address that really quick. They said 12 minutes," Lopez replied. "I got kind of a good confirmation that we could have an extra minute or two, so now we're at, like, 13, 14 minutes. I think, Shakira, what we should have is you should have half the time and I should [have half]."
The "Hustlers" star went on to bluntly add: "If it was going to be a double-headliner, they should have given us 20 minutes." She continued, "There's an amazing opportunity here to show who we are as performers, but also show who we are as a community and also bring the world together, we can bring everybody together in this moment."
"We have six f---ing minutes. We have 30 seconds of a song, and if we take a minute, that's it, we've got five left," she later vented to music director Kim Burse. "But, there's got to be certain songs that we sing, though. We have to have our singing moments. It's not going to be a dance f---ing revue. We have to sing our message."
"This is the worst idea in the world to have two people do the Super Bowl. It was the worst idea in the world," she added.
At another point, she was seen arguing with the show's director over the phone about the length -- saying the process had been "a nightmare since we started." She exclaimed, "I'm trying to give you something with substance. Not just us out there shaking our f---ing asses and f---ing belly dancing. I want something real, something that's going to make a statement. I can't do it if you guys keep pressing us for f---ing seconds. I don't want to fight."
The performance -- who took place at the Hard Rock Stadium in Miami -- ultimately up being around 14 minutes and also included guest appearances by J Balvin and Bad Bunny.
"Halftime" also detailed another pair of conflicts J.Lo faced with the NFL regarding the contents of the show.
If viewers can recall, the 2020 Super Bowl took place during Donald Trump's presidency, and the administration came under fire at the time over its handling of the immigration crisis, specifically how migrant children were being mistreated at the U.S.-Mexico border. During her performance, J.Lo utilized her time on stage to take a stand against the horrific situation that was happening at the border -- making a bold statement by having children, including her daughter Emme, performing while inside cages.
"I'm not into politics, I'm not that person, but I was living in a United States I did not recognize. I was afraid for my kids. The cages. The images of the cages for me, I couldn't believe what I was watching. You don't rip a child from their parents," she explained. "There are just certain things as a human being that you don't do. What is my message and what do I stand for? It made me realize I have a responsibility to not be quiet, to not just leave the politics to everybody else."
However, according to Lopez and Medina, the NFL tried to remove the moment at the last minute.
"We left rehearsal and I noticed everybody was freaking out, but I don't know why," J.Lo recalled. "I get a call from Benny and he's like, 'They want to pull the cages.' That night, the higher-ups at the NFL saw it for the first time and they're like, 'Hey, you can't do that."
"The NFL had a real concern about making a political statement about immigration," Medina claimed. "They looked at the plans, and the message was absolute. They did not want those cages in the show. That had come down from the highest authority."
But Lopez doubled down and pushed for the inclusion of the scene.
"For me, this isn't about politics. This is about human rights," she said. "I'm facing the biggest crossroads of my life, to be able to perform on the world's biggest stage, but to take out the cages and sacrifice what I believe in would be like never being there at all."
She added, "There was a part of me that just got very zen and I was just like, 'Benny I don't care what you have to do, we're not changing the show. The Super Bowl is tomorrow and we're not changing anything.'"
Lopez also faced some pushback for wanting to feature the gender symbol for women as Emme and all the other young girls joined them on stage.
The halftime show director was worried including the symbol could be seen as exclusionary and "contentious." He said, "I think it seems to be a little bit on the nose and something that might have been done at the Super Bowl a while back. It doesn't seem to have the artistry - I understand the meaning behind it -- but what you're saying with the show is more powerful than having the symbol out there."
J.Lo seemed surprised by the thought, but it ended up staying in the performance.
In the doc, she also revealed she and Shakira weren't initially on the same page about including "Born In the USA" in the medley, as the latter was born in Colombia. Lopez hoped to get Bruce Springsteen himself to join them on stage, thinking it would be a great symbol for him to point to her while singing.
"These motherf---ers act like everyone's an immigrant who's trying to sneak into the country and is a criminal, because that's a narrative Trump has created and it's bulls---," she explained. "I told [Shakira], if you come up with a better song to make a statement that we shouldn't be hating each other, that's the statement."
Though she tried to get Springsteen, she eventually settled on having daughter Emme sing a few lines from the song instead. "I started thinking my daughter could sing 'Born in the USA' in the finale," she explained, "I thought that it's so much more powerful if Emme sings 'Born in the USA' as a little young Latina girl."
And that's exactly what happened -- she and Emme sang it mashed up with "Let's Get Loud," before Shakira joined Lopez to finish out the performance.
"Halftime" hits Netflix on June 14.