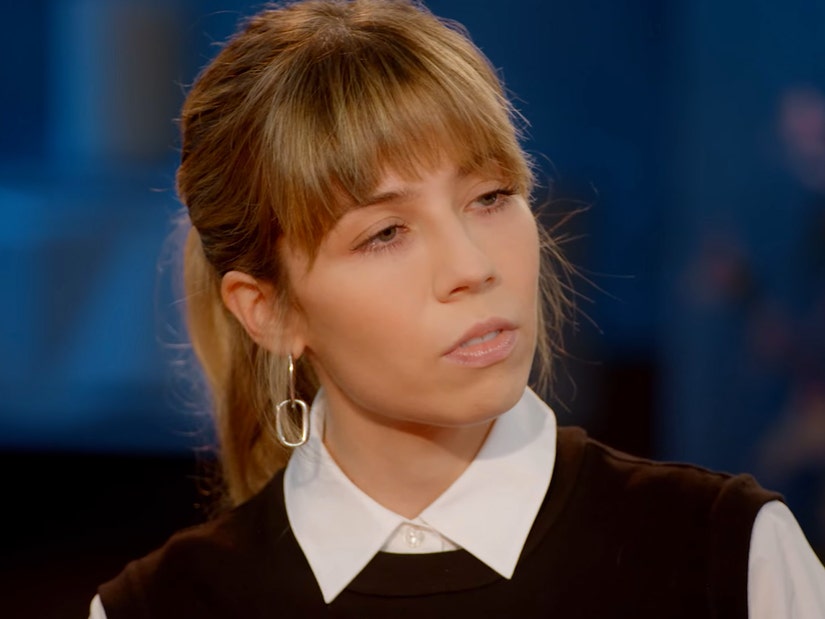 Facebook Watch
The "iCarly" alum reflects on being "profoundly sexually anorexic" due to relationship with mother as therapist explains "everybody starts to disgust you."
Jennette McCurdy is again speaking out about her complicated relationship with her late mother, in which she endured emotional and physical abuse.
While appearing on the season premiere of Facebook Watch's "Red Table Talk," the "iCarly" alum -- who has been promoting her memoir, "I'm Glad My Mom Died" -- opened up about the impact of the "psychological marriage" between her and her mom, Debbie, as well as their dynamic after McCurdy had moved out to live on her own for the first time.
While she said it was "horrifying" that her mother's cancer had come back, she admitted that she felt "some relief" being away from her mom following her tumultuous childhood, but also "guilt around feeling the relief."
After she had moved in, the former Nickelodeon star said her mother brought over a copy of the film "The Way We Were" and asked if they could watch it together.
"I knew that wasn't just us watching Robert Redford once for a couple hours," she explained. "That was mom moving in and she continued to ask me every night: 'Can I just stay over tonight? Can I stay over tonight?' for about three months until she didn't ask anymore and lived with me in my first apartment."
Because of her mom's presence in her apartment, McCurdy said she again found herself in the same "hoarding, chaotic environment" she lived in as a child. Trauma therapist Kelly McDaniel, who was also at the red table, explained that McCurdy's mom would sleep in her bed with her and would be "hugging the whole night."
"It's complicated too because there's the layer of the cancer," McCurdy recalled. "So she's hugging me tightly and I feel physically how much her body is deteriorating from cancer. How am I supposed to set a boundary? How am I supposed to look my dying mother in the eye and say, 'Mom, can you not squeeze me tonight because you're really invading my personal boundary.' I just didn't and I couldn't."
Waiting for your permission to load the Facebook Video.
McDaniel -- who is the author of the book, "Mother Hunger," -- referenced how McCurdy's mom would have them shower together, and described the former actress' relationship with her mother as "a psychological marriage."
"When a mother does this in the shower and then continues to kind of take her daughter as her own, way beyond, it forms in the daughter's brain a psychological marriage so this daughter is basically filling a role a spouse is supposed to fill," McDaniel explained. "So what that does is it makes someone profoundly sexually anorexic. And then everybody starts to disgust you."
"I couldn't hug people for so long," McCurdy replied. "I now love hugs and welcome hugs but it felt inherently inappropriate to me. It felt like they want someone from me that I can't give."
Meanwhile, the "Sam & Cat" alum -- who said she experienced "decades of torment, exploitation and manipulation inflicted by her very own mother" -- also shared when she realized "something was off" with her relationship with Debbie, who died of breast cancer in 2013.
"When I was 11, and my mom taught me calorie restriction, a part of me knew something was off," said McCurdy, who has been open about how her mom allegedly "introduced" her into anorexia. "Also the fact that there was so much secretiveness around it. My gut knew it wasn't right but I couldn't accept that it wasn't right because I'm a kid and it's my mom."
"I needed her to be the thing that I wanted her to be in order to survive."
McCurdy added that when she saw a therapist who first told her her mom was abusive, she "quit that therapist immediately" because she "couldn't handle that information." However, when she went back to therapy a year later, she "first started confronting it and accepting it."
"After even hearing the words 'abuse' and then just piecing things together, it felt like I was finally making contact with reality and not living in the necessary delusion of my childhood," she said.
"Just because I was abused, it doesn't mean that I don't love her," she noted. "That has been so difficult to grapple with."
McCurdy said it was around the age of 23 or 24 when she was able to stop defending her mother. "That opened the floodgates. I recognized in that moment, 'Oh wow, I'm doing a lot of mental gymnastics here to keep my mom where I wish I could keep her. And I know that if I want to be healthy, I'm gonna have to not have her be on that pedestal anymore and it just happened.'"
Waiting for your permission to load the Facebook Video.
Also during her appearance on "Red Table Talk," the now-bestselling author opened up about how the abuse she experienced at the hands of her mother affected her own personal relationships.
Noting that since she was "enmeshed and codependent and very anxiously attached" to her mom, she found relationships that "reflected that dynamic." McCurdy said she fell into "unhealthy relationships" in which she was "supporting" the other person.
"It has been a lot of work to unpack," she admitted, adding that she's "learned to really be on the lookout" for narcissistic, enmeshment and codependency partners but said there's "still a part of me that's wired that way."
McCurdy spoke about one relationship in particular: a man named Joe, whom she dated when was 18 and he was 32. She "ran away" to Hawaii with him -- and her mom sent a "scathing" email after seeing photos of McCurdy with Joe. McCurdy read the email, which you can read, here.
She said that her romance with Joe began "very shortly" after mom's recurrence of cancer, noting that she believes it wasn't a coincidence. "The way I see it now is sort of 'Okay, I knew mom's dying. I need a replacement.'"
However, McCurdy said she's "grateful" for the relationship because "I was hearing for the first time how unhealthy my mom was. So when I would get an email like that, my instinct was to say, I'm this terrible person. How could I have done anything like this? I would believe what she said about me. I would believe [that] I'm a slut. I'm a floozy and Joe was helpful in getting me to see that there was another side to that and that this is really unhealthy."
She also shared her thoughts on having children of her own someday.
"I would never wanna have a child for my own identity. That's a very, very concrete one for me," she explained. "I'm 30. I don't feel like I want kids. I have two nieces that I adore and a third on the way. I'm really happy to be an aunt, and right now, I don't feel that I want them, but I'm also open to maybe a couple years from now, or whatever, something hits me, and I just feel like, 'Yeah, I do want that. But for now [I'm good]."
During the conversation, McCurdy also recalled her final conversation with her mom, revealing what she said to her when she was on her "deathbed."
"Well, the last conversation would have been sort of a non-conversation," she explained. "Her cancer had spread to her brain, she was in a hospice bed that was set up in our living room, and she was really just detached behind the eyes. So I think this thing happens when people are on their deathbed, or this was at least my experience, where everybody tries to say something to the person who's dying like it's an attempt to get them to wake up."
"My brothers had each kind of given their good news of their lives," she continued. "One of them was getting married, one of them was moving back to California. And then I said, 'Mommy, I'm so skinny right now.' Like, the thing that I felt like was the most that I had to offer was my thinness. And I really, really, in my core at that time, I believed that that would get my mother to wake up. I believe that she cared more about my body and my weight than she did about anything else that could possibly be uttered by my brothers' mouths."
"I really felt like that mattered more to her," McCurdy added, to which McDaniel noted, "I think you even said, 'I'm 89 pounds.'"
When asked if she'll be able to forgive her mom someday, McCurdy became emotional.
"I worked toward forgiveness for a really long time," she began, holding back tears, "and my therapist said to me one day, 'What if you don't have to work toward forgiveness?' and I wept and I knew that that's what I needed to hear."
"I was still trying to live for her," she added. "I was still trying to find a way to make it all mean something because it had to because it was her."