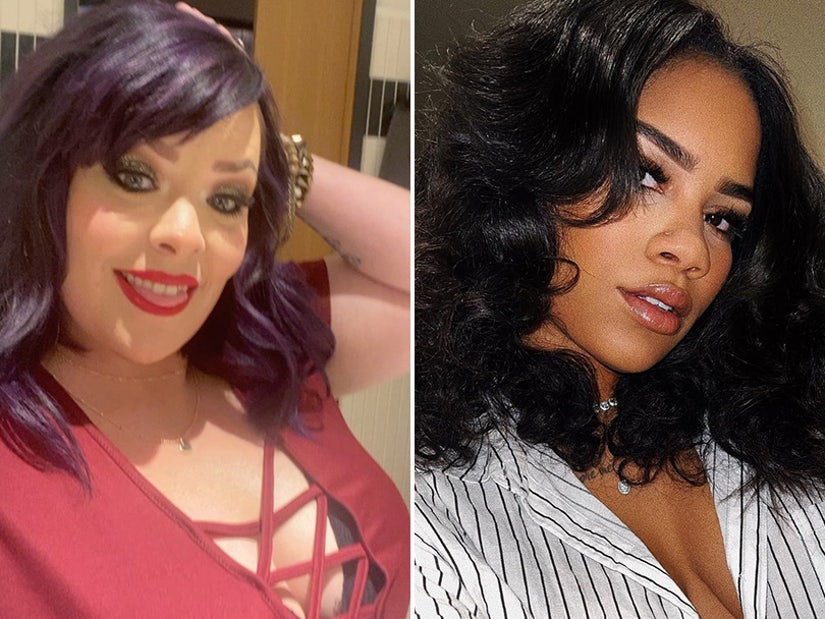 Instagram
"If I were ever trying to fight some girl, I'd want to know if she's pregnant or not!"
Usually, it's not your place to tell anyone about someone else's pregnancy, but after she did it on national television, Catelynn Lowell still thinks she did the right thing.
It went down on the latest episode of "Teen Mom: Family Reunion," where Catelynn decided to tell the cast that Ashley Jones was pregnant amid Ashley's involvement in an ugly fight that got physical.
After the episode aired, Catleynn took to Twitter with a lengthy post detailing her thought process at the time, and defending her decision. Even as she admitted it probably wasn't right, she still believes it was the right thing to do.
"Was it right of me to tell Jade [Cline] about Ashley being pregnant? No!" Catelynn conceded. "But honestly, I never thought Ashley would ever get physical and take that kind of risk with someone knowing she's pregnant!"
She does mean physical, too, as Ashley got into it with Briana DeJesus and both of their moms (!). At one point, Briana threatened to "kick" Ashley's "motherf---ing throat," which admittedly doesn't make a ton of sense. In response, Ashley spit on her.
In her tweeting, Catelynn explained that she had previously told Ashley that she doesn't need to be stressing herself out like this while pregnant. This followed a screaming match over dinner.
That, clearly, escalated leading to the physical altercation. Catelynn clarified that her decision to tell Jade about the pregnancy came "AFTER" things got physical, which put Ashley and her baby at risk.
"If I were ever trying to fight some girl, I'd want to know if she's pregnant or not!" Catelynn explained her reasoning.
"Or if I had a friend I knew who was hiding a pregnancy & she didn't have control of her emotions & was about to get into a physical altercation with someone, you best believe I'd be running up there screaming at everyone involved, 'She's pregnant! Don't touch her!' so I could try & lessen the risk of something dangerous happening to her & her baby!"
She believes that under the circumstances there was no other decision she could make, emphasizing, "I will ALWAYS put safety over loyalty when it comes to prioritizing what's more important and I won't ever be sorry for it." You can check out her full statement below.
In November, fans grew concerned about Ashley's pregnancy after she shared a TikTok of herself dancing with husband Bar Smith. The couple also share 4-year-old Holly.
When one fan commented that they thought she was pregnant, Ashley replied, per The Sun, "I know you guys are wondering but I'm not in a space to disclose that. I'm still processing [heart emoji] thank you for being concerned."
She has not provided any further information on her pregnancy, but she had previously noted on her Instagram Stories that she is limited in what she can say due to an NDA signed by the cast.
It could well be that things will continue to play out and answers will be forthcoming as "Teen Mom: Family Reunion" continues with new episodes every Tuesday at 8 p.m. ET.