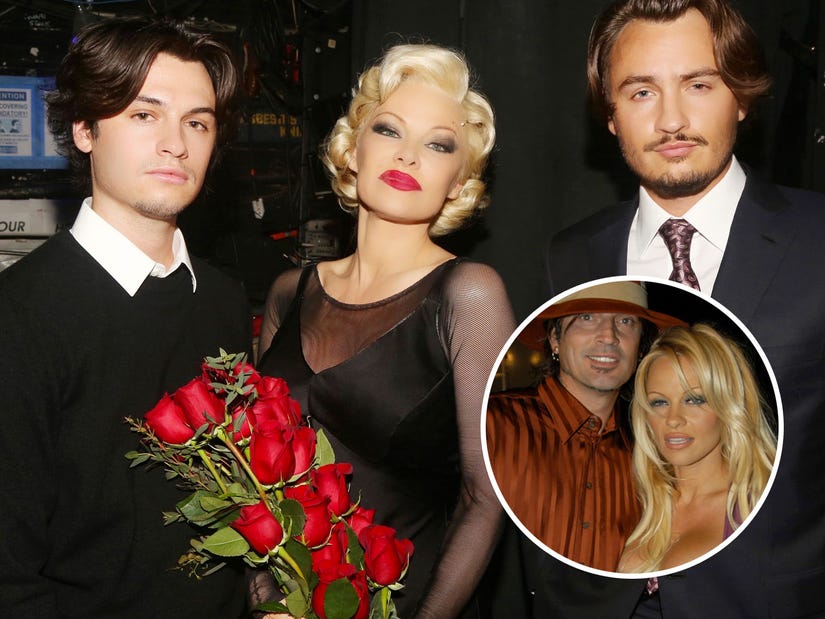 Getty
"That's something it's really hard for me to forgive myself about."
Pamela Anderson is reflecting back on her tumultuous relationship with Tommy Lee -- and why she believes the pair's rocky and sometimes violent past did their two sons a disservice.
In addition to her upcoming Netflix documentary, "Pamela, a Love Story," she also has a new memoir dropping later this month titled, "Love, Pamela," in which she opened up about sons Brandon, 26, and Dylan, 25.
"Brandon and Dylan are true miracles, considering their gene pool," she wrote, via a People excerpt. "They have been through so much, yet they are not full of holes."
She said in the book that the unauthorized release of the couple's sex tape in 1995 took a toll on their marriage, shortly before the birth of the two boys in 1996 and 1997. "We dealt with it the best way we knew how and some of it got crazy," said Anderson. "And Tommy and I, between the two of us, I don't think we had the maturity level to really handle it all."
The breaking point of their marriage came after Lee assaulted her in 1998. Lee was arrested for spousal abuse and served four months of a six-month sentence.
"I think we really let our kids down. And that's something it's really hard for me to forgive myself about. We should have found a way through it," wrote Anderson. "I couldn't accept any kind of violent maneuver. It was my childhood fears coming out. I didn't want that for my kids and as much as I loved Tommy more than anything in the world, I loved my kids more."
She went on to say that the boys "saved" her and that "having children changed everything" for her.
While speaking with People, Anderson opened up about her life now. The "Raw Justice" star -- who is single -- resides in Vancouver Island with five dogs, and lives in a farmhouse that once belonged to her grandparents.
"I live a more romantic life now that I'm alone than I did in relationships," she told the magazine. "l light my candles, have my music playing. I have my piano, I'm sure it would be lovely if someone else was in my life and wanted the same thing but I've just never met them. It's usually about catering to them, and there has to be a balance."
"I don't need someone to bring me roses," Anderson added. "I've just planted a hundred rose bushes. I can get them any time I want -- and they're my favorite roses."
Anderson's memoir, "Love, Pamela" and her Netflix documentary, "Pamela: A Love Story," will be released simultaneously on January 31.