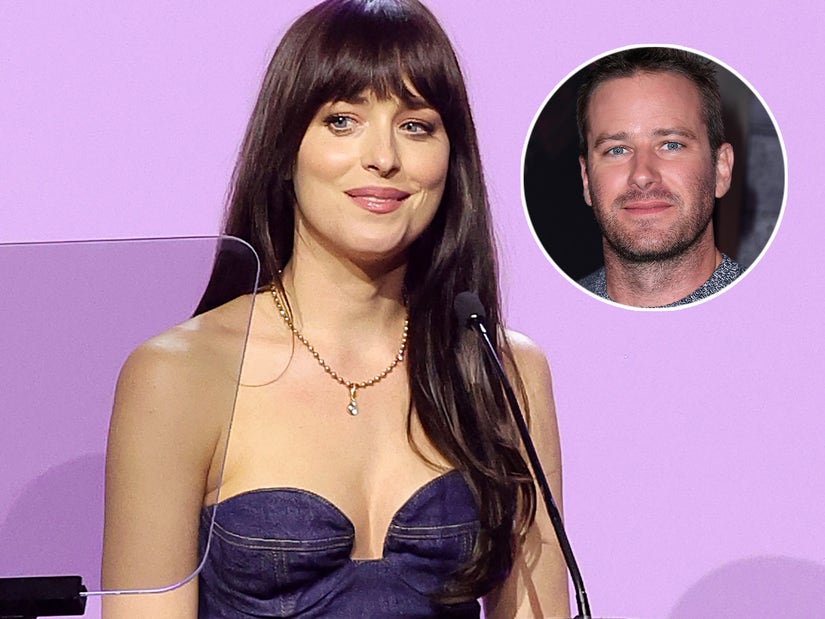 Getty
Hammer stands accused of sexual assault, sharing cannibalistic fantasies, and both emotional and physical abuse with multiple women, accusations he has denied.
Dakota Johnson certainly grabbed the audience by surprise at the kickoff dinner for the Sundance Film Festival in Park City, Utah on Thursday night, by dropping an extremely off-color Armie Hammer joke.
The "Fifty Shades" star looked glamorous in a denim dress as she addressed the crowd while presenting the Sundance Institute International Icon Award to director Luca Guadagnino.
Johnson cracked a joke about Guadagnino's acclaimed film "Call Me By Your Name," which starred Hammer and Timothée Chalamet. As captured by Variety, she said that Guadagnino had actually tried to cast her in the film ... as the peach.
Waiting for your permission to load the Instagram Media.
"Luca had asked me to play the role of the peach, but our schedules conflicted," she laughed, adding, "Thank god, because then I would have been another woman that Armie Hammer tried to eat."
The audience was stunned momentarily before giving some cheers and some groans at the joke. In one of the movie's most notorious scenes, Chalamet's character got -- ahem -- intimate with the peach, which Hammer's character subsequently ate.
"It's been five years since that film premiered here and Luca hasn't stopped taking us to exciting places," Johnson continued. "Who knew cannibalism was so popular?" This time, she was referencing his 2022 film "Bones and All."
But she was also referencing a scandal that rocked Hammer's career at the start of 2021. The actor actually pulled out of Jennifer Lopez' "Shotgun Wedding" over the scandal. Josh Duhamel replaced him in the rom-com, which hits Amazon's Prime Video on January 27.
Johnson's joke references reports that Hammer allegedly sent sexually explicit direct messages to several women that included cannibal fantasies. The messages have yet to be verified by any news outlet. He also stands accused of sexual assault, and both emotional and physical abuse, accusations he has denied. No formal charges been filed.
Hammer denied the reports at the time news he had exited "Shotgun Wedding" came out, releasing a statement" "I'm not responding to these bull---- claims, but in light of the vicious and spurious online attacks against me, I cannot in good conscience now leave my children for 4 months to shoot a film in the Dominican Republic."
Following the allegations, Hammer checked into a treatment center for alcohol, drugs, and sex addiction in May 2021, where he stayed for approximately six months.
Hammer and wife Elizabeth Chambers separated in 2020; they are working toward divorce. They share two young children, Harper and Ford. Upon the release of E!s docuseries "House of Hammer" about the scandal in September 2022, Chambers told E! News that she and Hammer are "in a really grate place."
She said they share a joint commitment to be "together as much as possible in a non-romantic way for our kids." She added, "Kids need their mom; kids need their dad. So there's nothing we won't do."
She added that Hammer has been "focused on his healing" and "all that matters is that he is the best dad for our children."
"Time does heal, but time alone doesn't heal. You need to work through it," she continued. "People are flawed. People make horrible mistakes. People change, by the way. For me the whole time it has been about, 'These are my boundaries. If you can meet them, then we can take the next step.' That's with everyone in my life, but also with myself."