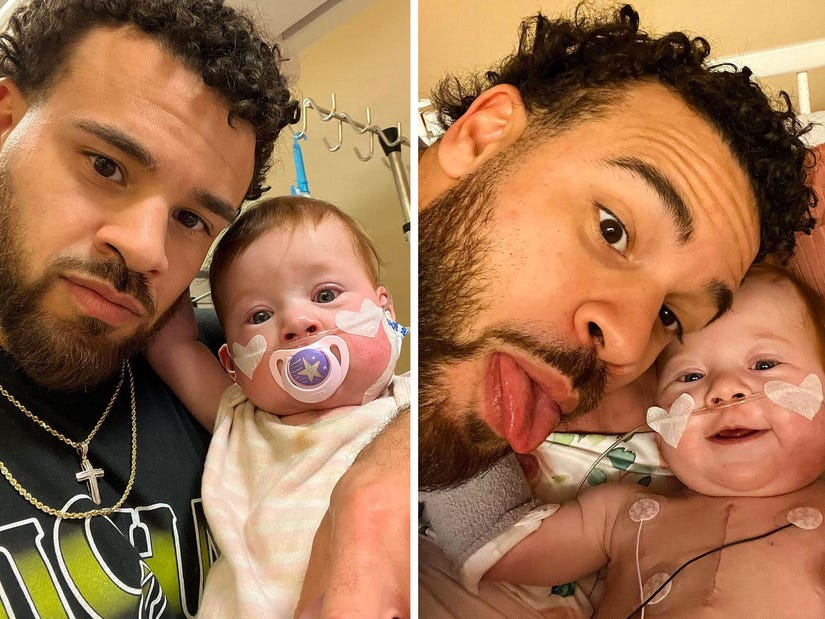 Instagram
"What doesn't kill you makes you stronger, and that's what this did!"
On Thursday, Wharton took to Instagram to give an update on his 7-month-old daughter Maya's condition following her procedure. The reality star -- who shares the baby girl with girlfriend Taylor Selfridge -- revealed Maya has been released from the hospital, where she was for two weeks.
"I have some GOOD news to tell you all WE finally got released from the hospital ❤️🙏🏽
I'm so thankful these past two weeks have been very up-and-down and have felt like a nightmare at times," he began in the post's caption. "But I always try to stay positive and being at the Children's Hospital for two weeks & seeing some families who have been up there for months or years and some maybe won't leave the hospital. I'm very thankful that we got released today.🙏🏽❤️."
"Maya had a successful Glenn procedure!" he continued, referencing the open heart surgery. "But during recovery Maya had other plans. Mayas oxygen levels were lower than the doctors wanted it to be. 6 days after her Glenn she ended up back in the operating room for a Cath lab procedure to hopefully fix what they thought was the problem. It turned out that there was nothing to fix, which was great but it didn't fully explain the oxygen levels being so low. Trying to get her off the ventilator the second time around was a lot harder."
The "Ex on the Beach" star added that he's "happy & thankful to be home" following the "roller coaster ride of emotions."
Wharton concluded his post by expressing his gratitude to "everyone who supported us and prayed for us during this time."
"Love you all ❤️," he wrote. "What doesn't kill you makes you stronger, and that's what this did!"
Waiting for your permission to load the Instagram Media.
Earlier this month, the MTV star took to Instagram to reveal Maya was going to have open heart surgery, and asked fans to send prayers for Maya ahead of her procedure.
"The day is finally here @mayagrace.wharton has her open heart surgery today ❤️," Wharton wrote, alongside a photo of himself and his baby girl, whom he shares with girlfriend Taylor Selfridge. "All I'm asking, is for everybody to keep us in your prayers and keep praying for her & the doctors that will be working on her heart ❤️."
"We have been anticipating this day for so long all the anxiety that has built up for months," he added. "I just can't wait for her heart to be fixed. Then we can move on from this chapter. Again thank you all, & I'll keep you all updated 🙏🏽"
The following day, Wharton posted a video on his Instagram Stories, in which he updated fans on how Maya was doing following her surgery.
"Just hopping on here quick, you guys. I just want to say thank to everyone for all your support, all your messages you guys have been sending," he began.
"Maya's doing okay, you know, she's not doing great. But they're keeping her sedated right now because her left lung has some fluid in it, and she's having a hard time breathing on her own," Wharton continued. "So I just need that little girl to push out all that fluid in her lungs so then hopefully her vitals start to look normal. But she's on a ventilator right now, she's not breathing on her own and it's just part of the process, you know, we're in good hands. But yeah man, just keep us in your prayers."
Waiting for your permission to load the Instagram Media.
He added of Maya, "She's a fighter, warfighter, you know, she's going to make it through."
Wharton and Selfridge welcomed Maya back in June. While announcing the baby's birth at the time, the former revealed the newborn's health battles since coming into the world, sharing that she's been diagnosed with tricuspid atresia, a form of congenital heart disease.
According to Wharton, "this valve plays a part in the heart's essential function, which is to pump blood between the lungs and body."
"Don't really know how to start this off there's sooo much I wanna say, so much I've felt over the past week. As a parent you're, scared, worried, nervous, angry, sad, mad & you don't understand why this is happening to your baby," he wrote on Instagram at the time.
Following her birth, Maya underwent her first open heart surgery, with Wharton and Selfridge revealing at the time that their daughter will require a total of three open heart surgeries.
The couple, who met on "Ex on the Beach," are also parents to 2-year-old daughter Mila. Wharton also shares daughter Ryder, 5, with "Teen Mom" star Cheyenne Floyd.