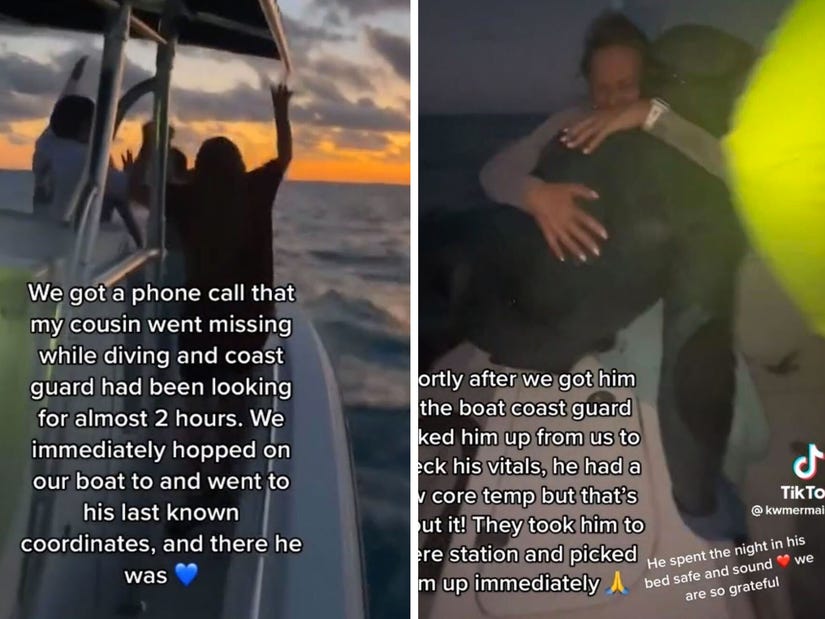 TikTok
He ended up miles away from where he first dived after getting dragged by a powerful underwater current
A young diver lost at sea for hours was miraculously rescued by his family in dramatic video posted to TikTok.
22-year-old Dylan Gartenmayer was spearfishing in Key West when a powerful Gulf Stream current dragged him away from his fellow divers late last week.
Dylan, who says he often free dives 100 plus feet, went for one last dive as conditions on the water worsened.
He went to 35 feet when the current pulled him deeper to about 150 feet and held him down for nearly two minutes.
"So that's how I ended up getting separated," Dylan told local NBC 6.
"They were mainly looking down, thinking I blacked out from a lack of oxygen," he said of his friends he had been diving with.
Dylan says he was dragged for about a mile and when he resurfaced he had to swim another mile to a channel marker where he clung to a buoy and drift wood.
"I had a bunch of bait floating up around me and everything," he recalled. "I knew that there were big fish eating those baits and there were sharks that were going to be shortly behind them. I was ready to fight the night out, but I'm glad I didn't have to."
Meanwhile, his mother Tabitha Gartenmayer, whose family has called the Keys home for generations, got the news her son was missing.
Tabitha said she and her family are all experienced on the water. "I was spearfishing with Dylan in my belly," she explained.
She said she got a call from her ex-husband, "'Tab, something's wrong with Dylan. They haven't seen him in an hour.' And from that moment on, this feeling came over me, just like this, and I couldn't breathe. I couldn't talk."
As his family mobilized their own rescue mission, Dylan said he could see the "coast guard out in the distance to the west of me. I could see their blue lights, the helicopter going, doing their grid pattern" just as his own piece of drift wood "started drifting away from me."
"Let's go," Tabitha recalled before noting the now viral surveillance video caught by a neighbor's camera showing them speeding down a canal. "I'm sure you've seen the videos of us going a little bit fast down the canal for my son's life."
"We had the coordinates that were given to us, but he obviously wasn't on those," the concerned mother said.
They continued past the coordinates, eyes searching the water as the light was failing.
"Joel looks to the right and he sees the buoys," Tabitha said, which they then noted appeared to be tied together.
Dylan later said he tied them together to make a "little hammock."
"I was facing to the west looking at Coast Guard, and I could hear a boat humming up behind me," the lost diver recalled.
"My mom took my dive gear," he said of when the boat arrived. "She just started hugging, crying."
His cousin, Priscilla Gartenmayer, posted her videos of the dramatic rescue to TikTok, which have swiftly gone viral.
"That was really emotional for me. So, you know, we know how lucky we are to have so still have Dylan here," Priscilla said.
Dylan, for his part, said he will be diving again very soon.