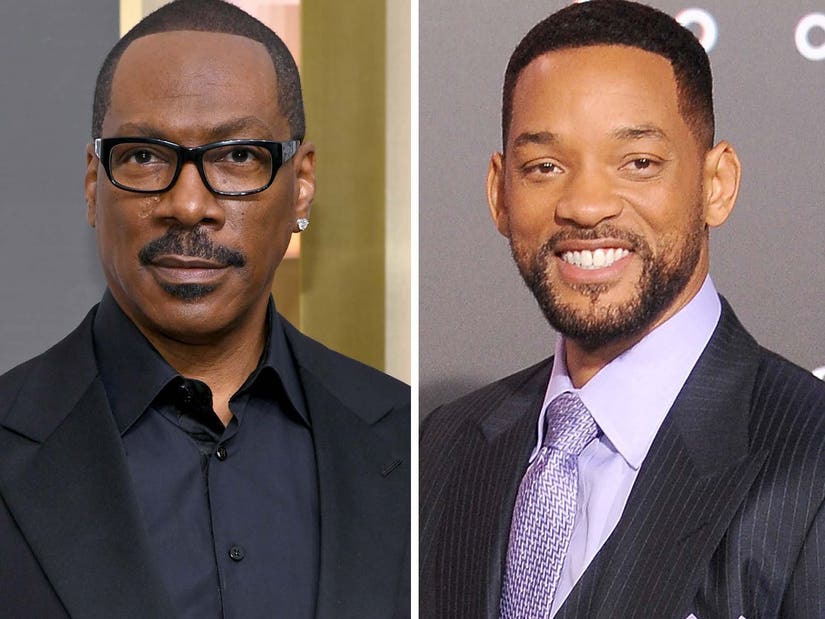 Getty
"It was a good joke, a funny joke"
Eddie Murphy says his Golden Globes joke about Will Smith's notorious slap at the Oscars is not really "something that you would even call about" despite making headlines across the world.
On January 10, the 61-year-old was honored with the Cecil B DeMille award at the Golden Globes. While accepting his award, the "You People" star ended his speech by sharing three pieces of advice he claimed was crucial to his illustrious career: "Pay your taxes, mind your business and keep Will Smith's wife's name out of your f---king mouth."
Murphy, of course, was referencing the moment when Smith infamously slapped presenter Chris Rock during the televised Oscars ceremony last year. And after returning to his seat yelled at the comedian to keep his wife's name "out your f--king mouth."
Though Murphy's joke caused quite a stir at the award show, the "Coming to America" star told E! News he hadn't heard from Smith or Rock following his acceptance speech.
"No, I haven't heard from anybody," he explained. "But I don't think it's something that you would even call about."
"It was a good joke, a funny joke. And I love him, I love Chris, and it's all love."
Shortly after Will's altercation with Chris, he took to Instagram to apologize for the incident. In a lengthy statement, Will called violence "poisonous and destructive" and called his actions "unacceptable and inexcusable." He went on to explain that hearing a joke about Jada, who suffers from alopecia, had been too much for him to bear and he "reacted emotionally."
"I would like to publicly apologize to you, Chris. I was out of line and I was wrong. I am embarrassed and my actions were not indicative of the man I want to be. There is no place for violence in a world of love and kindness," Will wrote.
He went on to apologize to the Academy, producers and viewers of the show as well as his "King Richard" family. Smith, who won the award for Best Actor soon after slapping Rock during the ceremony, eventually resigned from the Academy of Motion Picture Arts and Sciences.