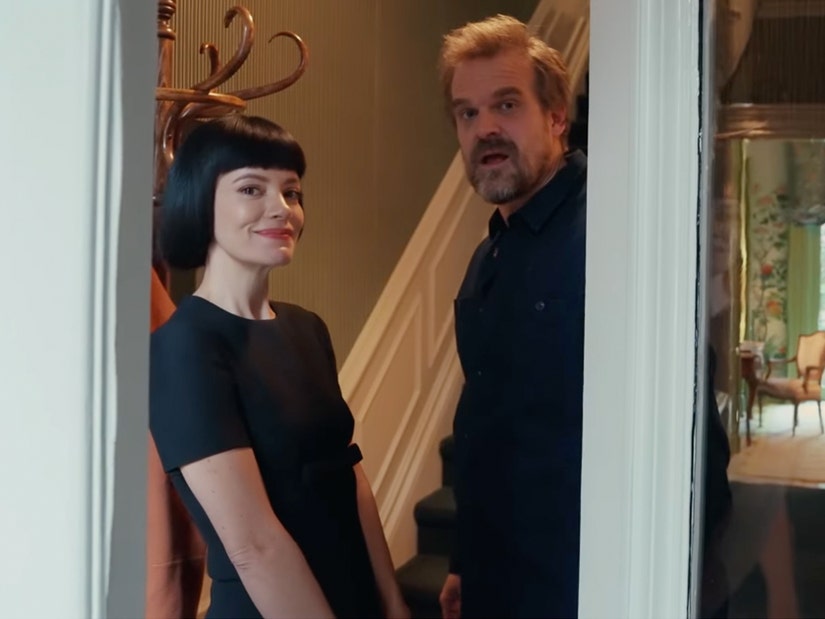 YouTube
The home includes a carpeted bathroom/sitting room, a bedroom with no windows and a media room covered in tiger print.
The duo appear in the magazine's March issue and gave a video tour for the publication's YouTube channel.
"Oh wow, what are you doing here?" Harbour -- who previously showed off his bachelor pad in 2019 -- exclaimed at the top of the clip. "Last time I was single, living on the Lower East Side. I have a family now. Kids. This is so embarrassing. You look good though, come on in!"
The tour began with the pair walking through their "plain English kitchen," something Allen apparently said she wanted on their first date. Harbour joked they worked with "budget unconscious designer" Billy Cotton on the whole home, basing some of the designs off of a "Godfather" aesthetic for the Italian neighborhood.
Up next was a "garden room" covered in floral wallpaper with a double-sided couch they cracked was great for arguments. From there, they ventured to a carpeted bathroom/sitting room where Harbour said you could "take a bath or you can like sit or you can brush your teeth. Do whatever you want in this room."
Yes, the carpet is a choice -- but, for what it's worth, the toilet and shower are in a separate room. Oh yeah, and the space also includes a "fridge from outer space," because why not!
The two then made their way to the bedroom, which Harbour said was "kinda cool because there's no windows in this section" -- before Allen explained, "David likes to sleep in in the morning and he doesn't like natural light because he's also a vampire."
"It is cool when you design a room with no windows in it though, because what you have to do is highlight that feature," he added. "You make the bedroom just a place for a couple activities. You make it very, like a cocoon almost."
"It's a bed-womb," deadpanned Allen.
The duo then showed off the singer's massive closet -- which Harbour noted was "bigger than the bedroom area" -- before a powder room featuring a black toilet. "I've always wanted a black toilet and I got one because I'm an adult," explained the actor.
Waiting for your permission to load the Instagram Media.