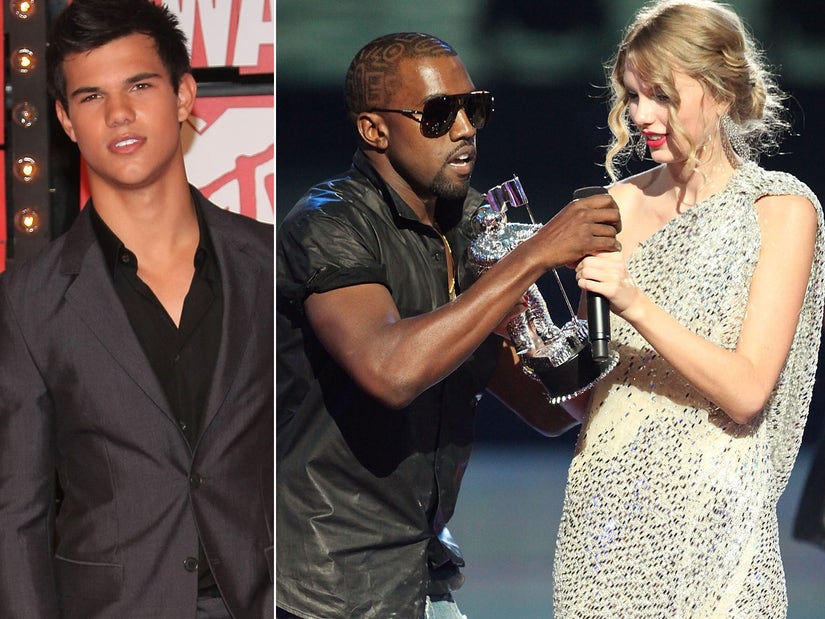 Getty
The "Twilight" actor, who presented the award to his girlfriend, thought it was a pre-planned "skit" until Swift turned around and he saw her face.
Taylor Lautner was front and center -- well, more specifically he was back and center -- when it all went down, and he was dating Swift at the time. The "Twilight" actor unpacked his experiences that night with his current wife, Taylor Dome, on their "The Squeeze" podcast.
Dome asked Lautner what career moment he would choose to relive if he could and clearly did not expect him to pinpoint this moment that went down in entertainment history.
"Probably the 2009 VMAs when I presented the award to Taylor," he said, to which his wife responded while dying with laughter that she was quite simply "deceased."
Lautner and Swift dated for just a few months, but it just so happened that they were dating on that night. What's more, Lautner was the one who presented Best Female Video, which Swift won for "You Belong with Me."
As everyone knows, West stormed the stage with something to say, and the rest is history. While Lautner was right there, there's a reason he isn't part of our collective memories of that night. It's because he just kind of stood there.
As he explained it, "I was unaware the Kanye thing was not a skit." He went on to detail that they'd just gone public as a couple and after he presented her the award, he stepped back about five feet so she could give her acceptance speech.
"In the middle of giving her thank-you speech, Kanye jumps up onto the stage," Lautner recalled. "I can barely hear it. I can't see them. I'm just assuming that this whole thing was a practiced and rehearsed skit. Because why else would Kanye West be jumping up on the stage, interrupting Taylor Swift? It just didn't make sense."
And so, he stood back and assumed everything was okay and that his girlfriend was up there laughing along with whatever shenanigans were going on. He even explained why he can be seen laughing behind them.
"If you look back at it, I'm actually caught like laughing, giggling at him," he said, adding that he remembered thinking, "'I can't hear them, but this is probably really funny right now.'"
Only it wasn't a joke at all. "He jumped off, she finished [and] the second she turned back around and I saw her face for the first time, I was like, 'Oh. No, that wasn't good,'" Lautner said.
Beyoncé tried to make things right later that night. When she won Video of the Year for "Single Ladies," she invited Swift back up to the stage to finish her acceptance speech.
Both Lautner and Swift have since moved on in their romantic relationships. Lautner and Dome wed in November 2009, with her amusingly taking his last name so they have the exact same name. Swift has been involved with Joe Alwyn since 2016.