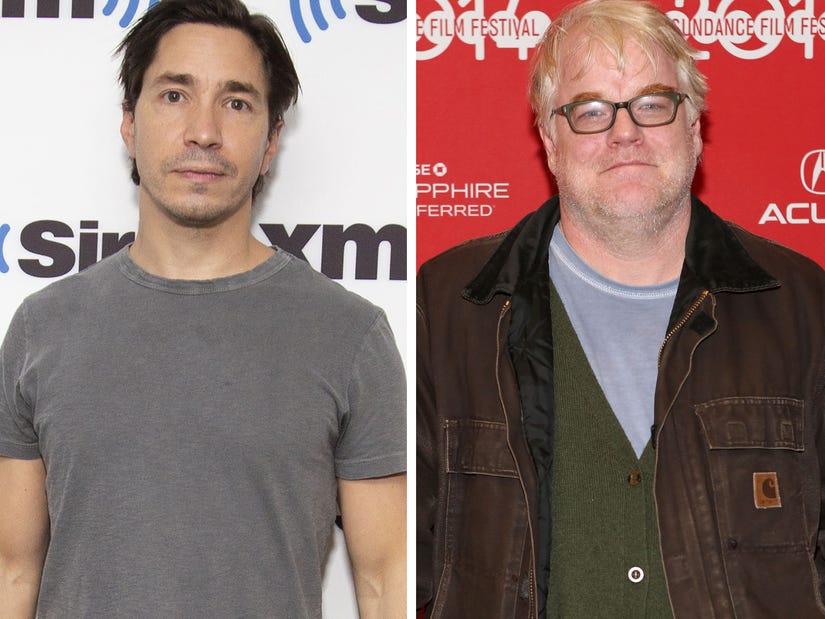 Getty
"Whenever I'm stuck in a scene I often find myself thinking 'What would Phil do?' -- it always grounds me in the truth."
On Thursday, the actor posted a heartfelt tribute to Instagram, in which he recalled the first time he met Hoffman back in 1999.
In his post, Long, 44, shared a throwback photo of himself posing with actor Sam Rockwell and Hoffman, as well as a solo shot of the late Oscar winner, who passed away from a heroin overdose in 2014 at the age of 46.
"Thinking about Phil Hoffman today. Can't believe it's been 9 years ...," Long began in his lengthy caption. "Sam Rockwell and I were shooting the movie 'Galaxy Quest' (my first) in the summer of '99. One day Sam said 'My friend Phil is gonna stop by a little later.' I tried to play it cool but it must've been obvious how excited I was at even the possibility that the 'Phil' he was referring to was 'Seymour Hoffman.'"
"When he drove up to where we all were, I was immediately struck by how boisterous and jokey he was with Sam and our other friend, Leif -- definitely not a 'Philip' but a 'Phil.' Knowing what a huge fan I was, Sam wanted to introduce us and I am forever grateful that he did."
The "Barbarian" star went on to recall how Hoffman was an "acting god" to him when he started out in Hollywood -- saying that the late actor was his "Meryl Streep" or "Marlon Brando" -- before recalling how Hoffman still means so much to him.
"Whenever I'm stuck in a scene I often find myself thinking "What would Phil do?' -- it always grounds me in the truth," Long wrote, adding, "When I think of him now I can also still hear his laugh. He'd laugh so hard he'd get a little wheezy and his eyes glistened with emerging tears -- full and bold and lacking even a hint of self-consciousness. He laughed the way he acted. Today I'm missing both ❤️ #tbt."
The "Jeepers Creeps" star has honored Hoffman on social media in the past.
Waiting for your permission to load the Instagram Media.
On the seventh anniversary of his death in 2021, Long took to Instagram to pay tribute to "The Master" star, sharing a fond memory of Hoffman. And like his latest post, Long spoke about Hoffman's "big wheezy laugh" and how he was an "acting god" to him.
"It's been seven years since Phil passed away," he wrote alongside a shot of Hoffman smiling in a car, which is the second photo he included in his post on Thursday. "Years before that, in the early 2000's, we were in a crowded restaurant (El Compadre on Sunset Blvd) and Phil was telling a really funny story about an embarrassing thing that had happened to him."
"Rather than lean in and whisper the most embarrassing part to us, so as to spare himself the shame of onlookers judgement, he stood up from the table and committed to a full-body mime of it, while laughing his great big wheezy laugh," Long continued. "As funny as it was, I immediately became a little self conscious on his behalf and looked around the restaurant to see people's reactions."
The "Dodgeball" star added, "Phil was an acting god to me so I just assumed everyone recognized him but even if they didn't, they were now staring at him -- he was laughing so hard his face had turned pink and his eyes were watering. But what struck me most about Phil, in that moment, was how unaware he was of anything outside the story he was telling and the people he was telling it to -- he lived that moment the way he lived every moment as an actor: fully present and committed and without a hint of self consciousness. It was beautiful -- something I'll never forget and always aspire to."
Long then concluded his post, writing, "I can't wait to have another night out with friends at a place like El Compadre, telling stories and laughing -- but I don't think I'll ever have a night quite like that one, because nobody tells stories or laughs with quite as much abandon as Phil did 😌❤️."
Waiting for your permission to load the Instagram Media.