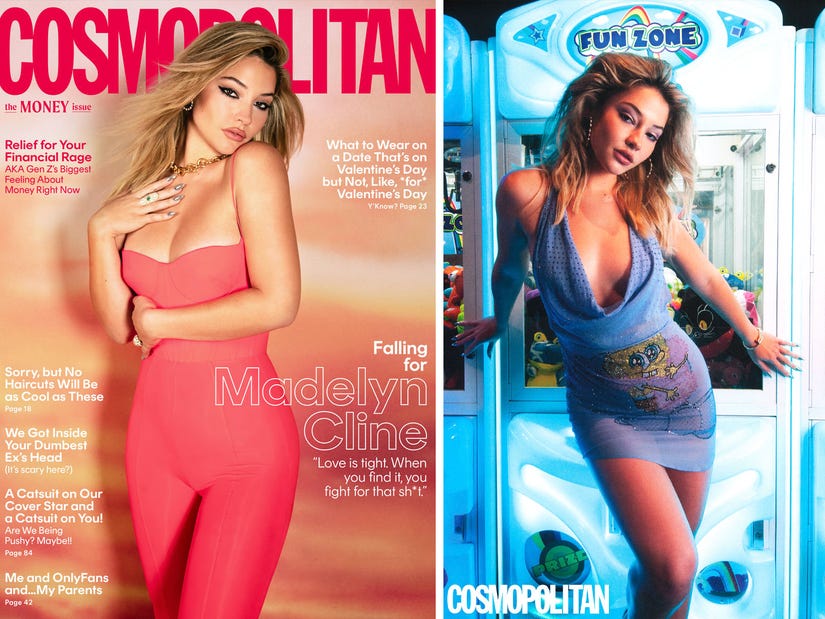 Amber Asaly for Cosmopolitan
The actress also reveals her relationship status, and reacts to the initial rumors that she wasn't returning for "Outer Banks" Season 3.
In an interview with Cosmopolitan for the magazine's February/March cover story, the actress -- who stars as Sarah Cameron on the Netflix series -- stressed that she and Stokes didn't let their split affect the show. The former couple called it quits in November 2021 after dating for over a year.
"We always said that the job remains untouched. Nothing else, personal or negative, will touch the job," Cline, 25, said of Stokes, 30, who plays John B. in the series. "And while that's not always easy, our job is to leave the show better than we found it, to leave the season better than we found it. And I'm really appreciative of that."
When the Cosmopolitan reporter suggested that Cline likely had to decide whether or not she was going to publicly discuss the split, the "Glass Onion" star said, "My thing is, I don't owe anyone an explanation. I am a really private person. There's a part of me that is for me and nobody else."
However, she admitted that "in hindsight, duh, making my relationship public made it everybody else's business." Cline added, "And I realized the negative side effects of that while going through the breakup, realizing I had let people in and then felt like I couldn't get anybody out. It just hit me like a freight train. I wanted us both to move on and be happy. People see the need for sides. There are no sides -- there's no winning or losing in a breakup."
While she may be relatively private about her love life, the "Stranger Things" actress did share her current relationship status.
Waiting for your permission to load the Instagram Media.
"I am happily taken. All I know is he makes me incredibly happy. And I've truly never been happier, and I feel very, very empowered," she said. "Love is tight. And when you find something like that, you fight for that s---. And also, you fight to keep it yours, you know?"
Elsewhere in the interview, Cline reacted to the initial rumors that she wasn't returning for "Outer Banks" Season 3, which hits Netflix later this month.
"I remember getting tagged in something and I was like, 'I'm not returning for Season 3?'" she told the magazine. "That's the only time I've ever gone to social media and addressed a personal rumor. But when I did, I misspelled the word 'grateful.' I was a glass of wine deep at that point, like, 'Okay, I have to delete this now.'"
She added that there "was never any question" that she wouldn't reprise her role for the third season. "I love Sarah, and I love this job," Cline said.
Meanwhile, also during the wide-ranging interview, Cline revealed there is pay parity amongst the "Outer Banks" cast.
"We all make the same amount," she shared. "It's an ensemble and we all work equally as hard. We were really open about wanting the same for everyone and to feel that everybody is compensated fairly."
Check out Cline's full interview, here.