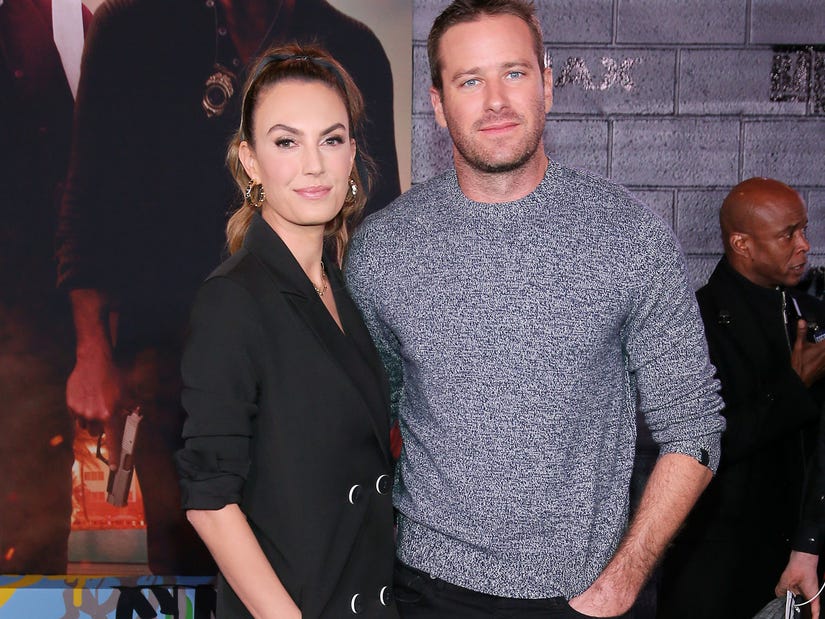 Getty
"My heart was broken in nine million pieces," says Hammer's ex, adding, "I was learning things as the public was."
Armie Hammer's estranged wife Elizabeth Chambers is opening up about her split from the actor and what went through her head as sexual assault allegations came out against her ex in a new interview.
Chambers, who filed for divorce from Hammer in 2020 but whose divorce is not yet finalized, spoke with Elle for a new cover story -- in which she declared she's no longer "taking any bulls--- from anyone" anymore. "The last thing I ever want to do is let someone else's actions, which have nothing to do with me, make me angry," she told the publication. "It's not going to help me, and it's not going to help anyone around me."
Hammer has been accused of assault, but has flatly denied the rape allegations against him. In a recent interview, he admitted to being "emotionally abusive" and to setting up "consensual non-consent scenes" -- which can sometimes mimc rape scenes -- with partners. No charges have been filed against him. Speaking with Elle, Chambers wouldn't discuss their sex life and declined to address Hammer's Air Mail interview, but said "boundaries are everything" in a relationship."
Though they'd been having issues, Chambers said everything between them really started to fall apart when they went to the Cayman Islands during Covid lockdown. "He was the worst," she recalled, adding that his decision to leave her and their two children there while he went back to California left her heart "broken in a nine million pieces."
"You can give, you can love, you can be there for someone, but you also need to hold people accountable for their actions," she said of her decision to get a divorce. "The dissolution of my family was literally my biggest fear of my whole life. You're building something, right? You're weaving a beautiful tapestry, and the last thing you want is for a knife to come and rip the tapestry in half."
After she filed, claims about Hammer's alleged BDSM fantasies, cannibalistic fetishism and emotional manipulation began to surface -- with Chambers saying she was "learning things as the public was. I was like, 'There are no words. What the f---?'"
Her sister told the publication some of Hammer's accusers were also reaching out to her via DM, with Chambers choosing "to be there for them rather than for herself first" by listening "to horrible, deep, dark details regardless of what it meant for her own life."
Hammer still visits her and their children in the Cayman Islands as the exes foster a co-parenting relationship. She told Elle she supports her ex "through his journey and I always will," adding she wants him to be "sober, healthy and happy." Chambers added that he's "really present" with their kids -- though said she admitted to wondering, "Do I want my son to become this? Would I want my daughter to stay in a relationship like this?"
Currently, Chambers has herself a 26-year-old physical therapist boyfriend, who she's been dating for over a year. Joking her life is a "s--- show," she praised her other half for being "really understanding."