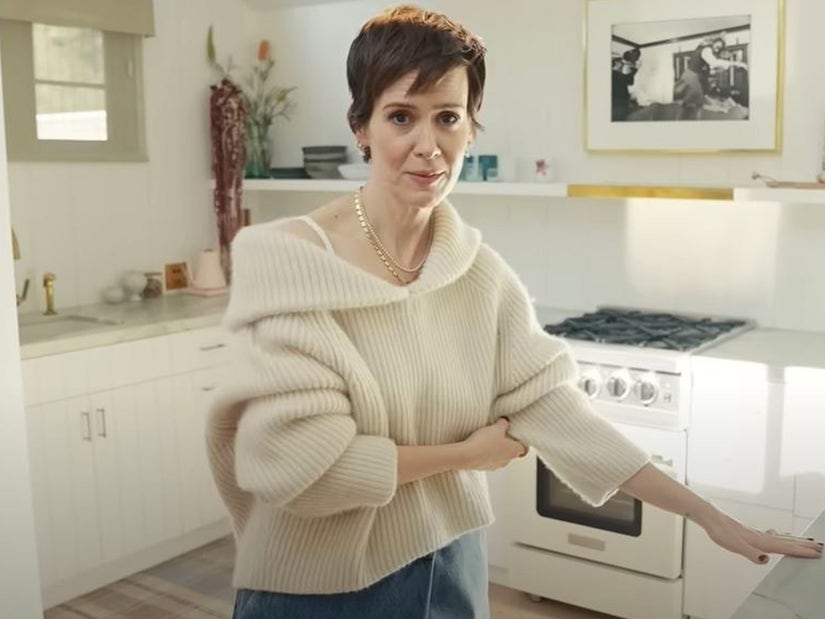 YouTube/AD
Her 500-square-foot beachside abode includes a "charming" backyard, where she enjoys doing "really annoying white girl on Instagram things."
Sarah Paulson is sharing an inside look into her very tiny, yet super cozy home in Malibu.
In the latest installment of Architectural Digest's "Open Door" YouTube series, the actress gave a tour of her 500-square-foot, three-bedroom beachside getaway. While it's hard to imagine a celebrity -- especially an eight-time Emmy-winning actress -- owning such a small home, the warm space is the epitome of comfortable luxury.
After welcoming the AD cameras into her Malibu "getaway," Paulon first explained the layout of the home, saying, "There's three rooms. There's a bathroom, a bedroom and a living room slash kitchen."
"Everything about the house is quite cozy because of the size of it, but I think we did some really special things with the space," she added, before sharing the inspiration behind her decision to purchase the home. "I don't know if it's gonna sound strange. It certainly won't to any person who is wild about their pets. I brought my dog to my friend's house. She has a house in the same area, and I took my dog for a walk on the beach. I've never seen my dog so happy, so I actually really got the house for my dog. That's the truth."
The "American Horror Story" star kicked off the tour in her living room, which she appropriately described as "really tiny." The "room" featured a wooden table and a small, blue couch, decorated with colorful, printed throw pillows.
Paulson said the table is made of the "most beautiful wood," noting that the scalloped edge, is an "incredibly beautiful touch" as it "evok[es] the water" and "brings the beach into the house."
As for the sofa, she said it was "custom made" for the room. "Because as I said, everything is so incredibly small here. There was no sofa on the market that I liked well enough to serve my Malibu getaway."
Waiting for your permission to load the Instagram Media.
"I know I keep stressing how small the space is, but I'm not kidding, and all the lovely people in here who are helping to make this happen today can tell you," Paulson continued as the camera panned over more of the space. "And there are several people behind the camera, very small. To me, it almost feels cozier that way. And I'm not just saying it because it's what my space is, but it actually feels like being in a little book nook or something with very, very beautiful touches all over that just make everything feel really peaceful and lovely. So to me, it's just about finding ways to unplug. And anytime I'm near the water, I really feel like that's easier."
The "Ratched" actress then moved on to her "favorite place to be:" her stunning kitchen, which took up the majority of the room. "The reason I love this room so much is that it feels airy and open and light," she said of her kitchen, adding that she's "obsessed" with her pale gray and seafoam green marble countertops.
After showing off a piece of art -- which was gifted to her by her partner Holland Taylor --, Paulson explained how more of the kitchen came about, sharing that she decided to get two refrigerator/freezer drawers because she "needed plenty of space to put booze" for cocktails.
The "Run" actress went on to give a tour of her "tiny ships cabin of a bedroom," which was separated from the main room by a curtain fabric. The bedroom featured a small bed, covered with a cashmere blanket, with the room surrounded with "aubergine"-printed wallpaper. "I think a texture of it and everything just makes things feel kind of womb-like and cozy, which if you ask me that is a lovely feeling for a bedroom," Paulson said of the wallpaper.
She then gave cameras a look inside her bathroom. It consisted of "floor-to-ceiling" lavender-colored zellige clay tiles -- which Paulson said "moves like sequins" -- and a large, glass, stand-in shower.
The tour ended in Paulson's quaint, yet cozy backyard, which included an outdoor seating area and an outdoor shower, complete with a feature to wash off one's feet following a beach walk.
"We are in my lovely, charming, exceedingly tiny backyard where I like to also do really annoying white girl on Instagram things like drink my tea out here," she quipped, before saying goodbye to the AD cameras.