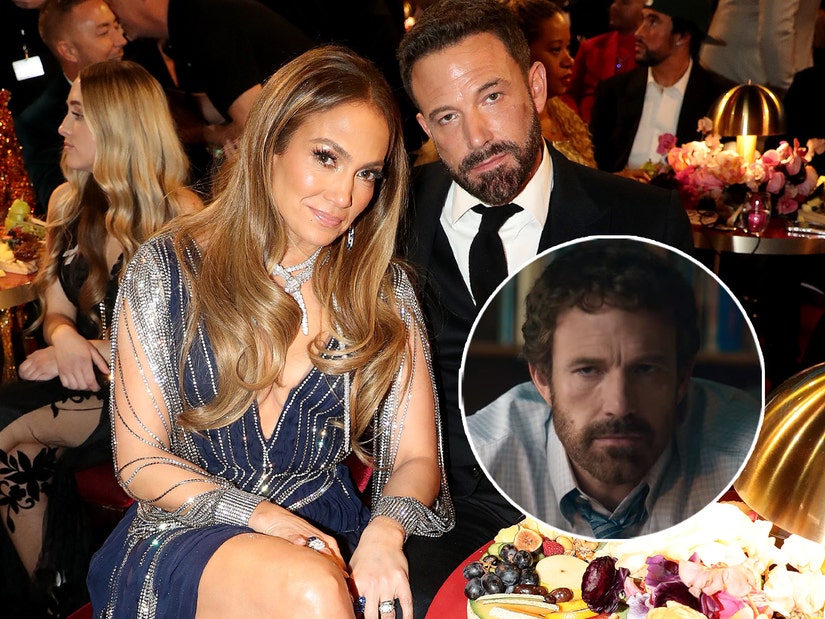 Getty / Amazon
The singer poked fun at her husband, while also supporting him -- and his upcoming movie "Air" -- at the same time on Instagram.
On Thursday, the singer shared the trailer for Affleck's upcoming film, "Air," on her Instagram. At one point in the trailer, Affleck -- who plays Nike co-founder Phil Knight in the film -- can be seen frowning at Matt Damon's character Sonny Vacarro with an unamused expression, which was not unlike how he appeared at the Grammys.
For the cover photo for her Instagram post, J.Lo used a still from that particular moment from the trailer. Alongside Affleck's grumpy-looking face, she added the words, "My husband's happy face."
Waiting for your permission to load the Instagram Media.
The actress' followers took to the comments section of Lopez's post to share their thoughts on the "Air" trailer, while also praising the 53-year-old pop star for trolling her husband -- and his now-famous uninterested expressions.
"Crying at the caption in the video 😂👏," a user wrote, while another added, "This is my husbands happy face took me out tho 😂."
"I am laughing so hard at this! Support your man, and his 'happy face', Jennifer!!!" a fan added.
Affleck went viral during Sunday night's Grammy Awards ceremony, quickly becoming a meme on social media. At several points in the show, CBS cameras caught the Oscar winner watching the stage alongside Lopez, with Affleck appearing to look bored, sad, and even miserable. It didn't take long for fans to post snapshots of the actor's expressions online.
However, according to a woman who sat next to the couple during the show, Affleck was less than thrilled about becoming a meme.
Anna -- the seat-filler who says she was seated next to the "Good Will Hunting" star and "Let's Get Loud" singer -- took to TikTok to address what was going on between them after Affleck was spotted with a grumpy look on his face during the ceremony.
She explained that she was picked to keep Dwayne Johnson's seat warm and claimed that while sitting next to Affleck and Lopez, the latter realized her husband was going viral for his expressions. She shared the news with Affleck, who apparently wasn't happy to be trending, but also couldn't care less about the perception.
"J.Lo showed Ben Affleck [her] phone and was like, 'Oh my god, honey, look at this meme circulating about you,' and he was like, 'Oh god, this again,'" the TikTok user claimed.
Anna continued, "He knew during the performance that he was a meme. Like, he knew and he also chose just not to change his expression. I love how unbothered that is. So I know that she was on her phone and saw it and was like, 'Honey this is so funny, look at this,' and he was like 'Jesus Christ.'"