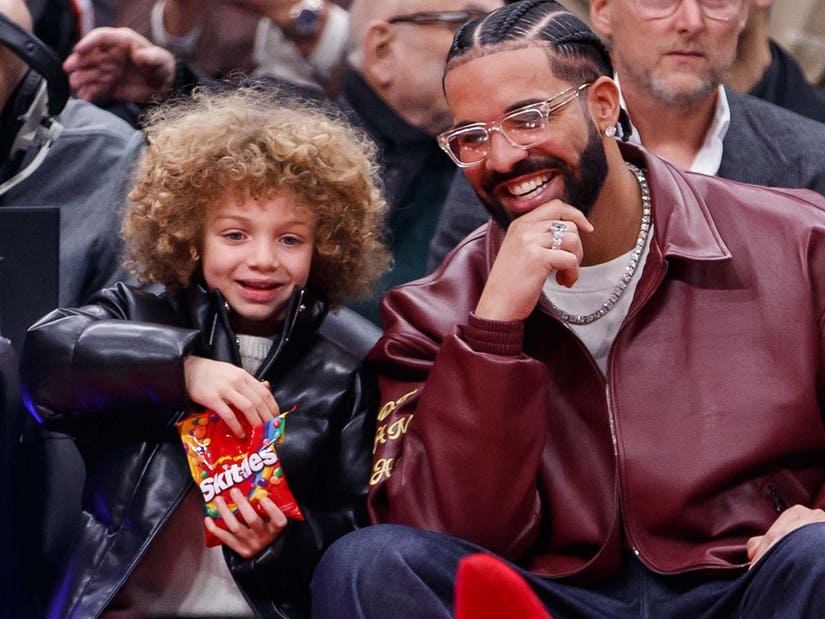 Getty
The rapper gushed about how his son is "always telling me how great I am as a father, as a single father."
According to his son Adonis, Drake is quite the comedian!
The Toronto born rapper and his 5-year-old son appeared in a joint interview for Barstool Sports with host Caleb Pressley who asked the father-son duo to dish about their home life.
"That's a funny dad," Adonis said of his five-time Grammy Award winning father. "He does a lot of funny jokes."
Pressley later asked Drake, born Aubrey Drake Graham, if his son ever attempts to get in the way of his time with the ladies so he doesn't have to "split his inheritance" with any siblings.
Though he had to think about it for a moment, Drake laughed, "No, not really." The "One Dance" singer gushed about spending time with his son and added how he "is always vibing out with me" and "always telling me how great I am as a father, as a single father."
Adonis proved to be a well-adjusted kid and game for light-hearted banter. When Pressley grilled the little one on whether or not he gets in fights with other children he denied ever hitting them where it hurts.
"Did you ever punch anybody in the nuts?" the comedian asked to which Adonis replied, "No, never, that's funny."
"There's friends of [mine] that are really nice to me," he said before, adding that he only fights with other children when they start fights first.
Drake shares his son with former model Sophie Brussaux.
Elsewhere in the interview, the 30-year-old host also grilled the artist about his latest piece of jewelry which featured 351.38 carats in diamonds called "previous engagements"
Back in December, the necklace went viral after Drake revealed it included diamonds from 42 engagement rings he never went through with.
"It was more just a joke, but obviously people took it pretty literal," he explained, at the time the rapper took some heat on the internet over the implication of the necklace. "It was just trying to have an interesting story."