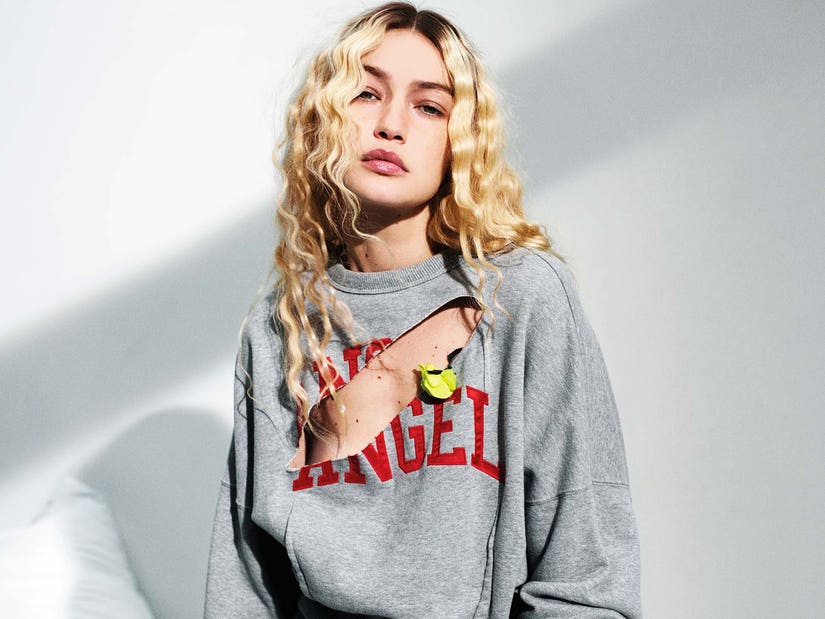 Mario Sorrenti for Elle
"Sometimes you have to be assertive, and that doesn't mean that it's rude. It's setting a boundary"
Gigi Hadid is getting candid about how she's adjusted her life to manage her Hashimoto's disease.
In an interview with Elle, the 27-year-old supermodel opened up about the physical limitations she's faced on the job after getting diagnosed with the autoimmune disease. Hashimoto's is an autoimmune disorder that concerns the thyroid and results in fatigue and difficulties with regulating body temperature.
"I'm usually taking a nap during my lunch breaks, and I will eat my lunch when I'm retouching hair and makeup after. It's just something that I've had to deal with over the years. Sometimes it's better than other times," Hadid said.
The Guest in Residence founder explained how photoshoots in odd temperature settings can take a heavy toll on her physically. "When it's a really cold shoot, it takes a lot of time for my body to recover temperature-wise, and it can make me shaky," she said.
Hadid also shared how she and her sister Bella have learned to set boundaries in their lives, whether it be with paparazzi or their managing team.
"One of the boundaries I have is that I have to tell my team when I need rest," the former Victoria Secret Angel said. "They've always been understanding and encouraging of that, and then besides that, I think I've just learned to make it work for me, and what helps me get through the day and do my best."
"Sometimes you have to be assertive, and that doesn't mean that it's rude. It's setting a boundary," she explained.
Though Hadid is aware of her limitations with Hashimoto's, one thing she refuses to compromise on is proving her ability.
Ahead of her appearance as a co-host alongside Tan France for Netflix's "Next in Fashion," Hadid told the publication the streaming giant put her through a rigorous audition process for the role.
"Netflix was not easy on me. They really put me through an audition process. I respected that, and it made me feel good when I got the job. I felt like I had earned it in their eyes, and so that gave me the confidence to go for it."
She continued, "You get a sense of impostor syndrome and you're like, 'Okay, are they just giving me this show because I have a lot of followers?' The fact that they really questioned my intentions for being on the show helped me jump into it headfirst. If they think that I can do it, then that gives me more confidence than maybe I would've had otherwise."
Having grown up in the public eye, when the publication asked what the world wouldn't know about Hadid at first glance, she became emotional and asked, "What does the world not know about me?"
Gigi explained how the public perceives her in a series of pictures and moments, though she believes she's a person you have to meet to truly experience.
"I think that I'm someone who you have to be in front of to experience. It's not hard. This isn't a complaint. It's more that in my job, you see a lot of snapshots," she said. "There are a lot of snapshots and really quick moments where, again, there's not a lot of context given."
Although the world will never be able to perceive Gigi for who she really is, the new mom said her daughter Khai, whom she shares with Zayn Malik, is the only person who has truly seen her.
"She obviously sees me in every state and way, and whether she knows it or not, I'm going through and learning through life with her. I think that she has a really realistic kind of 24/7, around-the-clock view," she said.