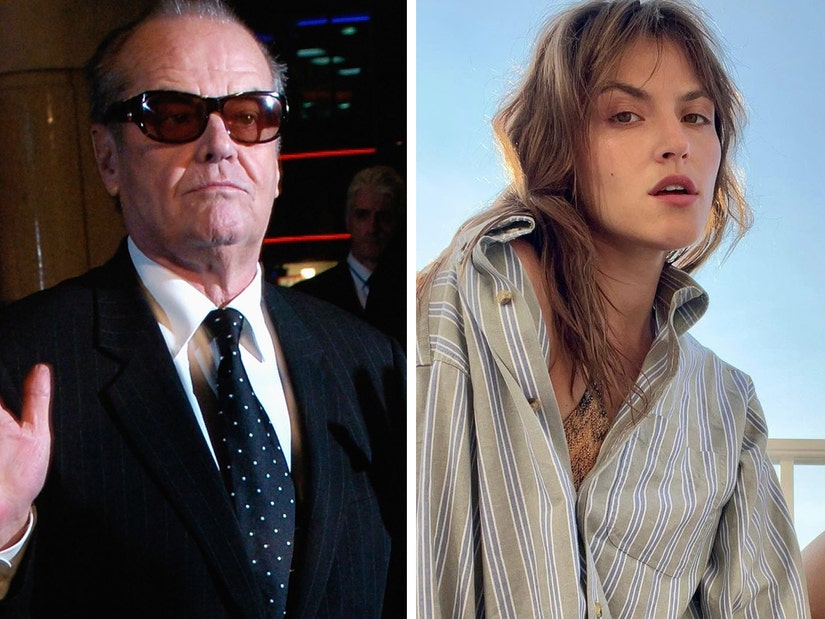 Getty / Instagram
He's never acknowledged her as his child; Gourin says he was financially supportive but also "wanted no part in my life."
Tessa Gourin is opening up about her nonexistent relationship with the man she claims is her father, Jack Nicholson.
While the 28-year-old has never been publicly acknowledged by the actor as his kid, she spoke out in a pair of profiles this month -- one an op-ed with Newsweek in which she said she wished she could benefit like other Hollywood nepo-babies and another an interview with The Daily Beast.
Gourin's mother is former New York real estate agent Jennine Gourin, with Tessa writing that she was "the result of a womanizing actor's fling with someone who was then a young waitress." She said that her mother did try to foster a father-daughter relationship between the two, but "he said he wasn't interested."
"It was always clear that he wanted no part in my life. Have you ever been on a date and sensed that the other person just wasn't feeling it? That's pretty much how every interaction I have ever had with Jack Nicholson has gone," she wrote. "Harsh though it may seem, I hold no bitterness toward him for his decision, though it's taken a while for me to understand it."
"I don't know this person very well, we'll just say that," she told The Daily Beast, adding that they haven't spoken in years. Though she noted her circumstances with an absent parent isn't a unique one, she added that it's "harder when that absent parent is actively in the lives of their other children."
Nicholson is dad to five other children: daughters Jennifer, 59, Honey,42, and Lorraine 32, as well as sons Caleb, 52, and Ray, 30.
Gourin did say Nicholson wasn't a "deadbeat dad," claiming he provided "financial help" throughout her childhood. When asked why he was so MIA, she said she never got a "concrete answer," but didn't put the blame solely on Jack.
"I formed my own opinion. He's a complicated person, and I think my mom fights her own demons, and with the combination of the two, I was simply collateral damage," she stressed. "I was dealt a really s----y random card, but I'm not gonna let that destroy me."
Gourin said her "home life wasn't great" growing up, adding that she often acted out and got kicked out of schools for her behavior. Some of that behavior, she said, might remind some of her famous father.
"I'm also f---ing crazy. I'm not the poster child for sanity, and I do think that's a little similar to my dad, from what I've read," she told The Daily Beast.
Gourin said she initially tried to distance herself from becoming an actor as well, afraid that others would call her "tacky" or suggest she was "riding off [Nicholson's] coattails," but has since come around on the profession. In her op-ed, she said she didn't necessarily mourn the lack of a "father-daughter relationship," but the possible "artist-to-artist connection" they could have had.
"In the end, he's a celebrity with whom I just happen to share DNA," she concluded.
TooFab has reached out to an agent and lawyer for Nicholson for comment.