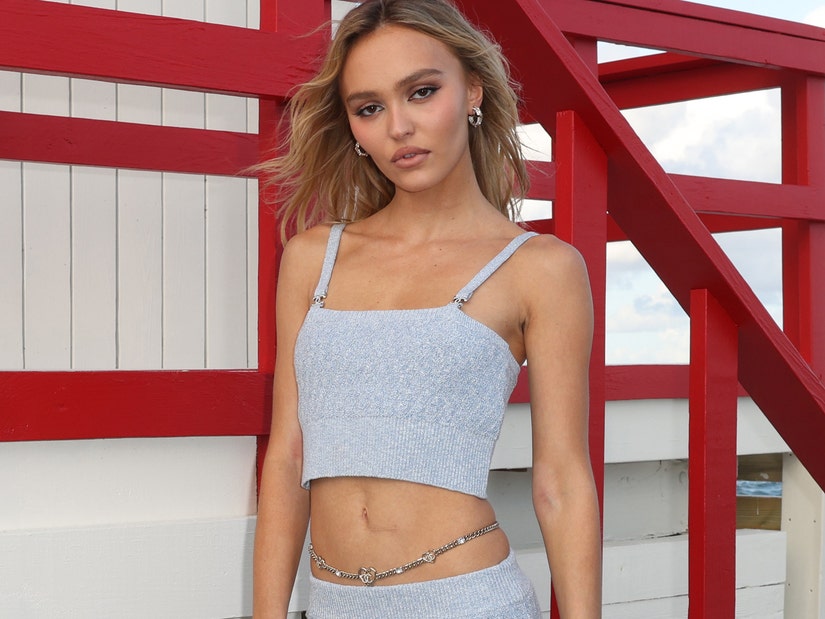 Getty
The 23-year-old model is the daughter of actor Johnny Depp and French singer Vanessa Paradis.
Lily-Rose Depp is weighing in on the ongoing debate surrounding nepotism in Hollywood.
In an interview with i-D as part of its Timeless Issue, the model -- who poses topless on the cover of the magazine -- opened up about growing up as the daughter of famous parents: actor Johnny Depp and French singer Vanessa Paradis.
Depp, 23, explained that while she's "super aware" that she didn't have a traditional childhood, she is grateful for her parents and loved ones for making her life as "normal" as it can be.
Waiting for your permission to load the Instagram Media.
The actress addressed the current discourse about "nepo babies," saying that she's "careful about these conversations."
"I feel like my parents did the best job that they possibly could at giving me the most 'normal childhood' that they could," she continued. "And obviously, that still was not a normal childhood. I'm super aware of the fact that my childhood did not look like everybody's. But at the same time, it's all that I know, so I have had to find comfort in it somehow."
Depp added, "I'm really lucky that I've been surrounded by people who value normalcy and who value real life and I think that's the only way to exist in this world and not go insane."
Although her upbringing was unconventional -- and she split her time between Paris and Los Angeles -- the Chanel ambassador said her childhood was a positive experience.
"My parents are artists, and so I was really always encouraged to explore whatever I wanted to explore," she told the magazine. "I've always loved putting on a show since I was a little girl. I used to dress up and dance around."
Elsewhere in the interview, Depp again acknowledged her privilege and shared how she keeps herself grounded.
"At the end of the day, everybody cares more about themselves than they do you," Depp said. "I bring myself back down to earth and go, 'Girl, you don't matter that much.' That's the only way to deal with it. By being like, 'Oh my God, no one f---ing cares.'"
"We're having this conversation because I am privileged enough to get to do the job that I'm so passionate about," she added. "There's good and bad sides to everything. If I have to deal with a little bit of anxiety to keep doing what I love, then I'm ready."
Depp -- who will next be seen in the HBO series, "The Idol" -- admitted that even she suffers from imposter syndrome. As for how she combats it, she explained, "You just have to jump in and have some kind of faith that, if they've chosen me, then hopefully I've been chosen for a reason. That's all that you can do."
"By that same token, I think that there's nothing more exciting than being like, 'Wow, I'm so nervous. I feel so challenged by this. How on earth am I going to pull this off?' You could ask for no better fuel to make you want to work really, really hard. 'Okay, I really don't want to f--- this up, so let me work as hard as I possibly can to make sure that I have left no rock unturned.' If you're not scared, then what's the point? I like the fear a little bit."
Check out Depp's full interview, here.