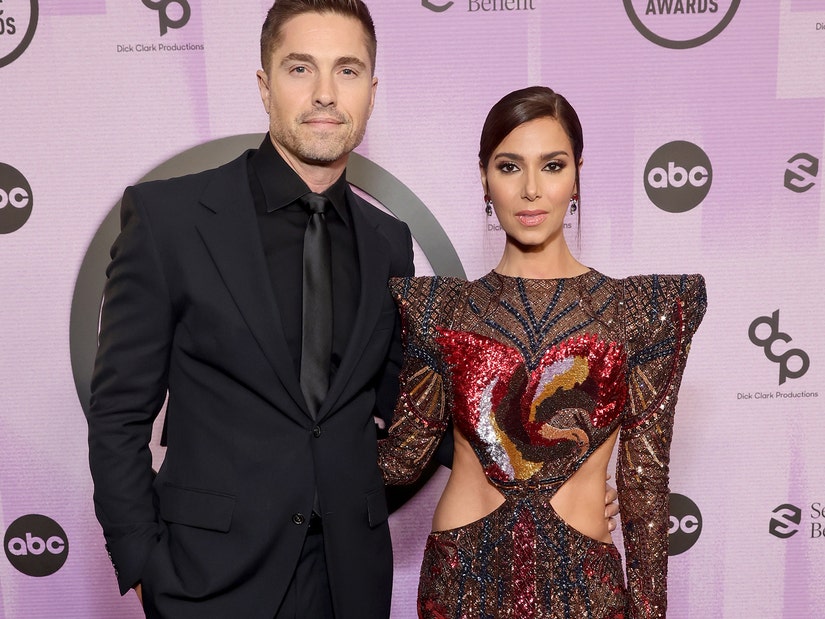 Getty
Eric Winter pushed back at any insinuation he's a "villain" in this situation or sent his wife into "a depression" with his reaction to her recent surgery.
On their new episode this week, Winter addressed some of the criticism he received for that remark "right out the gate."
"I have to start with an apology. I have taken a lot of backlash and heat for my 'Frankenstein boob' comment and in self reflection, even though I was joking and you know me and you know how we joke with each other all the time, it was a comment that didn't need to be said, even as a joke," he said. "I apologize. You're beautiful, you're strong. You're jamming and I could have been a little more sensitive with my comment."
They both said they were surprised to see how much press pickup their initial conversation got in the media, with the pair clarifying that Eric's reaction to her surgery -- from which she is still healing -- never sent her into a depression, as some outlets apparently made it appear.
"I caused a depression ... that's what all these outlets are saying ... I laugh and I have to take it," said Winter. "To clarify, I did not cause her a depression, she was going through that before my comment. I owned up to it, I apologize to you and any listeners that I offended. Phew, tough!"
Sanchez then explained that she "had the blues a little bit" because she wanted to see immediate results, but has to wait to really heal to see what they look like now.
The two got into another playful sparring match on the new episode when Sanchez said Winter "looks away, disgusted" when she has her new pair "hanging" to air out.
"You're making me look like a villain and I have never done anything inappropriate!" he exclaimed. "I didn't look at you disgusted. I looked right at you, I didn't look at your boobs."
He added that he's just letting her "recover and giving you space to heal," and has made a point to not just "stare at them all the time."
"I'm not overthinking it all the time and you're overthinking it because it's your body," he added. "I'm coming across like I'm a jerk in this situation, but I apologize about the comment, I was joking, completely."
Listen to the conversation below: