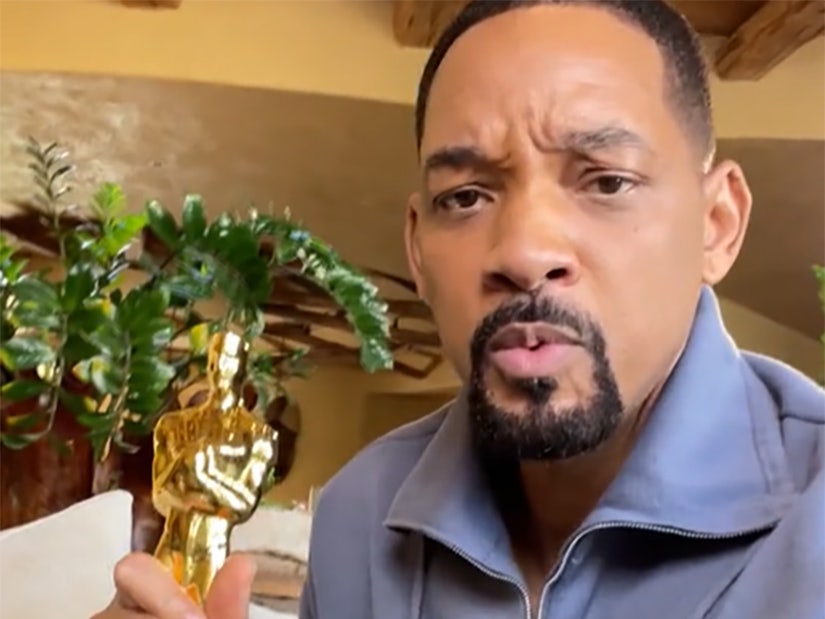 TikTok
Will Smith's TikTok features an appearance by the very Oscar he won shortly after slapping Chris Rock on live television for a joke about Jada Pinkett Smith's hair.
After responding with remorse and earnestness several times, Will Smith responded to the infamous Oscars slap with comedy for the first time.
The former "Fresh Prince of Bel-Air" star saw his own life turned upside down after he started making trouble live on television at the Oscars when he walked up on stage and slapped Chris Rock across the face over a joke.
The "Emancipation" star was not ejected from the ceremony and would go on to win his first-ever Oscar as Lead Actor for his acclaimed role in the Williams' sister family biopic "King Richard."
Subsequently, Smith would get banned from all Academy of Motion Picture Arts & Sciences for ten years, including the Oscars ceremony. He is still eligible to be nominated and win awards.
In his latest response to the controversy that overshadowed the win and his entire career, at least temporarily, Smith took to TikTok for a duet with a surprise screen partner.
The duet was with the user @missmoneyworking, who was talking about inanimate objects being able to express what they think of you in her TikTok. On his side, Smith was looking sincerely into the camera, taking in the woman's words.
"Did you know, you can pick any object, look at it and ask it what it thinks of you," she said on her side. "So, for example, you can pick up a pen and ask it how it sees you or what it thinks of you, and you will get an answer in your mind from your intuition."
In response, Smith reached out of the frame and pulled over his Oscar, looking intently at the object that was there that night. At that moment, the duet cuts out and fans were left with Smith and his Oscar.
There were so many tantalizing possible directions the video could go from there, but Smith opted for none of them. Instead, just as it looked like he was about to say something to his Oscar, his feed cut, too.
Smith had grown enraged during the live broadcast of the 2022 Oscars ceremony after Rock made a "G.I. Jane" joke about his wife's hair. Jada Pinkett Smith suffers from alopecia, a fact Rock insists he did not know at the time.
Shortly after the incident, Smith took to Instagram to apologize. In a lengthy statement, he called violence "poisonous and destructive" and called his actions "unacceptable and inexcusable." He went on to explain that hearing a joke relating to his wife's alopecia had been too much for him to bear and he "reacted emotionally."
"I would like to publicly apologize to you, Chris. I was out of line and I was wrong. I am embarrassed and my actions were not indicative of the man I want to be. There is no place for violence in a world of love and kindness," Will wrote.
He went on to apologize to the Academy, producers and viewers of the show as well as his "King Richard" family. The actor eventually resigned from the Academy of Motion Picture Arts and Sciences.
Smith is currently at work on sequels to "Bad Boys" and "I Am Legend." His latest film, "Emancipation," is currently streaming on Apple TV+.