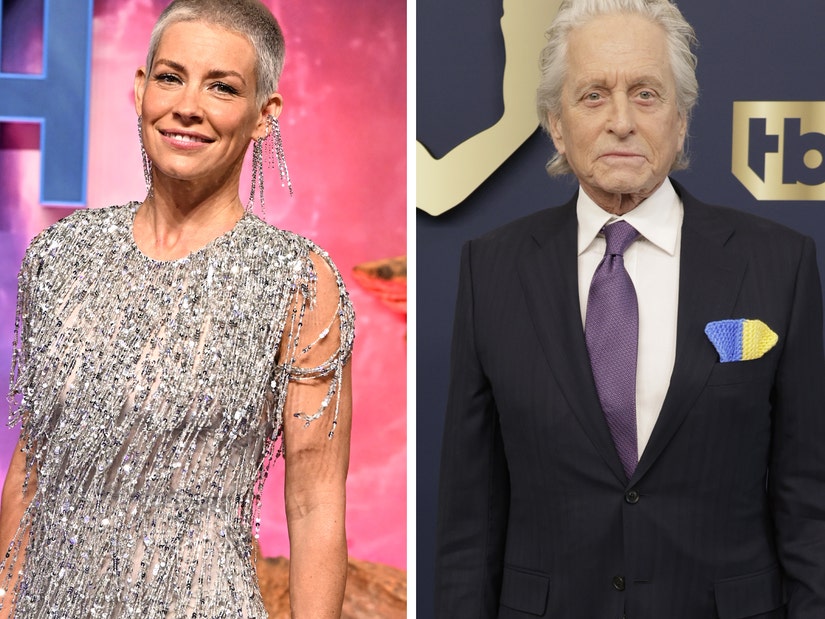 Getty
"Which is not what you should say in front of a bunch of kids, oops!" the actress said of an awkward moment with her Ant-Man co-star.
On an upcoming episode of "The Jonathan Ross Show," per Daily Mail, the 43-year-old actress hilariously admitted that she called Douglas and Pfeiffer "GILFS." For those who don't know, the acronym stands for "Grandpa or Grandma I'd Like To F---."
"There was this day on set, we were doing a scene in a restaurant," Lilly began. "And we were in a waiting room, so they filmed the waiting room with extras and there were children."
"I turned to Michael and Michelle and I said, 'You know, you guys are real GILFs,'" she added.
The "Lost" alum said Douglas, 78, had "no idea" what "GILF" meant.
"He said, 'What's a GILF?' Instead of being cool about it, in front of a room full of children I went, 'It's a grandpa I'd like to f---,'" Lilly recalled. "And then [I] immediately realized I'd told Michael Douglas I'd like to f--- him, which is not what you should say in front of a bunch of kids, oops!"
Unfortunately, "The Hobbit" star didn't reveal what happened next, including how Douglas and Pfeiffer reacted. However, Lilly opened up about her experience working with the veteran actors.
"I got to be in a scene with the three of them on my 42nd birthday," she recalled. "They're so cool. You don't want to meet your icons because you're afraid they're going to disappoint and the three of them are cooler than you think they are. They're amazing."
Douglas -- who has been married to Catherine Zeta-Jones since 2000 -- has two grandchildren. His son, Cameron Douglas, from Douglas' previous marriage to Diandra Luker, has a 5-year-old daughter, and a 2-year-old son. Pfeiffer, meanwhile, is married to David E. Kelly, with whom she had two adult children. It's unclear whether or not the couple has any grandchildren.