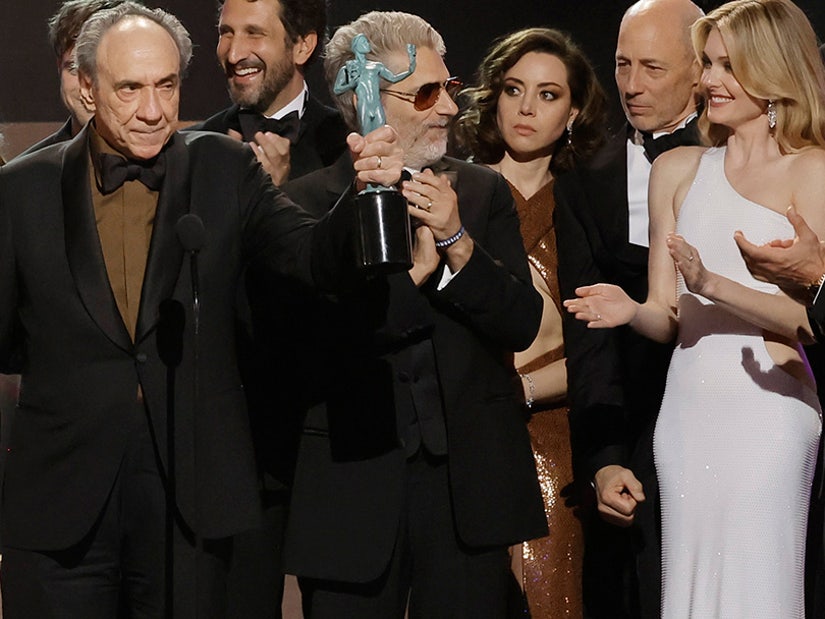 Getty
Jon Gries texted his "White Lotus" co-star Aubrey Plaza Monday morning after seeing that their on-stage exchange at the SAG Awards had gone viral leading to speculation about what set her off.
As F. Murray Abraham took the mic to accept on behalf of the sprawling cast, the "Parks & Recreation" alum just about stole the spotlight from him with some epic facial expressions Winona Ryder would have been proud of.
Getting to the root of what was going on up on that stage that had the actress looking so angry, Page Six spoke exclusively with the other part of that exchange, her "White Lotus" co-star Jon Gries. You can check out the whole moment below:
While Abraham's pro-union comments and prayers for earthquake victims in Syria and Turkey, as well as for peace in Ukraine, captured the nation on Sunday, by Monday it was Plaza's facial expressions that had gone viral.
Gries reached out to Plaza after seeing their shared moment dominating social media, and the morning news cycle, to check in with her. He told Page Six that he was upset it had become a "creepy moment."
"You weren't really upset?" he told the outlet he texted the actress.
As Gries laid it out, while the massive ensemble was jockeying for position, he could see that Plaza was "being blocked by about 15 people." He said he encouraged her to look to the front, before addressing her bodice-baring dress.
"You might want to fix that first," Gries said he told Plaza of her Michael Kors dress. She was seen on the camera seemingly checking the dress as she took in Gries' words -- the dress was designed to show underboob.
He said that she appeared to say the phrase, "Jesus Christ," not because she was angry at the situation or at him, but because she was "just being funny."
"I think what she was intimating is why would that be a problem if my nipple is showing," he told Page Six. "That's her humor -- She has that dry, dead-pan wit; that's her biting wit."
That certainly is her reputation and penchant as a performer. The SAG Awards even leaned into her comedic style by pairing her with "Wednesday" star Jenna Ortega, who explored a similar persona for the title role of the hit Netflix series.
Waiting for your permission to load the Instagram Media.
The two had earlier presented an award together with Plaza quipping that she had no idea why they were chosen to present together after they'd stared down the audience for nearly 10 very pregnant seconds.
Ortega replied in the same deadpan, "I know, we have nothing in common."
"We should find the people who did this," the "Emily the Criminal" star said.
The duo then recited in unison: "And curse their families and watch as misfortune follows their bloodline for the next seven generations."
"Okay, I see it now," Aubrey said.
As for theories that Plaza was frustrated she had not been allowed to speak, Gries said that they cast had agreed the 83-year-old Abraham would represent them. "He's a frigging legend!" Gries said.
Photos backstage after the moment showed Plaza all smiles, while she replied to Gries' text query if she was upset by writing, "No! Not at all!" He said she even joked that he'd saved her from a potential wardrobe malfunction (the phrase coined after Janet Jackson's infamous accidental nipple reveal during a Super Bowl Halftime Show).
Fans were circulating a whole slew of theories about what might have triggered her reaction, including an overeager embrace between Meghann Fahy and Michael Imperioli which resulted in a clumsy elbow narrowly missing Aubrey directly in the face.
The series of seemingly awkward moments had fans in a frenzy on Twitter -- with some questioning what she was upset by while others simply noting how that type of scene stealing persona is what makes the actress so special.
TooFab reached out to her rep for comment. Late Monday, Plaza shared a pair of posts about her outfit and her show's big win on social media, but made no reference to the moment in question.