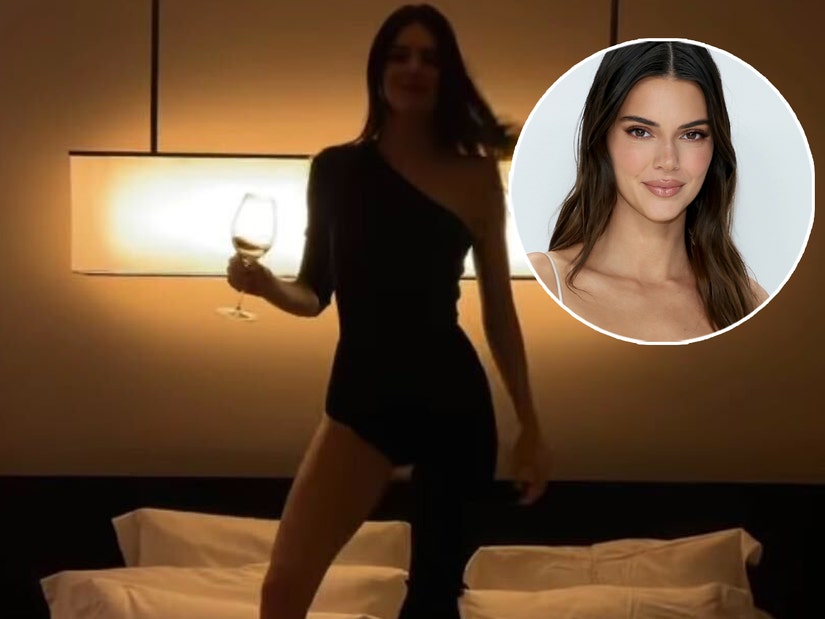 Getty / Instagram
"Imagine only shaving one leg," a fan joked of the Alaïa jumpsuit worn by The Kardashians star.
The model took to Instagram on Monday to share a post featuring footage of herself having some fun as she modeled a black, one-legged jumpsuit. Kendall's post included a video of herself jumping on a bed while holding a glass of wine, and a boomerang of herself kicking her left leg in the air as she posed for the camera.
The black jumpsuit -- designed by Parisian brand Alaïa -- was one-shouldered and single-legged. It featured a single full-length pant leg on the left side, with layers of ruffles added to the flared hem. And according to online luxury retailer, Mytheresa, the asymmetrical jumpsuit includes quite the price tag. The item costs a whopping $5,760.
Waiting for your permission to load the Instagram Media.
Despite Kendall's attempts to make the rather bizarre-looking jumpsuit look fun and chic, fans seemingly weren't able to get over the unique design of the ensemble. Many users trolled Kendall in the comments section, with some even referring to the jumpsuit as "ridiculous."
"That fit isn't it," a person wrote, while another asked, "what r u wearing."
"Prolly the most ridiculous dress I have seen in a while," a commenter said, with another user sharing a similar sentiment, writing, "girl bye that fit looks soo ridiculous on you 🤣."
Other followers got creative and cracked jokes. "Imagine only shaving one leg," a fan wrote, while another commented, "This is the dress for those who like to sleep with one leg outside the doona."
Waiting for your permission to load the Instagram Media.
Meanwhile, another user poked fun at the now-viral photoshop drama involving one of Kendall's recent Instagram posts, in which fans accused her of editing a bikini photo that showed her apparently "long" fingers. "Now they'll say that leg too long," the fan commented on Kendall's video on Monday.
The photo of her hand was featured in a series of pics she shared on Instagram earlier this month. In the shot, Kendall can be seen crouching in a skimpy string bikini with a stunning vista behind her, with "The Kardashians" star putting a hand on the ground to maintain her balance. However, the way her hand appeared had fans convinced she had Photoshopped the image.
With the help of her pal Hailey Bieber, Kendall later set the record straight. Hailey jumped on her Instagram Stories alongside Kendall to clear the air by featuring "live footage of the hand."
In the video, the 26-year-old model said, "While you're sitting her analyzing, look how bizarre her hand looks normally," while showing Kendall's slim and decidedly long hands. "Been had long ass hands x fingers," the video was captioned, adding alien and spaceship emojis as a joke.
"It's crazy," Kendall agreed.