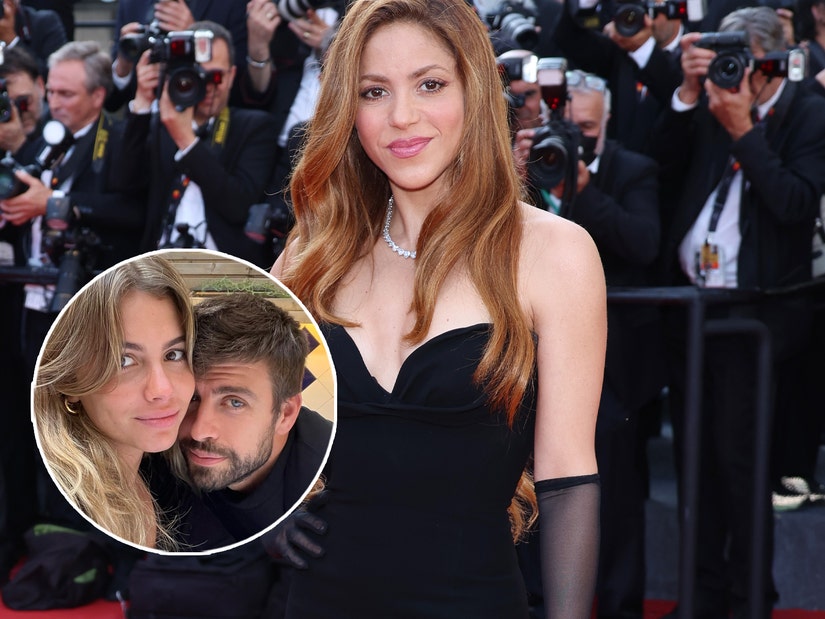 Getty / Instagram
"Now I feel complete," said the Colombian superstar, who split from Pique in June 2022 after 11 years together.
In a sit-down interview with Mexican journalist Enrique Acevedo, per Marca, the singer opened up about her separation from the soccer star, and shared what she's learned about herself since.
Shakira, 47, and Pique, 36, called it quits in June 2022 after 11 years together.
Towards the beginning of the interview, Shakira explained why it's important for women to have a voice, and for women to support other women.
"Through my songs I have always felt the duty to use my voice and lend it to those who cannot speak," she said. "I have realized that women are at a key moment for society, at a point where the support we can receive from each other is very relevant.
"And as Madeleine Albright, U.S. Secretary of State used to say: 'There is a place reserved in hell for those women who do not support others,'" she added, appearing to shade Pique's rumored girlfriend, 23-year-old Clara Chia Marti.
Shakira also discussed her song, "BZRP Music Sessions #53," which is a collaboration with DJ Bizarrap. In the upbeat track, the Colombian superstar appears to take aim at Pique and Clara as she drags an unnamed ex and his new girlfriend.
"I'm right in the center of the debate because of this song," Shakira said, noting that the song's lyrics were inspired by how she was feeling following her breakup from Pique.
The "Hips Don't Lie" singer -- who shares sons Sasha, 7, and Milan, 9, with Pique -- also explained how her "dream" of how she wanted her family to look like changed after she and Pique split.
"I also bought the story that a woman needs a man to complete herself, a family," Shakira said. "I too had that dream of having a family, where the children would have a father and a mother under the same roof.
She added, "Not all dreams in life are fulfilled, but life finds a way to make it up to you somehow and I think with me it has more than made up for it with these two wonderful children who fill me with love every day and I have also found that that fable where a woman needs a man is false."
The three-time Grammy winner went on to open up about how the split has ultimately impacted her, noting that she's become more independent.
"I have always been emotionally dependent on men, I have to confess," Shakira said. "I have been in love with love and I think I have been able to understand that story from another perspective.
She continued, "Today I feel that I am enough for myself and I believe that when a woman faces the onslaughts of life she comes out stronger and when she comes out stronger it is because she has known her own weaknesses, accepts her vulnerability, expressing that which she feels, that pain, because they say that 'the opposite of depression is expression', I have managed to feel that I am enough, something I thought I could never do. Now I feel complete."
"I feel that I depend on myself," Shakira added, "and I also have two children who depend on me and I feel that I have to be stronger than a lioness, but that strength to be true has to be the result of living a mourning of accepting it, of tolerating frustration, of accepting that there are things that one does not want, that there are dreams that are broken, that you have to pick up the little pieces from the ground and rebuild yourself again."