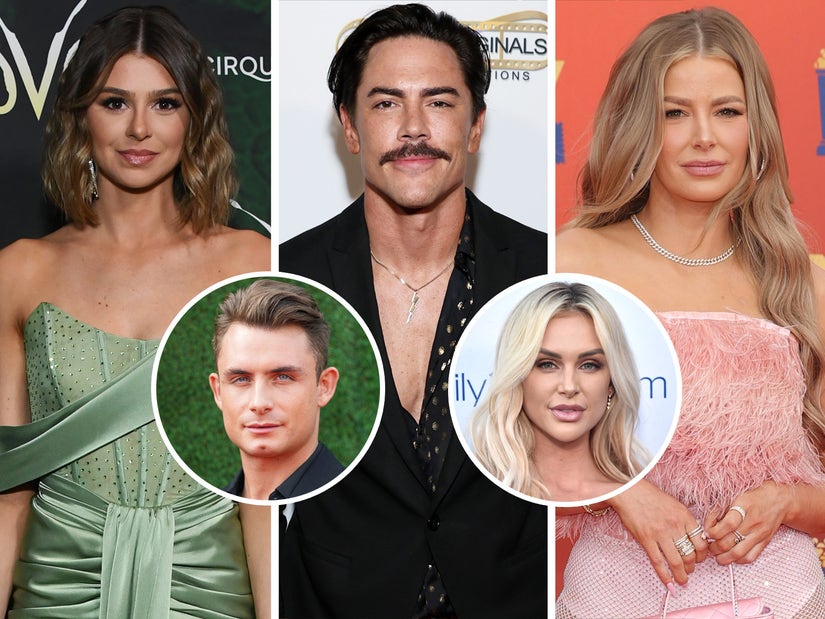 Getty
James Kennedy and Lala Kent shared their thoughts on the alleged hookup that reportedly led to Ariana Madix and Sandoval's split, while Ariana's brother also chimed in.
Shortly after TMZ broke the story on Friday, James Kennedy -- who was in a relationship with Raquel from 2016 to 2021 -- weighed in on the shocking news, sharing a photo of the article to Instagram.
"Hope you all feel as sick as I do. This explains everything," James captioned the post. He then added in a comment, "read it and weep. Toms a f---ing creep!"
Waiting for your permission to load the Instagram Media.
Lala Kent -- who's been feuding with Sandoval recently -- chimed in, responding to a fan in the comments section of James' post.
After the user seemingly referred to Sandoval and Raquel as "vile subhumans," James wrote, "CORRECT," before Lala added, "I've been telling y'all. Everyone said I was a 'bully.' It's called YOU TRIGGER ME AND I SEE YOU FOR WHO YOU ARE! I've known these two are disgusting from the jump."
She also took a shot at Ariana on her Instagram Stories. The "Give Me Lala" author posted a screenshot of a news article headline that read: "Vanderpump Rules Star Raquel Leviss Is Over Drama With Lala Kent; Says 'I Don't Have Energy' For Lala."
Alongside the headline, Lala -- who also tagged Raquel -- wrote, "I suggest you get some energy for me. You're gonna need it."
However, Lala took things to the next level when she revealed on her Instagram Stories that she slashed the price of her Give Them Lala Beauty collab she had with Raquel, an eyeshadow palette called The Bambi Eyed B*tch Palette.
Waiting for your permission to load the Instagram Media.
She later shared a video on TikTok, in which she said she's spoken to Ariana. "Alright, you guys. I've talked to Ariana, and she's given me full consent to torch these motherf---ers," Lala said. "Get ready! 'Cause I have only just begun."
Meanwhile, Tom Schwartz also weighed in -- indirectly. "I asked my magic 8 ball if it was going to be a chill day 💀," he wrote on his Instagram Stories, per Us Weekly. The Magic 8 ball's response? "My reply is no."
Jax responded to a fan on Twitter, who asked for his thoughts on the news. "I've called a lot of things on that show that people never believed… everything I say always ends being true..," he tweeted.
Doute also gave her two cents. Taking to her Instagram Stories, Kristen wrote that she's "#TeamAriana," before further elaborating in a short video.
"I don't know why I feel like I need to make this clear, but there's so many people right now wondering if this is making me happy," she said. "You guys, Ariana and I have been really good friends for many, many years now, so I'm Team Ariana, all day, every day. That's what's up."
Bravo king and host Andy Cohen took to Twitter, joking, "How many parts is too many parts for the #pumprules reunion???"
He also shared a video on his Instagram Stories on Saturday, admitting that he's just "as rivetted and upset and [is] thinking about this 'Scandoval'" as everyone else. "It's nap time over here," he said. "I just woke up from a nap. I dreamt about Ariana. Everybody's on my mind."
It's not just Bravo stars who are reacting to the news of Raquel and Sandoval's alleged hookup and the latter's split with Ariana.
Ariana's brother Jeremy also shared his thoughts on the drama, blasting Raquel in the comments section of James' Instagram post.
"It's funny to watch people social climb and be soooooooo fake that they're willing to s--- on people that are supposed to be their 'best friend' ( a term that gets thrown around very often around here) all just to come up or have some sort of story line. This lifestyle and this group is beyond toxic and I wouldn't recommend it to anyone. All just for clout from a corny ass network like BravoTV 😂."
Jeremy called Sandoval a "try hard having a having a midlife crisis with his cringy band," while writing that Raquel "has faked her way to the top trying to make something of her life willing to step on whoever to get there starting with James." He added, "Sell out type lame s---. Let's all remember that Raquel was a fan of the show before all of this. Does anyone pay attention?"
Waiting for your permission to load the Instagram Media.
Model Chrissy Teigen -- who is a huge Bravo fan -- chimed in on Twitter, writing, "I have 20 different chats going about this Vanderpump Rules news. 20 wildly different people, a wide variety of ages and backgrounds, insanely different jobs and lives, all have come together to say 'WHAAAAAAAAT!?!??!?'"
The news will come as a surprise to many "Pump Rules" fans, as Ariana and Tom have been together for nine years. This development also comes after a series of romantic entanglements for Raquel, who was already making headlines for some of her post-James hookups. (Click here to see a full breakdown of all the Raquel drama ... so far.)
Season 10 of "Vanderpump Rules" premiered last month, with weekly episodes dropping on Wednesdays. However, production sources told TMZ that after Ariana and Sandoval split, producers resumed production in the hopes of catching the aftermath of the breakup and Sandoval-Raquel alleged cheating scandal on camera. Producers reportedly want to try to add the footage into Season 10, despite the fact that the season is currently airing.
Meanwhile, sources later told TMZ that Ariana called things off with Sandoval after she found text messages -- and a video -- on his phone that were said to be "sexual in nature." The insiders added that Ariana told friends she discovered Raquel and Sandoval's alleged affair had been going on for months.