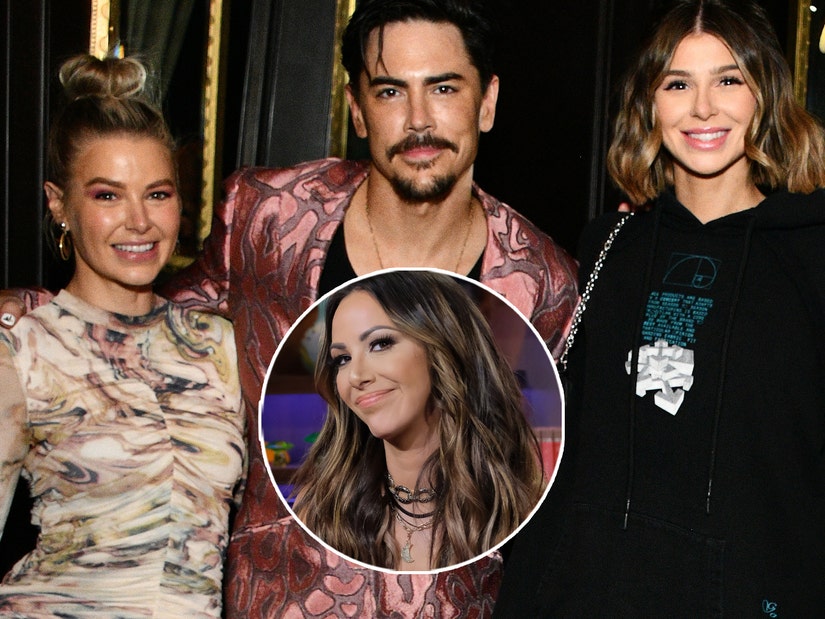 Getty
Doute, who was with Ariana and Tom the night everything blew up, said Madix had a "gut intuition" to check her boyfriend's phone.
Doute, who used to be on the show herself and continues to be friends with most of the cast, was with the pair the evening in question and gave some behind-the-scenes insight into what she allegedly witnessed at the time.
"I was actually with Ariana and Tom that night. We were watching the band play at TomTom. He's done playing and we'd all gotten up to just kind of chatter and grab a drink. And all of the sudden I realize Ariana's gone for like, it had to be like 20 minutes or something, because she left her coat and her purse on the chair," Doute revealed on her "Sex, Love and What Else Matters" podcast.
Neither Doute or another friend could find Madix, who later filled Kristen in on what allegedly went down.
"So what had happened was during Tom's performance his phone fell out of his pocket or something and a mutual friend of theirs picks up the phone, hands it to Ariana. Now I will tell you exactly what the truth is because I've a lot of whispers online. A lot of bulls---," she said. "So the real truth is that Ariana had his phone and she told me that she just had this gut intuition to look at it."
"They are a trusting couple ... and she just felt like she had to look," said Doute and went on to claim that Madix found in Tom's photos a screen recording of an intimate FaceTime with Raquel.
FYI: Raquel's lawyers sent out legal letters this week to the cast, warning them not to share an intimate FaceTime session she had with Sandoval, which her team says was recorded without her permission.
"They left the show pretty quickly, got in a car, gone. She called Raquel and Raquel and Scheana were together at some bar after 'Watch What Happens Live.' The truth of what happened was, Raquel was f---ing dumb," Doute continued. "Scheana's like, 'Who are you on the phone with?' and she too casually says, 'I'm talking to Ariana. Sandoval and I had a seven month affair.'
"You're telling this to Ariana's best friend. And Raquel's saying they're in love and they're gonna be together," added Kristen. "I don't know on his behalf what he's thinking, I don't know if he's saying those same things, but I know that's what she is saying."
Doute said the cast has really been rallying behind Ariana in the days since the scandal broke, surrounding Madix at the home she still shares with Sandoval. Kristen also said that Madix expressed remorse for her role in Sandoval cheating on Doute with her back in the day.
"The thing that broke my heart almost the most ... she was just done filming interview bites for the show and I walked in, she hugged me, we both started crying. And then she said to me, 'I'm so sorry,'" claimed Doute. "I was like, are you out of your damn mind? This is not the same thing. Tom and I, for the record everybody, we should have broken up after year two. We cheated on each other, we were very toxic, we were broke, we were young, we were idiots. They were in a decade-long partnership."
She went on to say that Ariana is "not doing well" and is "numb" to the whole ordeal. Doute claimed Madix no longer wants to hear any updates or rumors about the situation either, as she feels learning new intel won't make a difference and will only make her feel worse.
"He wasn't even apologetic and that shocked me," she added of Sandoval. "He was blaming her, gaslighting her, 'You know we haven't been happy, you weren't supportive of my endeavors,'" she then claimed, before saying, "Listen mother f---er, she's the only support you've had. We all laughed at you for years!"
Doute said Sandoval even came home at one point when the cast was there to support Ariana.
"He walked in and we all sat there really quietly. And he was like, 'Yeah, I know everyone hates me,'" she said, adding that he then went upstairs. Doute said they told him to give her some space -- with Sandoval allegedly responding, "She can leave if she's not comfortable." Added Kristen: "The ego of it all!"
During the episode, Doute said that the only person Sandoval has right now is Schwartz -- but added "Schwartz isn't happy about this either."
"It's pouring down on their businesses. I guess Schwartz only found out about it a month ago. Sandoval told him," she also claimed. "Schwartz and I were texting yesterday and he said he told him he needed to tell Ariana before it blew up in his face and humiliated the hell out of her."
Listen to the full episode below: