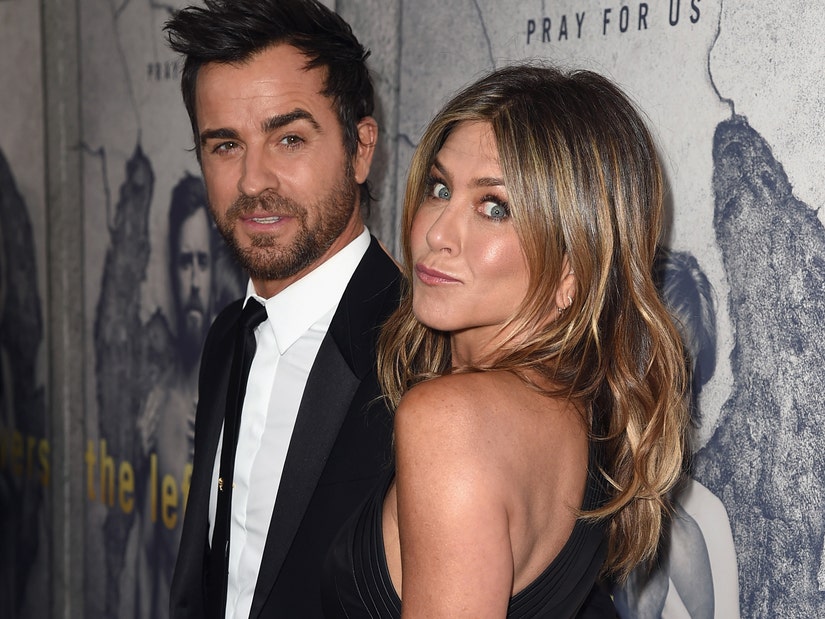 Getty
"I talk to Jen ... I don't talk about Jen," he shares -- before also addressing rumors he's "a nudist on airplanes."
Speaking with Esquire for a new cover story, the actor was asked what it's like to be "on the other side" of all the social media and press attention surrounding his personal life and divorce from the "Friends" actress.
Theroux, 49, and Aniston, 52, confirmed in early 2018 that they separated at the end of 2017 after over six years together. However, despite their split, the two have remained friendly.
"There's something to, once you're out of that, where I want all of my relationships to exist within the four walls of whatever room we're in. And I'm not trying to be evasive, but I talk to Jen -- I don't talk about Jen," Theroux told the publication.
"People will always want to gossip and say things, but you have to find that balance. And having been in a public relationship, it's much more fun not being in a public relationship," he continued. "Me saying anything, even if it was something loving, it would just turn into a thing. So it's a classic no-comment situation for me."
Speaking more generally about going viral and engaging with online trolls, Theroux made it clear he doesn't "linger" on social media too long. "The Internet is like this really big high school, and why on earth would you walk around it checking every room and broom closet for the bully to kick your ass?" he explained.
The reporter then asked Theroux about some online gossip they'd been "dying" to get some clarity on: that he sleeps on airplanes shirtless.
Calling it a "wild rumor," Theroux explained that his publicist once called and asked whether he wanted to issue a statement to a tabloid claiming he's "a nudist on airplanes." At the time, he relayed the situation to Jason Bateman, thinking the story was totally BS, when Bateman told him, "But you do go naked on airplanes!"
"Jason and I had flown from Los Angeles to London on one of those twelve-hour-long flights overnight and he reminded me that after they had shut down all the lights and everything was quiet in the airplane -- and we're in little pods, we're not in 38J -- I had taken some clothes off," said Theroux. "I think I took my shirt off and maybe my pants. But I was definitely wearing something under that. And I tucked in and went to sleep."
"Jason came over to me at one point and said, 'Hey man, what are you doing?!' He was in the full pajamas -- like, the slippers and a toothbrush sticking out of his mouth," he added. "I'm like, 'I'm going to sleep! No one is going to see!' And I had a blanket! So anyway, it was actually correct that I was essentially naked on an airplane, but not really naked."
He concluded: "I mean, look, if it's a long-haul sleeping flight ... I'm not going to fall asleep in my jean jacket!"