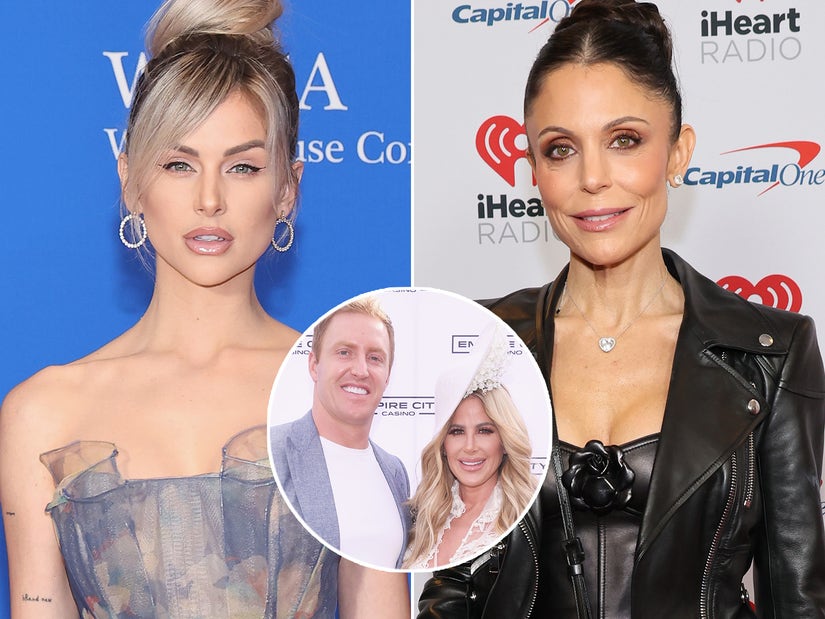 Getty
Vanderpump Rules star says Kim Zolciak's "devastating" divorce from Kroy Biermann makes her more committed to "no partner" -- meanwhile, Bethenny Frankel lashes out at the couple for living beyond their means after discovering their $1.1 million tax debt.
At the same time, it helped her maintain clarity on her own relationship position. "It just puts another cosign on what I want in my life -- which is no partner," she said. "No partner, not happening, not happening."
"I can control me; I can't control other people, right?" she continued. "When you tell me, 'Here's an intimate partner, you guys get along, maybe you'll last forever, maybe they'll tell you everything all the time.' That says to me, 'Liability.' I don't like liabilities."
Kent and Emmett split in 2021 after three years of engagement and welcoming their daughter Ocean in March of that year. The breakup came amid allegations that Emmett cheated on her.
To emphasize her point, Frankel captioned her post, "Pay your bills. Don't front & stunt. All show & no go." She even added the hashtag "PayYourBills."
"They've always been people who seem like they're spending more than they have," Frankel told her TikTok followers on Monday after the story broke, but she had little sympathy.
Calling it a "recipe for disaster," Frankel says the Biermann's were flaunting their lavish lifestyle, but it was even more than their respective football and "Housewives" salaries could manage.
"It's the old 'Housewives' model to get on the show, make no money, spend, spend, logo, logo, car, car, house, house, bankruptcy, foreclosure, because you can't f---ing keep up," she argued. "You're writing checks you can't cash, and it's gross."
But Frankel doesn't see this as just a "Housewives" problem. Instead, she thinks this is something that's become pervasive -- and dangerously so -- across the country.
"It's like, what's wrong with America?" she asked. "When the whole real estate bubble crashed, that was because people were just, just financing their houses and the whole thing imploded."
Frankel is particularly passionate about this issue because she believes this tendency to try and "front" a certain lifestyle for clout or clicks or views or whatever is "f---ing up the whole system." As for herself, she said she lived frugally until she was absolutely certain she could afford to go bigger.
"I never spent a f---ing penny, I was terrified," she said. "'I was on the cover of Forbes and called my business manager to ask if I could buy a handbag the first time. I was always terrified because you don't spend money you don't f---ing have!"
As for any potential calls for privacy during this difficult time from Zolciak and Biermann, Frankel says there's not a chance of that happening, nor should there be. As far as she's concerned the invitation to peek into their lives is still open.
"You invited us in when it was going good and it looked like a fairy tale -- or made us believe it was -- well, guess what? We're coming out with you, too," she said. "So no one's gonna f---ing respect your privacy at this time, because there is no privacy at this time."
According to court documents received by TMZ, Zolciak lists April 30th as the day of separation for her and Kroy Biermann. She is seeking full custody of their four minor children and a return to her maiden name. In her filing she called the marriage "irretrievably broken with no hope of reconciliation."
The former couple owes $1.1 million in total to the IRS, per TMZ, for unpaid taxes, interest, and penalties for the calendar years 2013, 2017, and 2018. They also owe $15,000 to Georgia for 2018's taxes.
The filing comes after their country club mansion in the state was foreclosed on in February, though the outlet reports the family is still posting social media clips from inside the home. So either they're using old footage, or still staying there ... for now.